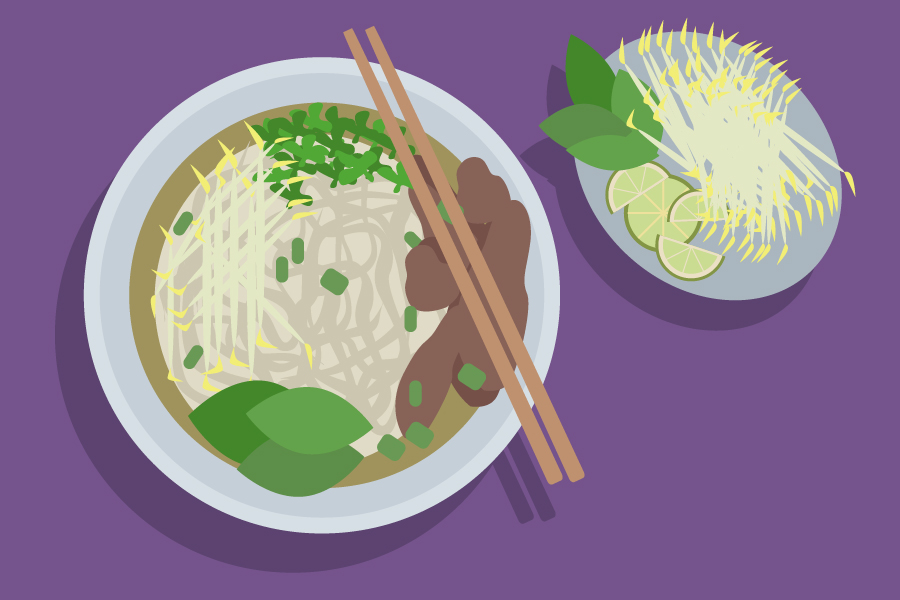 What students seek in Asian restaurants
A frequently circulating topic regarding Davis food pertains to the lack of authentic Asian cuisines available. While it's apparent that restaurants like Panda Express are Americanized versions of the culture they represent, the line between what's genuine and gentrified becomes blurred.
With a large population of Asian students attending UC Davis, one of the first things incoming freshmen and transfers look for are go-to restaurants that remind them of home. However, they oftentimes can't find a restaurant that meets their expectations.
Restaurants like Raja's Tandoor, Manna Korean Restaurant and Tasty Kitchen appear authentic. When it comes to taste, the conversation surrounding authenticity gets complicated. And while eating "authentically" is important for many, affordability is even more important.
Jacqueline Regan, a second-year neurobiology, physiology and behavior major, usually goes to Thai Canteen, Dumpling House or Open Rice Kitchen for comfort Asian food. While she doesn't particularly affiliate herself with these cultures, her choice for these restaurants is usually determined by their price.
"I enjoy the atmosphere and vibe in most of the restaurants in Davis," Regan said. "It's evident that many places downtown cater toward UC Davis students. I believe that most of the restaurants are somewhat fairly priced, especially because of their convenient proximity to campus."
Restaurants in Davis have acknowledged the needs of college students in terms of cheaper food costs. Students eat out often because of their busy schedules. Sometimes it's quicker to buy a good meal instead of spending long hours cooking one.
Davis Sushi Buffet's manager, Tiffany Nguyen, believes her restaurant's fairly priced food makes it stand out among the Davis community.
"We keep the prices for a long time," Nguyen said. "I think the most important thing for students when it comes to eating is the price, right? To stand out in a college town, we need to keep our price affordable."
Minh Bui, a third-year communications major, also loves the reasonable prices for food in Davis.
"What I really like about Asian restaurants here in Davis is that they are cheap and convenient," Bui said.
Low prices seem to attract younger customers, yet the topic of authenticity still pops up in conversations.
"Authentic food is definitely a priority because, when I go to a restaurant, I assume that the food I'm ordering is representative of the culture that the restaurant claims to stand for," Regan said. "Food is one of the main aspects of a culture and can be seen as one of the most important ones. If the food is not authentic, then it isn't a real indicator of the culture it represents."
According to Bui, growing up with a particular type of food and being surrounded by a community that specializes in a specific cuisine has taught her how to identify an authentic restaurant.
"I grew up in an Asian household, which explains why I have an intensive knowledge regarding the authenticity of Asian food," Bui said. "I can easily differentiate what is authentic and what is not. I think authenticity in food is important because food defines culture and we want give others a good impression of our culture."
Similarly, Regan believes authenticity can be defined by home cooking. If it tastes like something your mom could make, it's probably authentic.
"I'm half Filipino and half white, so my household was split relatively equally in terms of influences from both sides. In reference to food cooked at home, Asian food was more prevalent because of my mom's Filipino cooking," Regan said.
Manager of Zen Toro Amy Nishiyama works alongside her husband who took ownership of the restaurant after his parents.
"We took over the restaurant from Scott's parents, and they are Japanese nationalists," Nishiyama said. "He's worked in many places, including three restaurants at one time, so he's had quite a bit of experience. He also worked in Japan. The recipes have been handed down to my husband, and nothing has changed in regard to the original recipe, but we still have specials we create on our own."
Both Japanese and non-Japanese customers enjoy the variety of food available at Zen Toro. According to Nishiyama, many customers have said their food brings them close to home, which by Regan's standards is a clear indicator of authenticity.
"Everything is made to order here," Nishiyama said. "We don't pre-cut the fish; we cut it and break it down. Quality takes time. There's no going around."
Still, price and authenticity aren't the main concerns for the Davis Asian community — it's the lack of diversity.
"[Davis] already has a lot of restaurants," Nguyen said. "Many open and many close out. We've been here for a while so we know. For the number, it's okay, but for the diversity, there's not enough. They have a lot of Thai and Indian food but not enough of, for example, Chinese. They don't have Hong Kong- and Singapore-style restaurants or Vietnamese food," Nguyen said.
Like Nguyen, Regan and Bui also want to see more diverse restaurants in Davis that are relatable to their culture. While restaurants like Zen Toro are successful in reaching out to their customers in this way, the lack of diversity excludes much of the UC Davis Asian community.
"I hope to see a Filipino restaurant or more variety in terms of places that represent other Asian cultures," Regan said. "While the Asian population is not the majority in the city of Davis, the student body at UC Davis is extremely diverse, so I would like to see more Asian restaurants that represent the spectrum of the multiple Asian cultures on the UC Davis campus."
College students may be the harshest food critics, but they're also homesick. After moving miles away from family for the first time in their lives, maybe all they want is a piece of home at school.
Written by: Becky Lee — arts@theaggie.org