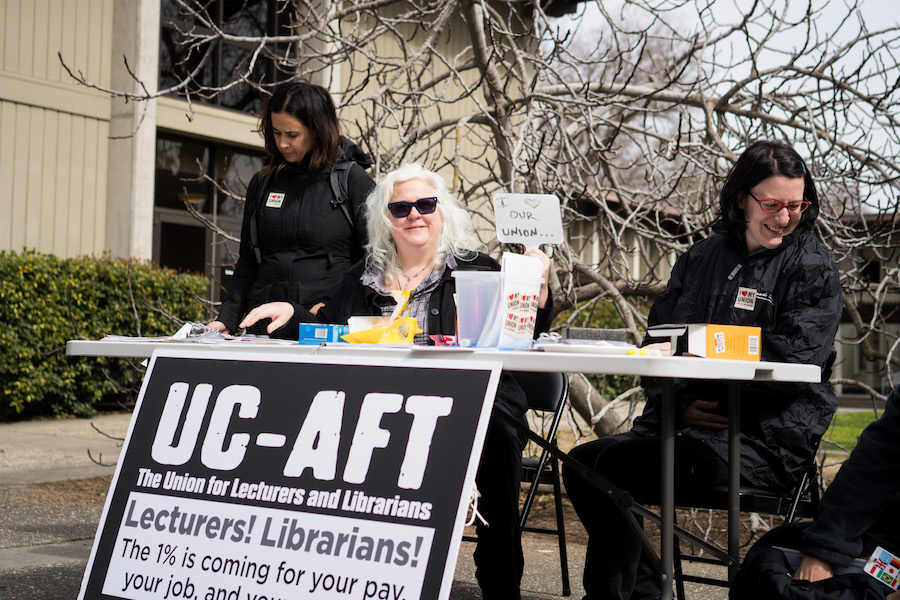 Salary, workload, academic freedom on table
UC-AFT Unit 17, the union that represents UC librarians, entered into contract negotiations on April 17 at UC Berkeley. Current negotiations will work toward finalizing a new contract to begin on Oct. 1.
The areas under negotiation are salary parity with other public universities and colleges, professional development funding, recognition of academic freedom, the inclusion of sabbatical leave and access to housing support programs currently being offered to faculty.
Adam Siegel, a biographer for languages, literature and performing arts at Shields Library, identified some of the major negotiation points in the current contract.
"We want to address the salary gap," Siegel said. "We are woefully underpaid compared to any institution you want to compare us to. The institutions that the University of California itself compares faculty salaries with, the types of public institutions that University of California compares administrative salaries with, and of course our counterparts at the Cal State campuses and the community college districts, we lag substantially behind them in all sorts of areas [with] salary foremost among them."   
Jennifer Harbster, a subject specialist at Shields Library, spoke about her work as a librarian.
"There are certain subject areas in which I am most knowledgeable in," Harbster said. "I work mainly with the physical sciences and engineering. If a physics faculty member needs help [and] there are some books they really need for their research projects [that] we do not have […], they can contact me."
Harbster said she has a budget which allows her to buy books and spoke about her ability to select books and journals that faculty may not have and might need — "I can do journal subscriptions, I can try to get databases, so faculty can come to me and ask me for help in doing purchases." Additionally, Harbster works on the library's collections to further research and scholarship.
"That is my collections development aspect of my job," Harbster said, "I am also always aware [of] what research is going on campus. For example, [in] computer science, we have an incredible cybersecurity program, so I make sure that the library has material that will support that program — all the way from the faculty down to the graduate students [and] the undergraduates."
Harbster said that salary was her biggest concern in the current negotiations.
"For me, because I am a mid-career librarian, I have just started the UC system, so I have not been vested in the UC system," Harbster said. "I have not spent my whole career thus far in the UC system. For me, it is about salary, it is about having parity with our community college librarians and our state college librarians. They get paid anywhere from 20 percent to 30 percent more than we do. We have a few slogans for this bargaining campaign and one of them is 'world-class institutions require world-class librarians.'"
Harbster spoke about the shortage of librarians and how this has affected their ability to do their work.
"I feel like it is hard for me to give my attention on a few of those big departments," Harbster said. "We are talking about workload issues. There are some campuses that have been experiencing the same thing, because there are people that have been retiring and those positions are not filled."
Siegel added to Harbster's sentiments on the librarian shortage.
"There are fewer of us," Siegel said. "There are fewer librarians — maybe 200 fewer in the UC system than there were 35 years ago. Whereas 35 years ago, the campuses were substantially smaller. All of us at this campus […] do far more than we did when we were first hired."
Siegel commented on the frequency of librarian contract negotiations.
"We are at the end of a five-year contract," Siegel said. "We started negotiations for this contract probably in the winter of 2013, so this is what they call a very long-term contract that expires in September. The contract are as long as we can negotiate them."
Siegel said negotiations will continue into the summer.
"The first day of bargaining was this Tuesday," Siegel said. "It was at Berkeley [on April 17] three days ago. We are now officially in bargaining, and our next session will be at the Irvine campus on Tuesday. We will be bargaining in Davis in June and then into the summer [at] other campuses."
Siegel said that the last contract took effect on Oct. 1, 2013 and that negotiations for that contract lasted six or seven months.
Academic freedom is another key point in the negotiations.
"We are advocating for an acknowledgement of our academic freedom," Siegel said. "Our rights as academics to be able to pursue and seek the truth as we see it in the course of our scholarly, academic and other kinds types of pursuits in service to the university. That is something that we are very, very concerned about."
Siegel further detailed the importance of acknowledging academic freedom.
"The university has always recognized that there is this concept called academic freedom and that people in the academic titles [such as librarians] have it," Siegel said. "Because we have had people in positions of authority in various UC campuses that have not necessarily gone along with that and have attempted to sort of control and discipline the behavior of some librarians we have."
Siegel pointed out that even though librarians have academic titles, they do not have sabbatical leave to do outside research and gain professional development.
David Michalski, a social and cultural studies librarian at Shields Library, spoke about the librarian shortage and how that can affect the procurement of books and services for the library.
"In order to entrust the money is being used wisely, you need to hire employees that can look at the products that are being pitched to us and marketed to us all the time from Proquest, Sage or Elsevier and to look at them objectively and say how well are they really meeting," Michalski said.
Michalski said that librarians have to make sure that the different facets of the library run properly so that "you can have the best sociology departments, the best anthropology departments that we can."
"[We are] checking on how we are spending the money, checking [that] we are getting the resources, checking that we are not failing students and their understanding of how to do their own research," Michalski said. "[As well as] helping students get their degrees [and] making sure we have the resources and not just taking in the money from the state and spending it without any type of checking."
Written by: George Liao — campus@theaggie.org