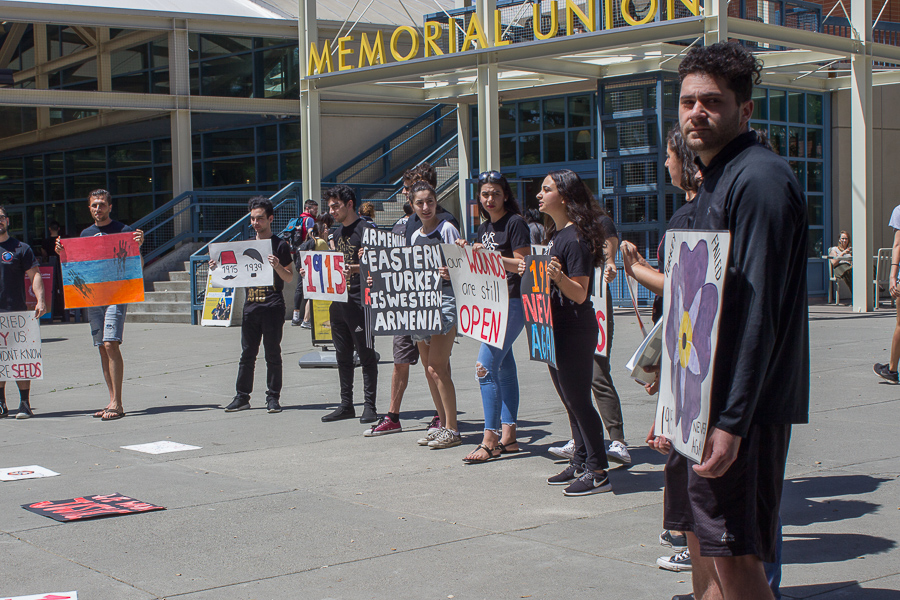 Armenian students holds die-in at MU
On April 24, the Armenian Students Association at UC Davis held a "die-in" on the Quad for an annual commemoration of the Armenian Genocide that occured in 1915. This year is the 103rd anniversary of the tragedy.
At 1:03 p.m., students peacefully lay down on the Quad with signs in a silent remembrance of the 1.5 million Armenians killed during the genocide. Signs were later held to the chest by the protesters to inform students of the bloodshed.
On April 19, an emergency ASUCD resolution, Senate Resolution #12, was passed to recognize the anniversary and provide support to the ASA and the Armenian community in Davis.
ASUCD President Michael Gofman, a second-year economics major, spoke about the work it took to bring the resolution to a vote via an email interview.
"I felt incredibly proud to be a part in making this happen," Gofman said. "As someone who comes from a marginalized community which has been the victim of genocide, I felt honored in recognizing the Armenian Genocide and supporting this community and helping unite communities around campus."
Gofman said collaborations like SR #12 can bring students together.
"The response from ASA has been amazing," Gofman said. "They feel included in ASUCD. Supporting student events and club events could be a way to make ASUCD more relevant on campus, especially for relatively apolitical issues like this."
SR #12 was authored by Senator Atanas Spasov, a third-year economics and mathematics double major.
"My family is Bulgarian, so as a result we have a lot of Armenian friends and family because there is quite a [large Armenian] population in Bulgaria that escaped the genocide back in 1915," Spasov said. "I grew up with these influences around me, and I heard a lot about the historical events. Coming to college, I realized that nobody actually knew [about] the Armenian Genocide or took the time to recognize it. As the day of recognition was coming up, I reached out to the Armenian Student Association to help me co-author this resolution to allow more people to be aware of the atrocity."
Spasov shared his feelings on the completed resolution, which passed unanimously.
"I was actually quite ecstatic," Spasov said. "I was very excited by the fact that it passed unanimously."
On the day of the commemoration, Anais Stepanian, a fourth-year neurobiology, physiology and behavior major and a member of the ASA, said the event is "very important" to her.
Stepanian said she has been involved in the Armenian cause since she was a child, when she would go with her parents to "march on the streets and fight for this cause to be recognized." She has partaken in the annual commemoration since she "first got on campus."
"Hitler used the Armenian Genocide to justify the killing of the Jews in the Holocaust," Stepanian said. "He said […] 'Remember the Armenians.' This stuck with me. If this injustice is not recognized, this will continue happening in history over and over again."
Arpi Deirmendjian, a second-year neurobiology, physiology and behavior major and an ASA member, offered a brief recounting of the history behind the Armenian Genocide.
"The genocide was a time when the Ottoman Empire came into Armenia and forced people to leave their homes and their families [to] march in deserts and systematically attempted to massacre the race," Deirmendjian said. "They ended up killing one and a half million Armenians. A small percentage of the population were able to escape and create the diaspora that we have today."
Deirmendjian talked about the meaning of SR #12 in support of the remembrance.
"I think that it says a lot about how much our UC Davis Senate [cares] about their students," Deirmendjian said. "They really want to make an effort to reach out to all the student organizations on this campus and make everyone feel welcomed, appreciated and acknowledged for their history."
Raffi Samurkashian, a third-year biomedical engineering major and a member of ASA, supported Deirmendjian's response to the Senate resolution.
"I think it is spectacular that all the way out here at [a] university in Northern California so far away from our homeland that we have people who are dedicated to recognizing the truth, dedicated to rejecting the lies of denial and really setting the record straight," Samurkashian said. "They were the ones that came to us. They were the ones that invited us to be there with them. We were not the ones that pushed for this to happen."  
Deirmendjian also expressed what it means to have a peaceful protest. He described "a particularly dark time for the Armenian people" when children were sent to partake in violent protests without knowing "what the future of the cause was going to be."
"Recognition of the Armenian Genocide has been something that the Armenian people have been working toward for the better part of [a] century," Deirmendjian said. "It was not always peaceful. There was a time when we considered the only way to get the world to recognize what happened to us was through violence. We decided it was inappropriate to try to continue this campaign of recognition through violence. We made it a collective transition to more peaceful protests."
Gardenia Nahigian, an ASA alumna who studied under the human rights program at UC Davis, added to the commemoration by expressing the importance of learning about human rights. Nahigian said it's important for "students to be educated about crimes against humanity and it is also bringing a lot of unity among students."
Written by: George Liao — campus@theaggie.org