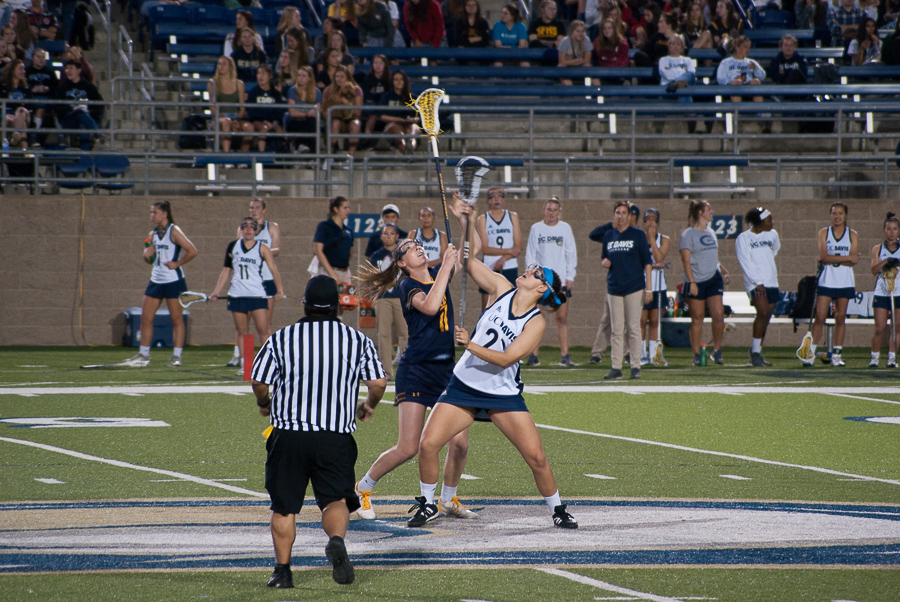 Aggies cap successful first season under Isidor with overtime defeat to San Diego State
The UC Davis women's lacrosse team suffered a heartbreaking, season-ending 11-10 loss to host San Diego State on Sunday afternoon in the MPSF title game.
The Aggies fought back from a three-goal halftime deficit and forced sudden-death overtime when sophomore attacker Amanda Outcalt fired a game-tying goal, her 30th of the year, with just over a minute left in regulation to make it 10-10. UC Davis barely had time to catch its breath, though, as the Aztecs scored the championship-winning goal a mere 23 seconds into the overtime period.
The Aggies' final record of 8-6 in head coach Suzanne Isidor's inaugural season marks the program's best finish since 2014. Prior to the title game, Isidor was named the league's Coach of the Year for her efforts all season long.
"It's been great," Isidor said. "We've come along way since we started off 1-3. The growth of this team has been so much fun to watch."
Isidor is just one of the several Aggies who were recognized for their contributions on the field this season.
Junior midfielder Taylor Cuenin, with her team-leading 38 goals, captured the program's first ever Player of the Year honors. Over the course of the season, she averaged nearly three points per game and finished second in the league in both goals and turnovers forced.
In addition, Outcalt, senior attacker Kate Fellner, junior defender Natalie Garces, junior goalkeeper Grace Richards and sophomore attacker Sorana Larson were all named to the All-MPSF squad. Larson came in clutch in the title game with a team-leading three goals.
"I got lucky that I inherited such a great group that's really fun to work with and will keep getting better," Isidor said.
Overall, Isidor credited the relentless nature of this year's team and its drive to continue improving as reasons for its success.
"Each day, they work on what they need to work on," Isidor said. "And that sort of created this mentality that we're just going to keep getting better."
The Aggies showed incredible resiliency at times this season and battled back from deficits on numerous occasions, including Sunday's championship bout.
"If the first half of a game doesn't go well, they were so good at making adjustments and coming out in the second half ready to go," Isidor said.
This attitude and mindset paid dividends for the Aggies, a team that either trailed or was tied at the halftime intermission in three of its eight victories.
This program has a bright future ahead, due to its experiences this season and the fact that most of the team's top players will be returning again next year.
"This team is really in a good place mentally," Isidor said. "They have some great leadership and great young players. They work hard and they have each other's back."
Written by: Brendan Ogburn — sports@theaggie.org