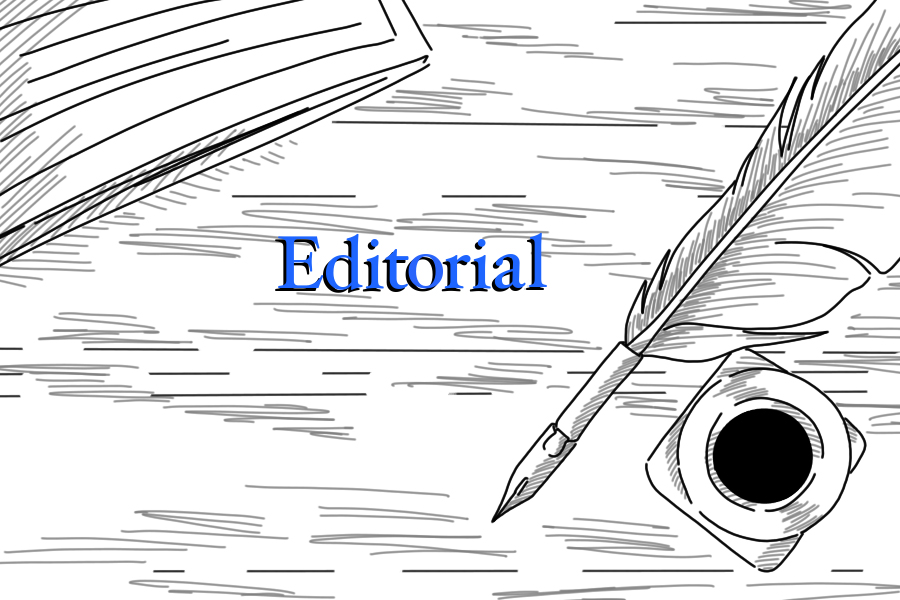 The Editorial Board loves their moms
Bryan Sykes, Editor-in-Chief:
My mom always tells me, when I'm worried or stressed, to "think good thoughts and good things will happen." If there is any phrase that best portrays my mom, it's that one. She's the most positive and supportive person I know and never fails to be there if you need her. Her optimism is the best remedy for whatever life throws at you.
When my mom isn't flying around the country, she is at home telling me about absurd stories that happen 35,000 feet in the air. She's the person who doesn't get sick (she totally does) because you're always the priority. She's the one who has the home remedies and the wisdom to fix just about anything you can think of. She'll put something away for safekeeping, promptly lose it and triumphantly brandish it once she finds it again ("See, I told you I put it in a safe place!").
But more than anything, my mom gets it. I need space? It's okay, she gets it. I'm anxious? She gets it and is on-hand to help out. Hungry? She gets it, and oh boy, she's en route to fix that problem. The pampering I receive from my mom is paralleled only by her love for my sister and our blind dog.
This beautiful, wonderful woman, who does so much for the people she loves and asks nothing in return, is simply the best.
Love you, mom.
Emily Stack, Managing Editor:
One of my favorite pictures of my mother is of her in the backyard of my childhood home — she is extremely pregnant with me, probably eight months along, in beat-up cutoffs and an old tank top, busting up concrete with a long-handled sledgehammer. I was raised by a woman unafraid of dirt and sweat, and it wasn't until I got older that it occured to me that there was anything strange about a woman being physically tough, with strong biceps and a good working knowledge of construction and internal combustion engines. By the time society got to me, with messages of women's frailty and helplessness, I was a lost cause to retrograde notions of proper womanhood.
Lest anyone get the idea that my mother is all brawn and no brains, she's also a teacher, and my memories of mother-daughter trips to The Home Depot are interspersed with trips to the library and nightly bedtime stories. First, she read to us and then, when we learned, my sister and I read to her. Every Mother's Day, I return to the last lines of Strickland Gillilan's delightful poem "The Reading Mother": "You may have tangible wealth untold;/ Caskets of jewels and coffers of gold./ Richer than I you can never be —/ I had a mother who read to me."
My mother is the toast of the town and adored by everyone who knows her, for her quick wit and humor and rock-solid, no-nonsense advice; my friends and hers flock to her for tenderly delivered but pragmatic life guidance, help when a car is making a funny noise and her truly excellent homemade granola recipe. (And you thought I was kind of a hippie.) She's an extraordinary woman, and I'm honored to be her daughter.
Hannah Holzer, Campus News Editor:
When my sister and I were younger, my mom served as an art docent for our classes. In sixth grade, she helped my class make 1,000 paper cranes for my teacher, who had cancer. In my sister's class, she had each student create their own gate as a miniature replica of Jeanne-Claude and Christo's 2005 artwork installation "The Gates." I had forgotten about this when, several years later, in my high school art history class, one of our final assignments was to reimagine works of art we had learned about. While most students painted on canvas or created sculptures, I bought 200 feet of red paper and wrapped about a dozen 7-foot cement columns on campus in red in the style of Jeanne-Claude and Christo. Although not a single person understood the reference, my mom snuck onto campus before school started just so she could see and take photos of my temporary "installation."
My mom is pretty darn cool — she has more Twitter followers than I do, she spends her free time door-knocking for local political candidates and her license plate is dedicated to her favorite Van Gogh painting, "The Starry Night." I get my passion for the arts from her, which has led to some exciting adventures, including but not limited to: possibly trespassing to see a giant mural and getting up at 5 a.m. and then waiting in Downtown LA for five hours to see a Yayoi Kusama exhibit (worth it).
She's a protestor extraordinaire, my feminist role model and genuinely beloved by her family, coworkers and friends (and my friends, too). She's brilliant and caring and kind and she knows every word to every song on the Hamilton mixtape. She also reads every article I write the second they're published and sends me at least one photo of a flower or a cute dog every day. I know that as long as I try my best, she will always be my #1 fan. Love you, Mom — 20 million.
Kaelyn Tuermer-Lee, City News Editor:
Growing up in Maryland, I had to deal with the hot, humid summers, of which I was not a fan. But what my 6-year-old self didn't know was that in the nine years I lived in Maryland, I would be fortunate enough to encounter cicadas. For those of you who don't know what cicadas are, lucky you. I was utterly terrified of the red-eyed, nugget-shaped creepy insects that covered the ground and trees by the thousands. In short, they were anyone's worst nightmare. I begged my mom not to go to school, too afraid to step outside and become the cicadas' next victim. My mom, however, said they were harmless, not allowing me to skip school. I remember her walking me to to the entrance of the school, covering me with her jacket. I reluctantly made it to my first-grade classroom, with the help of my mom. And that's one of the things I love most about my mom — she always supports me but never allows me to quit.
Taryn DeOilers, Opinion Editor:
In kindergarten, I was obsessed with butterfly hair clips and had a propensity for cutting my own bangs. One day, when I decided to put literally over 20 butterfly clips in my hair and debut a particularly uneven set of bangs, a teacher scolded my mom: "I can't believe you'd let her leave the house like that." My mom, the kindest, least confrontational person in the world, promptly told that teacher where she could stick it. "My daughter is expressing herself, and you don't have any say in that."
That's my mom: Always kind, always unassuming, always forgiving — but fiercely protective of my brothers and me being our authentic, very weird selves. She has never put pressure on me to look, speak or dress a certain way. She has never asked me to stop singing opera to my cats or tap-dancing for my cats or writing jingles that incorporate my cats' names. (And trust me, I do this often, and good lord, is it extremely annoying.) She has never shamed me for getting a bad grade and has taught me to prioritize friendship, family and helping others over material success.
My mom has put up with a lot in her life, but she has always faced trials with strength, grace and a sense of humor. And if I'm being deadly, ruthlessly honest, she's quite the silly goose. Her hobbies include a combined triple-mommy-whammy of quilting, knitting and attending book club, rocketing her to the status of "MOM LEVEL: GOLD." She uses way too many ellipses and awkward smiley faces over text, so let me channel her special language and say: I'll…always…be proud…to be…called…her "girly-goo." 🙂
Gillian Allen, Features Editor:
It was summer 2017 and my mom, my best friend and I were embarking on our week-long Paris escapade of museum-hopping and eating too much bread. On our first day out on the town, we decided to walk to the top of the Eiffel Tower and enjoy the beautiful views the city had to offer. After climbing up and back down the old steps and taking way too many photos, we finally reached ground level again. My mom had decided that day was the day she would wear her new, heeled Steve Madden sandals — perfect for climbing hundreds of steps. By the time we reached the ground floor, she physically could not walk and had to actually sit down, remove her shoes and trade hers with mine. She then had me fetch one of those light-up tourist rickshaws that people bike you around on, so that it could take us on a 20-second ride right around the block to where we were being picked up. I will never forget my mom's prima donna attitude on that day, and I love her so much more for it because it was so funny to me. My mom taught me on that day that it's okay to be a diva sometimes — especially when you've raised three kids and are taking one of them on a European vacation.
Ally Overbay, Arts & Culture Editor:
My mom has beautiful hands. Her fingers are long and slender and her nails are naturally manicured, never polished or chewed on. When she read stories to me as a kid, it was the only thing I could focus on. Peter Pan could be making out with Wendy for all I knew, but I could tell you with certainty that her pinky finger nail was slightly longer than her pointer's.
But it was more than her hands that I loved — it was the way they held a book. I wouldn't be surprised if the only reason I became an avid reader was my childlike attempt to hold a book the way my mom did (but when I tried, my little fingers couldn't span the width of the book and a paperback often landed on my face). Years later, I've had much more success (ask around, I've started a book club), and every time I pick up a book I think of my mom — which, fortunately, is quite frequent. And yes, we bend the bindings.
Veronica Vargo, Sports Editor:
My mother and I have a very peculiar relationship. She is not the kind of mom who says "Everything is going to be alright" or "Honey, you tried your best." She is more of the "Where's your drink?" and "That's life" kind of mom. When I would fall, she wouldn't help me up. Instead as I ran to her with tears, she'd say, "Oh well, that's what you get."
As most of my peers have shared touching stories, I can honestly say I was never the subject of loving, maternal tenderness. Instead, my mother's never-ending philosophy of "tough love" has not yet broken character, so much so that I can count the amount of times she has said "I love you" on my fingers.
So for that reason, I don't need to go on and list the reasons she's great or what makes her irreplaceable in my eyes. I'm sure she already knows that I know she did it all with my best interest in mind. She knows I know she sacrificed a lot of her life, especially being a single parent, to make mine immaculate. She knows I know that even when she didn't lead by example, she wanted to me to learn from her mistakes.
She knows all this and more, and even though she doesn't say it, she doesn't have to. I know.
Harnoor Gill, Science Editor:
Sometimes, my brain does a very unfair thing. It takes the image of my mom and prunes all of the aspects of her personality and character, her flowers and her thorns, and reduces her to simply my parent and caretaker. But when I take a few seconds to reflect and imagine that woman in her entirety, I am left a little breathless and off-balance.
This is a woman who left everything she knew and loved in her mother country to venture into an unknown land so that she could raise her children in a country with more opportunity and less pollution. This is the woman who, after having two kids, went back to school, despite the stigma and hardship of being a middle-aged student mom, to finish her credits so that she could apply for pharmacy school. This is the woman who got in and is now a full-fledged pharmacist. This is the woman who has struggled with a disability and health issues every day of her life. She is the woman who still calls her parents for a little solace and reassurance every night. This is the woman who knows everything there is to possibly know about Princess Diana and completely fangirls over her. This is the same woman who asked me if I had any food in my fridge this morning.
So yes, brain, that's my mom. But there's a bit more to it than that. She is a true manifestation of Beyonce's song "Run The World (Girls)." If I read her autobiography and never knew this wonderful woman, my heart would still fill to the brim and overflow with respect and admiration.