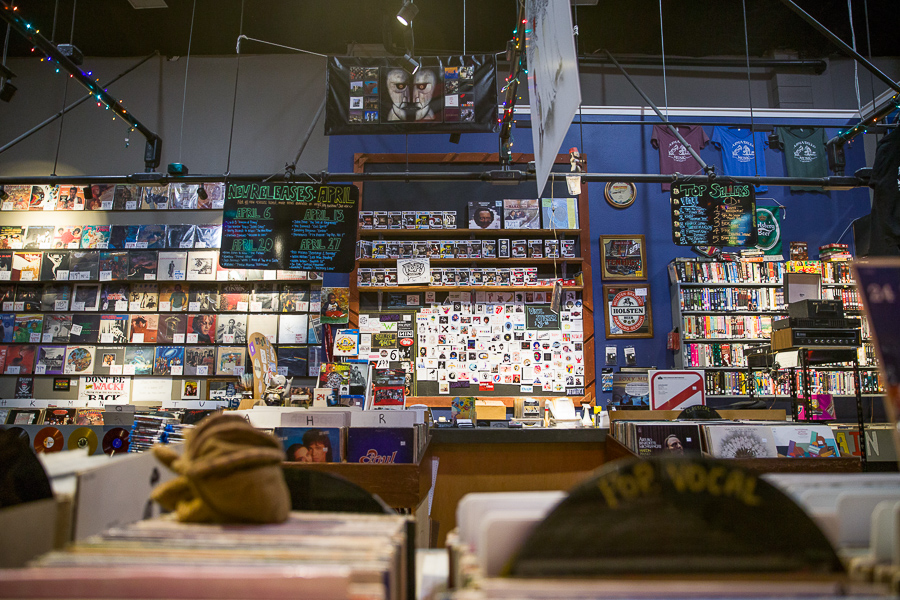 Local record store presents live, in-store shows
Armadillo Music is not only a mecca for record and CD collecting Davisites, but it also serves as a concert venue. Located on F Street in downtown Davis, the store has a small, makeshift stage in its front corner where local musicians perform for fans and browsing customers.
Third-year Spanish major Chloe Breaker has been in charge of booking in-store concerts since September 2017. She also took on the role of growing Armadillo Music's publicity and community outreach with social media posting and features on websites like The Davis Dirt.
"Recently we have been getting a lot of [performance] requests because we have been advertising it more," Breaker said. "I have been reaching out to other record shops in different areas; we send each other different bands. A lot of the times people inquire in the shop since they will see the stage."
According to Breaker, many artists inquire about booking shows after they see the stage or hear other bands perform.
Kat Gallardo, a fourth-year mechanical engineering major and frontwoman of the musical project katgrüvs, performed at Armadillo Music with the intention of expanding her audience. For many musicians like Gallardo, the centrality of Armadillo Music to downtown and its support by the local community makes the gig a valuable opportunity.
"They are always looking for people to play in-store," Gallardo said. "If you're a musician who is looking for more exposure, they are open to having that available to musicians. I think that is really awesome."
The show itself acts as its own advertising for musicians, targeting the city of Davis as an audience.
"It helps that Davis is a small town, and just having our poster up on Armadillo's window allows people to recognize us and acts as a stepping stone for us," said Jesus Rico, a third-year civil engineering major and member of local band Busy Lighthouse.
Especially for maturing UC Davis musicians, that expansion beyond on-campus shows is integral to future success.
"My first two or three years here, I have been just playing on campus events and occasionally have off campus," Gallardo said. "But now that I'm a senior and looking to grow my fan base beyond UC Davis, I am starting to book more in downtown Davis and do more Davis community-oriented events."
The venue itself is ideal for many musicians — its smaller stage prompts an intimate setting and interaction between viewer and musician.
"It was not as much of a formal venue with seating," Gallardo said. "There is less pressure in that sense, you can get a feel for the audience. It's perfect for being a one-woman band."
The Armadillo in-store shows enable a symbiotic relationship based on publicity for both the store and performers alike. According to Rico, random people would come to browse items, but they would stay to listen to the performer.
"Generally people come when they are browsing, and I think it's a good environment to have," Breaker said. "People won't expect it and it adds to the feel of being in an old school indie record shop."
More information and a lineup of upcoming shows can be found on Armadillo Music's website.
Written by: Caroline Rutten — arts@theaggie.org