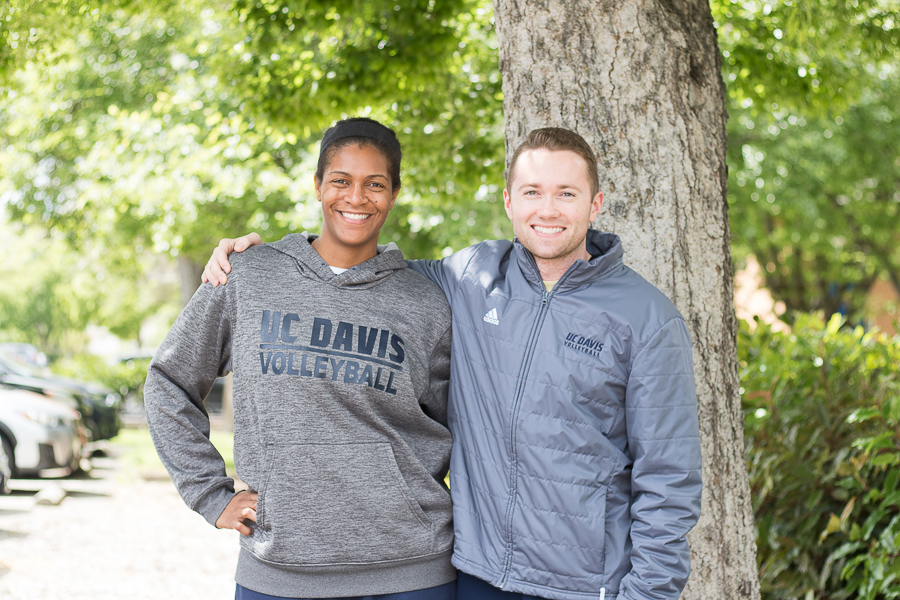 With multiple facets to the job, assistant coaching is more than meets the eye
In most sports, especially at the university level, there are assistant coaches to help specific athletic programs. They show up for games, give input and try to help the team succeed. However, there are many facets attributed to assistant coaching that people may take for granted.
Some may wonder why assistant coaches for particular athletic teams are even necessary. Women's volleyball assistant coach Bryce Williams, who has been coaching at the Division I level for seven years, three as an assistant, believes it is a chance to grow the program.
"I think the benefit of assistant coaches is that anytime you can have more support staff in a program you can do more special things with the group," Williams says. "You are allowed to make more creative visits for recruits and divide the work up more."
Women's water polo associate head coach Kandace Waldthaler mentioned other aspects of the benefits of having assistant coaches and the sheer volume of responsibilities that come with running a university level team.
"The administrative parts and all the behind the scenes stuff, everyone thinks that stuff just magically happens and we magically have flights booked for away games, etc.," Waldthaler said. "The [games] and all the production behind it is probably only about 60 percent of what we do, and the other 40 percent is recruiting, which is a huge part of your job because you are always having to think about the next thing."
When first entering at a position of an assistant coach at the university level, there is a entire scope of new learning that must take place in order to eventually become a successful assistant coach.
"When you first get hired as an assistant, it is really about learning what the head coach's style is, how best to give feedback and building trust with the head coach and players," Williams said.
For Dan Conners, the women's volleyball head coach, there is a lot of planning that goes into the process of hiring an assistant coach, stemming way before the first day of learning starts.
"I think that you want a balance of personalities," Conners says. "I think that I like having a balance of personalities, some more social, some more analytical, etc. I think a balance of personalities is important because then different players can connect with different coach personalities."
As far as why assistant coaches choose their careers, it usually stems from wanting to give back to the student-athletes and help them grow as players and people.
"I don't know if I can ever do a cubicle job," Williams said. "I am a super competitive individual and I like the flexibility of the schedule. I think it is a privilege to work with college athletes and form them into adults, while being a significant person in their life."
Nicole Miller, an assistant coach and the recruiting coordinator for women's volleyball who has had 10 years of assistant coaching experience, agreed with Williams.
"I tried the business world because I thought that is what I wanted to do and when I got there I knew it wasn't for me," Miller said. "Volleyball has always been a part of my life so I wanted to give back to the student-athlete experience. My personal experience was good in some ways and bad in some ways so I wanted to make sure if I was going to be involved it was a positive interaction."
Not only do people that become assistant coaches have to be passionate about the career, but there are other qualities that individuals must possess in order to love their job.
"I think it is a part of the work ethic and if you want to be a part of the grind because if you do not want to be a part of the grind you aren't going to like it," Miller said. "It takes a lot of your time so if you aren't passionate about it you are going to be miserable."
Williams added to those comments, saying that work ethic is key to this job.
"You can't hide behind a computer in this job because it is very active and if you aren't working hard, people are going to notice," Williams said.
Yurema Sabio, the assistant coach for the women's water polo team, believes that the job of an assistant coach is to do whatever possible to help the team succeed.
"I am doing the workouts and helping the team out with whatever Jamey [Wright] needs," Sabio said. "I enjoy the workouts the most, as well as the players. Every assistant coach has to do a different job. Maybe you have to support coach or maybe the workouts, the video, or administrative duties, it really depends."
From a head coaching perspective, it is nice to always be able to learn new aspects of coaching that may work.
"[Sabio] is very experienced and not shy to be direct with players, which is refreshing a little bit because she talks straight and directly from the heart," said Jamey Wright, the head coach of women's water polo. "For myself, it has been good to see that maybe talking direct may be effective or even the best way to talk to keep certain people interested and involved, which I feel has been a positive impact this year."
Being an assistant coach is challenging and hard work that requires maximum effort all of the time.
"You are like jack-of-all-trades and whatever needs to be done you have to be able to get it done," Miller said. "There is always something that needs to be done so I think that as assistant you are always trying to finish a task, but there is always another one coming."
Written by: Ryan Bugsch — sports@theaggie.org