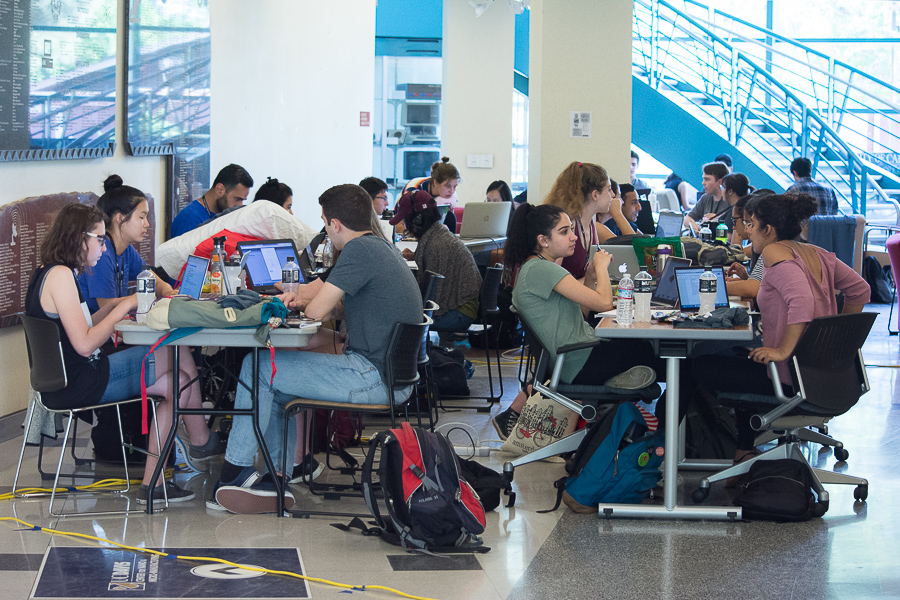 Event gives students opportunity to explore, create prototypes for start-up businesses
The 2018 Creator Challenge Series hosted by the UC Davis Student Start-Up Center was held over the course of two weekends in April and May.
According to Liz Tang, the director of the SSC, the Creator Challenge Series is "a mix between a hackathon and a start-up weekend." Students of diverse majors including design, business and engineering worked in teams to create prototypes for start-up businesses.
The series was divided into three events: the Ideathon, the Create-a-thon and the Sharkathon.
The Ideathon, held on April 28, gave students the opportunity to play with new technology, exchange ideas with other students and meet successful entrepreneurs.
"With the Ideathon, we wanted to get their creative side working," Tang said.
The Create-a-thon focused on execution and finding out whether the ideas were actually feasible. Starting at 4 p.m. on May 4, students slept over on campus and continued working through the next day.
Teams present at the event had a variety of innovative ideas.
One team worked on a bracelet that could help detect when someone is going into anaphylactic shock and provide a more convenient way for allergy patients to inject epinephrine into their bodies when they have an allergic reaction.
"I have a severe allergy to tree nuts, and the current methods of dealing with anaphylactic shock is expensive and cumbersome," said Anusha Klinder, a second-year global disease biology major and member of the team. "I wanted to invent something that targeted anaphylactic shock more accurately."
Another team worked on a platform that combines car sharing and ridesharing. Users of the platform had the option of joining a rideshare or renting a car if there wasn't anyone else going to their desired location.
Other teams included a team working on a device to detect ulcer formation in diabetic patients and a team from China who had developed a mini program on the popular Chinese social media website, Wechat, that helped international students from China purchase and sell a variety of used goods from cars to food.
"I wanted an app to help me figure out little things like buying and selling used goods," said Benda Zhu, the founder of the mini-program and a fifth-year mechanical engineering and economics double major. "I did this project because this app is exactly what I need."
The first-place prize for the Create-a-thon was $1,000 dollars plus a start-up trip to San Francisco. The second-place prize was $750 and third place prize was $500. In addition, $1,000 prizes were awarded to teams who best incorporated health and sustainability in their projects.
Ten finalists from the Create-a-thon were then invited to the Sharkathon on May 6 where they had the opportunity to make a presentation and pitch their ideas to judges.
"It's basically like the TV show Shark Tank," said Hemali Patel, the lead project manager at the Creator Challenge Series.        
Written by: Clara Zhao — campus@theaggie.org