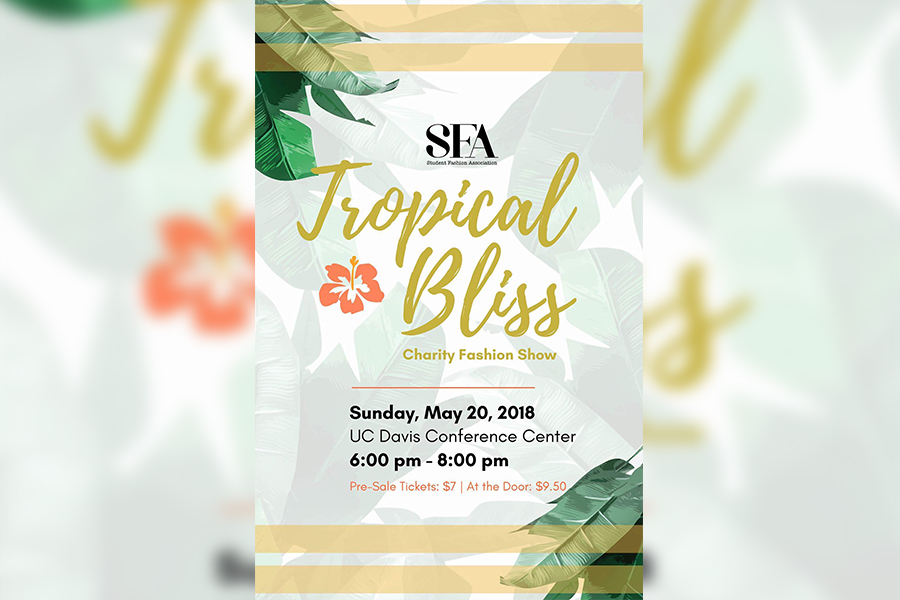 Annual charity fashion show returns May 20
The Student Fashion Association's annual charity fashion show is right around the corner. This year, the club will present Tropical Bliss, which will be held on Sunday, May 20 from 6 to 8 p.m. at the UC Davis Conference Center. All proceeds from the show will go to Unidos Por Puerto Rico, which will help provide provisions for those affected by the recent hurricanes.

This event includes live performances and entertainers from students at UC Davis, including Bailer de Fuego, Afro Vibes and Unbound Progression Dance Group. The main event includes collections designed by UC Davis students and others.

Camille Ramos, a fourth-year textiles and clothing major, is also the president of the Student Fashion Association. She has been involved with SFA since her freshman year, so she has a lot of experience planning this event. Ramos is also in charge of the decorations committee, which is making the decorations for the photobooth, lobby, stage setup and lighting.
"In the winter we offer the fashion show class, where the students can get one unit and they can help create the fashion show in terms of ticket designs, the decorations, finding designers and models and all the logistics about it," Ramos said.
In this class are the decoration committee, the fundraising committee (which is in charge of restaurant fundraisers), the Picnic Day flower crown sale (SFA's biggest project and one that involves reaching out to sponsors) and a marketing team, which is in charge of creating marketing and social media plans. The club also has a talent and entertainment group, which is in charge of looking for student designers, performers and MCs.
"What makes this class unique is that it doesn't focus on designing the apparel but focuses on the merchandising, the marketing, coordinating and the event planning of it all," Ramos said.
SFA recently held its model bootcamp, the big rehearsal day when the student models meet their off-campus designers. The club has designers coming from the Fashion Institute for Design and Merchandising in San Francisco and California State University, Sacramento.
"They come in and meet their models. The atmosphere is just great because, when you're planning a show, you have a visual, but then when you see everyone in the same space you get a better idea of how it's going to go," Ramos said. "It's really exciting to see."
The club posted a call for models, and a lot of students came out. Some of the designers brought their own models. Some even brought their own family and friends to model.
Demi Chang, a third-year design major, is SFA's multimedia coordinator. She's in charge of organizing the designers and making sure that their designs match the theme.
"The best part about this fashion show is that people can interpret it different ways," Chang said. "Tropical Bliss is very open-ended […] People have been interpreting it in a lot of different ways — mainly from an environmental impact perspective, while others are doing more tropical wear, resort wear."
Jazmine Escobar-Solorio, a fourth-year design major, is part of the officer board as SFA's graphic designer. She is in charge of a lot of the club's branding and also creates all the flyers and digital graphics for their events.
"From thrift store days to guest speaker events and even our annual charity fashion show, I get the opportunity to combine my love for fashion and design to create these marketing tools," Escobar-Solorio said.
Doors open for the May 20 fashion show at 5:30 p.m., but ticket sales will open at 5 p.m. for $9.50 each. Presale tickets sale $7, which can be accessed via SFA's Facebook page.
"All the members, models and designers have such a magnetic energy. The show is going to be so much fun," Escobar-Solorio said.
Written by: CaraJoy Kleinrock — arts@theaggie.org