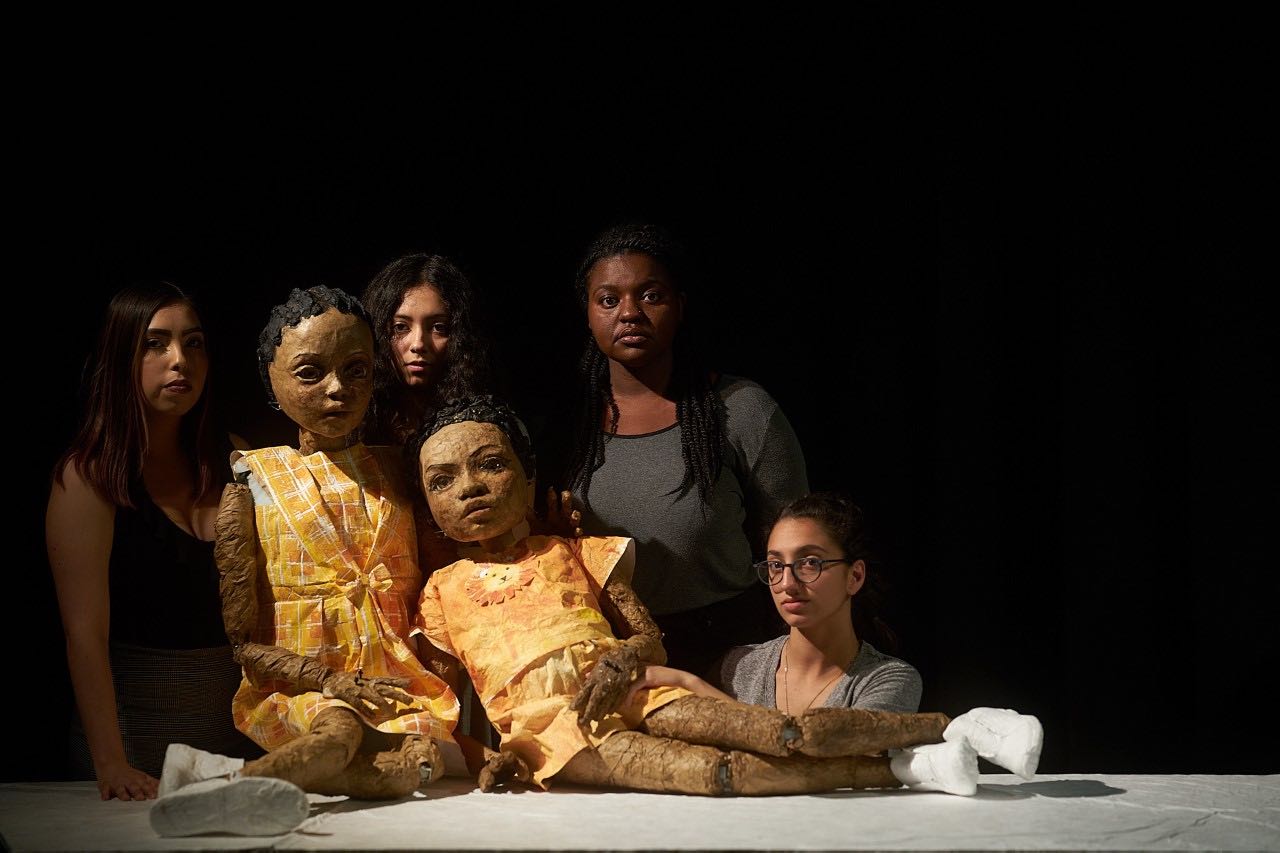 Puppets add different dimension to critically acclaimed novel, play
You may have been asked to read "The Bluest Eye" or possibly another Toni Morrison classic in a high school English class, but have you experienced it in play form? Better yet, have you ever seen the heavy story unfold through life-size puppets? From May 17 to May 19, the UC Davis Department of Theatre and Dance will be combining its adaptation of "The Bluest Eye" with puppets to deliver two hours of hard-hitting performances.
From the start, this production has been driven by student momentum. A student submitted "The Bluest Eye" as an idea for a future show to Margaret Kemp, the co-director of the play and an associate professor of theatre and dance.
"It really came — everybody asks this question — but it really came from the students because last spring I thought to more deeply engage the students in discovering new plays […] And this one, somebody submitted it," Kemp said. "And it was the first one that I'd sent out that like within an hour people had sent emails back saying, I'll read this part, I'll read that part."
Jasmine Washington, a fourth-year theatre and dance major, spoke of her diverse cast (composed of faculty and students alike) and noted fondly how well they work together.
"It's interesting because our cast is like primarily people of color," Washington said. "So even though it's not an all-black cast like it's supposed to be written, I think that there's a lot of solidarity between minority groups. At the beginning of the process we would spend like hours just sitting down talking about the issues and it kind of wears on you after awhile because you're doing the play and you're talking about all these things. But it's also kind of therapeutic in a way to like be able to talk about this in an open space and not be critiqued for how you're going to say it."
For Tiffany Nwogu, a second-year theatre and dance major, the depth behind the play resonated more as her time working with it progressed.
"At first it was essentially another play that I wanted to be a part of, but after getting more involved in it, I understood; I started understanding the big role it plays in society and how it's not just for entertainment," Nwogu said. "It's actually speaking to the people on the things we choose to ignore or the things in society that's been embedded for a long time and even in modern day society. I think that with Toni Morrison's work, despite it being old, is still relevant today and I think it's really great that I get to be a part of it and spreading the message. Lots of things are relevant sadly. But it's just how we choose to go about it and like basically knead the wound."
Washington also expressed similar sentiments on how disappointing and surprising it is that the issues in "The Bluest Eye" are still resonating with such relevance to today's time. In acknowledging this, she said it is subsequently imperative to ask "what do we as a society to do to fix that and rectify that?"
"Like every time I see this play, every day I'm like hurting because I'm like, I know this is how it is still," Washington said. "Like it really doesn't feel like something that is glorifying it. It's really like let's look at the issues and let's talk about it."
Washington recalls her initial reluctance toward using puppets to deliver these important messages.
"I was honestly very wary about working with puppets […]" Washington said. "But my opinion has changed a hundred percent because I really do think that they add to the story. This story is so hard that I think that seeing it through puppets adds a different dynamic because it's also like a little bit more heartbreaking seeing it on a puppet because you're like, this is this innocent child like entity and then you're just seeing these horrible things happening."
Washington also discusses this new and challenging experience of meshing acting with puppetry. However, to help with this application of performing on two different levels (acting and puppetry), the department was able to enlist another co-director while Kemp handled the acting side.
"Janni Young is our other director and she's from South Africa and she primarily works with puppets," Washington said. "She's done an amazing job with like trying to teach us how to articulate and how to make it look natural because there's so many things that we do as humans that you think you could do with a puppet, but it's like you cannot do it."
Kemp realizes the puppets are enough of an artistic imposition on the play from her side.
"How can you engage in the story that's outside of the dominant culture without appropriating that culture?" Kemp said.
Another factor that went into the decision for puppets was thinking about their historical significance.
"I'll also say that puppetry in South Africa, when it started to be used for the same thing that we're discussing, it was during the reconciliation trials where people told stories of the trauma of apartheid," Kemp said. "People would come to the Truth and Reconciliation Commission and the stories had such a powerful impact on their bodies that they would pass out, they would get sick and somebody said, 'well, we still have to tell the stories. How do we do that?' Somebody said, 'well, what if we used puppets? Would that help?' And it did. And I feel that that historical trauma that's part of the root of "The Bluest Eye" can be transferred in that manner."
On why students should support this play, Nwogu lists three reasons.
"I really do think this is one, it's one of the first puppet theaters like done on campus," Nwogu said. "That experience is already new in itself. Two, I feel like there was a lot of people that enjoy Toni Morrison's work in the literature and knowing if you just love her work and seeing it on stage, then that will be a good experience. Three, I feel that it's completely magical. It makes you feel, without realizing, like you basically get put in a vulnerable place as you connect with the characters and the puppets."
Kemp notes the importance of supporting peers and how students seeing the play would be a full circle ending to the immense student involvement and hard work that went into this production.
"We have so many people, like there's one person in the shop — he comes almost every day," Kemp said. "His name is Joseph. He is an engineering major and he's totally committed to building these puppets and he's never done anything like this. In fact, one of the puppets he wound up building totally by himself because he's really invested in it."
She also revealed that what she enjoys most about this co-directing position is being able to see the development of students.
"My [favorite] thing is to see the growth in the students because a lot of these students, I've had in more than a few classes and just seeing they've grown more in the 10 weeks — right now it's only six weeks of working on this show — than they've grown in 10 weeks of class time," Kemp said. "Every night they get to push themselves further than they have before and because they have the support of the entire company behind them to make that happen. So I think that for me it's like a dream come true."
Tickets for all four performances are now available for purchase online.
Written by: Cecilia Morales — arts@theaggie.org