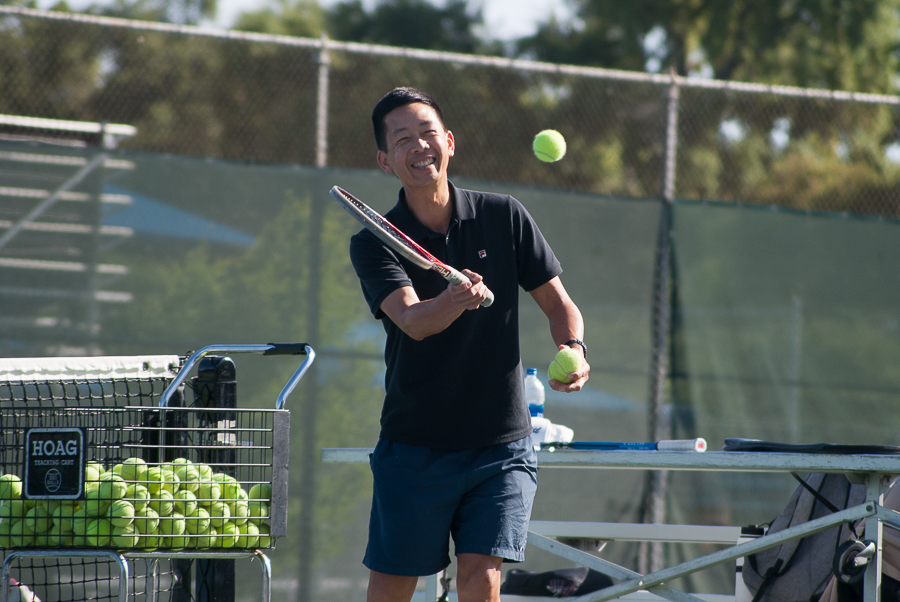 Former men's tennis head coach discusses mentorship, sportsmanship
Just beyond the glass windows of the education building stretched Sacramento State's tennis courts, their muted greens and reds an all-to-familiar sight for masters student Daryl Lee. It was the early 1990's, and Lee was finishing up his degree in marriage, family and child counseling. However, regular glimpses of the tennis courts sparked an interest in Lee that would take him down a slightly different kind of career path than his degree would suggest.
"I got into college coaching at Sacramento State for a couple of years still during [my program]," Lee said. "I was the assistant coach at Sacramento State, and after I got the degree the opportunity to be the head coach here at Davis presented itself and I went for it."
Lee was no stranger to the world of tennis, having played since he was young. One of his personal accomplishments includes ranking 48th in the top 50 singles in the 18-and-under division in the U.S. When it was time to go to college, Lee was given the opportunity to play for the men's tennis team at Stanford University when he was recruited by the coach at the time, Dick Gould.  
"It was a great environment because there were a handful who were on the team when I was there that went on to the pro tour after and they were very successful," Lee said. "Looking back on it, it was really invaluable to see that and see them in action at Stanford and see how they approached their craft."
Although he wasn't a starter at the time himself, Lee remembers the unbelievable talent of the other freshman on the team during his first year. It was 1983, the year that the Stanford men's tennis team won the NCAA Team Championship. Lee recalled being out practicing on the courts as this news trickled in.
"I remember where I was practicing on the courts and, you know, we didn't have internet or cell phones or anything like that, so we just kind of hear these off and on updates because it would be by the regular phone off the wall," Lee said. "I was just like stunned because there were four freshman out of the six players in the starting line-up — that's really unheard of."
A Sacramento native himself, Lee returned to his hometown to pursue his master's degree after receiving a B.A. in psychology at Stanford. According to Lee, since a young age he had always felt like mentorship was a suitable fit for him.
"[Mentoring has] always been the right niche for me," Lee said. "I've always enjoyed passing on what I've learned. I think that's a real gratifying thing to do in the workplace."
This sense of self is what led him to hold multiple coaching positions at Sacramento State, including assistant men's tennis coach in 1991 and 1992 as well as associate head women's tennis coach between 1992 and '93. Lee then headed the UC Davis men's tennis team from 1993 to 2012. He's been a continuing lecturer in the Physical Education Program here since 1994.
"Back then coaches were hired as what's called a lecturer/coach," Lee said. "The primary position is to be a lecturer in the physical education department. I've been technically what's called a continuing lecturer in the P.E. department from '94 until 2018."
Lee believes that physical education is essential for promoting health.
"To be physically active is really important, for a lot of basic reasons," Lee said. "I try to get in the students' shoes usually, and I see that obviously people are doing it for a variety of reasons, but some of the seemingly more primary reasons are to get away from the classes and to relieve some stress and to stay active. I can't tell you how many times I've read in those reflection papers how people would not exercise if they had not signed up for the class."
Not only does Lee recognize these benefits as crucial to a college students' health and wellbeing both physically and mentally, as any physical exercise is, but that the P.E. program provides a vital social outlet for students as well.
"People can get lost, with how many students are here," Lee said. "They can go to their classes and not talk to anyone, they just hear somebody ramble on for 50 minutes, take notes, and then leave, maybe have a little interaction with their roommate. It's the social aspect [of P.E.] that I can't underestimate as well."
Lee tries to be observant of how his students appear when they walk on the court before class to how the leave when it's over. He's known since a young age the benefits of getting one's endorphins running, and over the years he's been able to learn how to notice when student has been positively affected by a bit of exercise.
"I kind of try to notice people's facial expressions and body language when they come in," Lee said. "I think that one of the things I try to do in the back of my mind is hope that maybe when people are done after that 45 minutes, when they're on their way to the next class, that they're in a little better mood, especially if they weren't in a very good mood when they showed up. If it helps them, then it's positive."
When it comes to coaching, Lee deploys a distinct leadership style that's focused on reinforcing values in his players he finds most important. Specifically, Lee recognizes that playing a sport on a team requires the coach to nurture an environment of positive interaction and mutual respect — starting with the most influential player.
"I think the secret to it is the interaction between the head coach, fundamentally, and the top player because everyone on the team is looking for guidance and direction, and most of all, inspiration," Lee said. "They're not looking at the coach, they're looking to their number one player."
Lee paints the picture like so: if the number one player is slacking in attitude or effort and the other players on the team can see this, then that opens the door for the rest of the team to slack as well. If this were to happen, players can justify their lack of a positive attitude or hard work by pointing fingers at the behavior of the top player.
To Lee, being the coach means fostering an overall positive attitude within the team when situations like this don't happen, the kind of environment where no one can poke fingers and no one can make excuses. Lee boils his coaching philosophy down to promoting two main values: dignity and integrity.
"Ultimately it starts with having a philosophy," Lee said via email. "Winning is not a philosophy. That's only a goal. A philosophy is about having principles. I think dignity and integrity are the most significant values to strive for. Interacting with athletes with mutual respect and understanding symbolize this. This engenders trust, which liberates athletes to perform at their best."
Throughout his time as head coach, Lee's commitment to these values and overall sportsmanship show in some of the men's tennis team's accomplishments. For one, while Lee was head coach, the tennis team won the UC Davis Men's Team Grade Point Average Award eight times. In addition to this, the team won the Big West Conference Sportsmanship Team Award twice within the first five years of being in the conference. On top of that, in 2012 the team advanced to the semifinals of the Big West Conference Championships.
While Lee was coach, he was able to witness a number of athletes on the team truly excel, including a student named Greg Lee, who was awarded the NCAA Postgraduate Scholarship, the Arthur Ashe Leadership and Sportsmanship Award and UC Davis Male Athlete of the Year, among others. As a marker of his growth and success, Greg Lee was also a four-time All-American and attained a professional singles ranking on the Association of Tennis Professionals Tour.
"He was a player who was not heavily recruited but he had a great attitude," Lee said. "He was a guy who accomplished more than I could have imagined, and any coach who has the opportunity to have that occur, that's the height. I think the best quality is to have a curiosity about learning, and [that guy] had it because [he wasn't this…] highly nationally ranked player at all, and yet [he was] making great progress."
Through Lee's experiences mentoring tennis, he's had to consider how to make an environment in a team setting that is fundamentally based on individuality. Lee claims the key to making this happen, to be a truly effective mentor and coach, is to understand the sport, people's individual personalities, how to communicate and most fundamentally of all, how to instill leadership in others.
"What I've found through the experience of it all is, as simplistic as it is, it is about leadership," Lee said. "The secret to me is that how to foster an environment of leadership within the tennis team, because in the end, those players are going to be influenced more by their peers than they are by the coach."
Written by: Marlys Jeane — features@theaggie.org