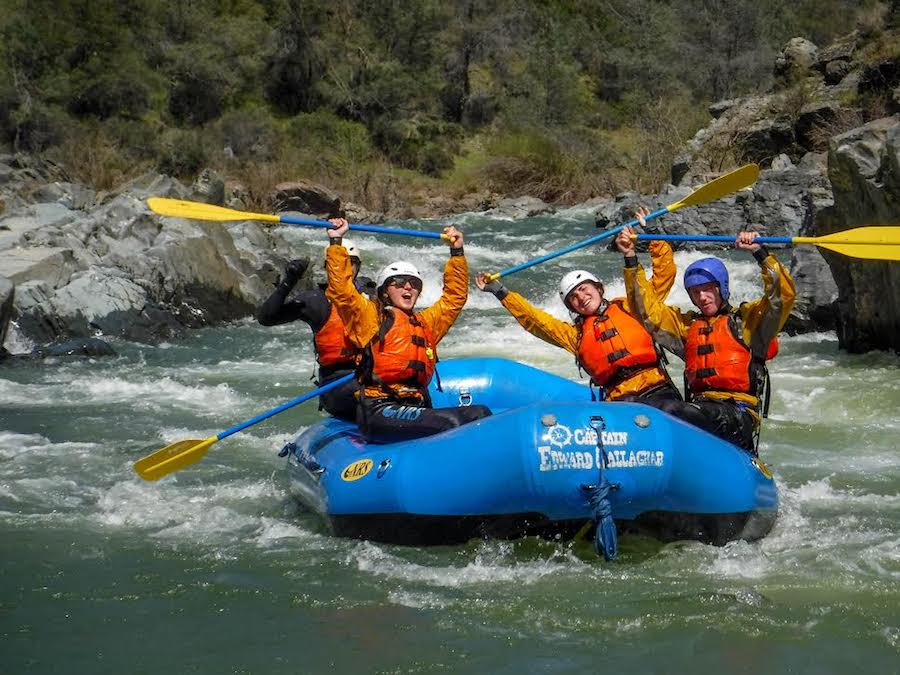 Davis' Outdoor Adventures offers students a thrilling new experience
Northern California is home to many scenic natural landmarks to take advantage of throughout the rest of these sunny Spring Quarter Saturdays.
Outdoor Adventures at UC Davis offers students the opportunity to escape their daily routines and appreciate the world around them while having thrilling experiences. Whether you're an outdoor enthusiast or just looking to test the waters of adventure activities, whitewater rafting can provide an unforgettable weekend experience.
Whitewater rafting is an adventurous way to explore nature's marvels while experiencing an adrenaline rush. In essence, participants collectively paddle a raft through a river's rapids, dodging whirlpools and rocks along the way.
Matthew Finkle, a fourth-year environmental policy major, has been involved with Outdoor Adventures since his freshman year. Throughout his years as an undergraduate, Finkle went through multiple guide schools and became the water program coordinator this past fall.  
"I've got a soft spot for rafting," Finkle said. "It's probably the coolest thing we do. No other universities have a permit to run the south fork in the American River and it's a pretty unique outdoor sport for college guides to run."
Finkle explained how the activities offered by Outdoor Adventures give students a unique experience.
"It's a day jam packed with adrenaline," Finkle said. "I love all of the outdoor sports that we run, but rafting for sure has the most thrills in a day."
In a typical rafting trip run by OA, participants meet at 10 a.m. at Camp Lotus in Coloma, Calif., located about an hour away from Davis. After meeting with the guides, participants gear up in wetsuits, life jackets and helmets provided by OA. After some safety and instruction talks, the group makes its way into the water.
"The first half of the day is class two rapids," Finkle said. "So bouncing around and splashed but nothing too crazy. It's a great opportunity for people we take who have never been rafting before to get on the same beat, paddling together and building up that confidence and excitement for the day."
Following the first half of the day, the group stops for a 30-minute lunch break where participants are asked to bring their own lunches. After the break, the group makes their way back into the raft for the most exhilarating part of the day — class three rapids.
"The class three rapids [portion] is through the gorge section," Finkel said. "All the water gets funneled together and it's a little quicker moving. If people get knocked out of the boat it's during the second half of the day."
After making it through the river, the group makes its way into Lake Folsom, where other OA team members welcome rafters back and tow the raft across the lake on a jet ski. The exciting day of adventure comes to an end, and participants return to Davis by 6:30 p.m.
Finkle explained that Outdoor Adventures is an economical choice for college students looking for a day nothing short of ordinary. For a standard day trip to the south fork of the American River, students pay $65.
"We primarily serve the student body since we are a part of the university," Finkle said. "Our prices are cheaper for students and ARC members, but we provide trips to anybody and everybody. The prices are slightly different but still very affordable."
Finkle offered a piece of advice for students who don't consider themselves to be "outdoorsy."
"Go for it," Finkle said. "College is all about trying new things and putting yourself outside of your comfort zone. If you aren't a big outdoorsy person or even if you are and you've never gone rafting it's okay, [rafting] is totally outside most people's comfort zone, but in the best way possible."
As far as safety goes, participants shouldn't be too worried, according to third-year psychology major Ayla Lebovitz. Lebovitz got involved with Outdoor Adventures as a freshman and now teaches various guide schools.
"We take safety super seriously," Lebovitz said. "Your guide will always be with you and you're always wearing a life jacket and helmet. You don't need any experience to go on a trip. Your guide will have all the experience necessary to take you down safely."
All rafting guides go through an intensive set of guide school classes and practice trips before taking out a group of participants.
"We always have super experienced guides on every trip," Lebovitz said. "The guides know what to do in any given situation and there are always two boats out there, so if something goes wrong in one of the boats there will be another experienced guide to help out."
In addition to the multiple physical and thrilling benefits of rafting, there is also an important benefit to being out on the water. Kevin Trujillo, a third-year mathematics major, is an experienced rafter who works as guide at Sunshine Rafting. To Trujillo, rafting is almost a liberating experience.
"I'm a huge advocate for mental health," Trujillo said. "I think that just being outdoors really improves your mental state. It gives you more time to think and get your heart racing rather than being cooped up in your room or on campus."
Moreover, Trujillo explained how rafting can be a fun way to experience nature and socialize.
"I think [rafting] gives you a better appreciation of where we are in California," Trujillo said. "We have so many natural wonders around us which is awesome [and] having that experience in the sun with a good group of people is a blast."
For those looking for a unique adrenaline rush that allows one to focus on the excitement and nature rather than just the physical exercise, visit the OA center and book your next great adventure.
Written by: Sneha Ramachandran — features@theaggie.org