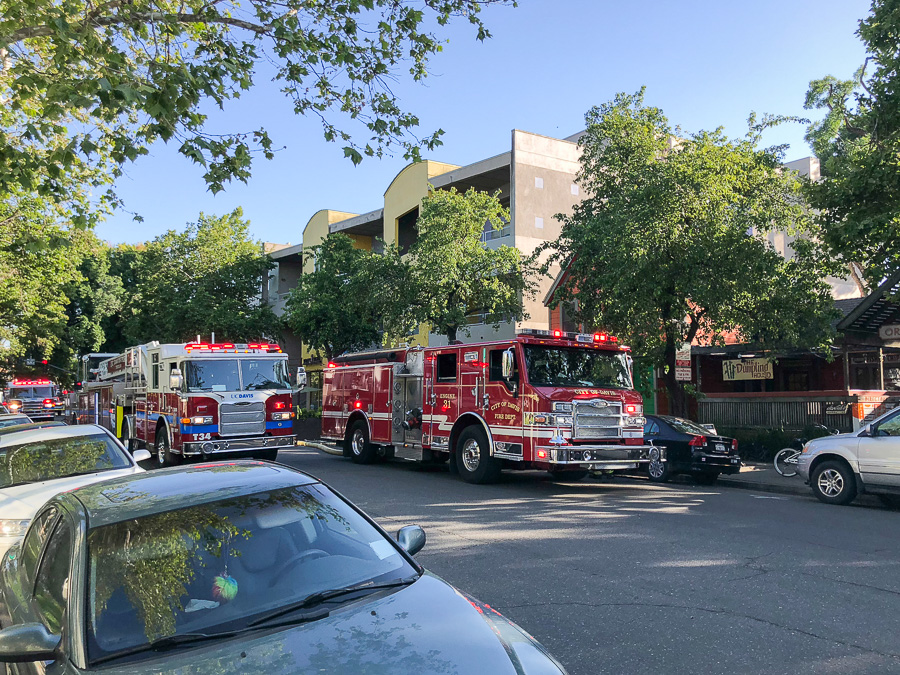 Dumpling House, surrounding businesses temporarily closed
At 5:24 p.m., Fire Division Chief Joe Tenney received a call that there was smoke pouring out of a roof downtown, which quickly burst into flames. According to Tenney, the fire was located on the second floor attic and the ceiling of the first floor at 117 E St., a unit in construction that was property of the Dumpling House next door.
"The call came in as a reported fire on the roof," Tenney said.
The scene was crowded with firetrucks, PG&E trucks and several police cars as dozens of firefighters and policemen made their way into and out of the taped-off area. According to Luis Parrilla, the fire investigator on the case, the response time was approximately three to four minutes. Upon arriving at the scene, the fire was put out within approximately 12 minutes, with no firefighter or civilian injuries. Four restaurants in the area were evacuated, including the Dumpling House and Sophia's Thai Bar & Kitchen.
Linda Liu, the owner of the Dumpling House, rushed to her business upon getting a call from one of her employees that there had been a fire.
"I was home — my employee just called me," Liu said. "I jumped right away and drove here."
Liu elaborated on the fire, clarifying that it had not come from the restaurant and that nobody was hurt. Employees had called 911 right away after seeing and smelling the smoke. Liu mentioned that she had an empty unit in the building that was under construction, which was being remodeled when the fire erupted.
Although no one was injured, the structural damage to the building is significant.
"The dollar loss is estimated at about $80,000," said Daryl Arbuthnott, the Davis fire chief. "That's mostly structure, not content."
Firefighters were still on the scene approximately two hours later working on overhaul, as the building has many old pockets and spaces. Tenney also mentioned that Dumpling House is an 1890s building and is surrounded by many other buildings with wooden structures, which led his team to be extremely cautious to ensure that the fire didn't spread.
Along with all of the City of Davis Fire Department and UC Davis Fire Department vehicles — which included four engines, one truck, one rescue and one battalion chief — fire trucks from West Sacramento and Woodland were also dispatched, one arriving at the scene and the other taking over other calls in Davis.
Sophia's Thai Bar & Kitchen remains undamaged from the fire, but the Dumpling House is expected to be closed much longer, although the exact time frame is still unknown. The exact cause of the fire is also still unknown, as the scene is still under further investigation.
Written by: Kaelyn Tuermer-Lee — city@theaggie.org