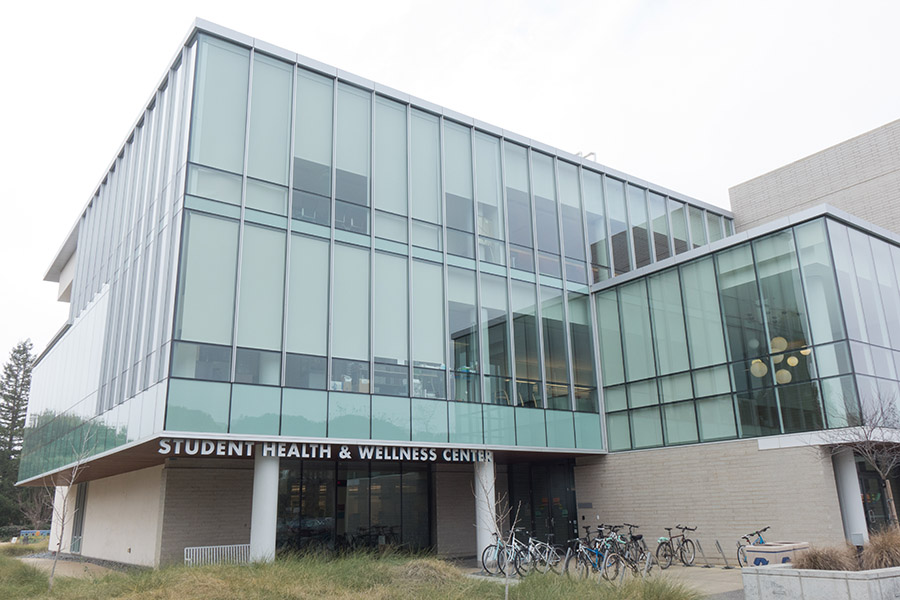 Walking paths, food access map, nutritional icons meant to address food insecurity, encourage fitness
UC Davis Health Education and Promotion, serving under Student Health and Counseling Services, has implemented a series of programs on campus to address food insecurity and promote well-being. Officially marked walking paths, food access maps and nutritional icons in campus eateries are in place across campus.
In Oct. 2016, the UC system signed onto the Healthier Campus Initiative, which is part of the nationwide Partnership for a Healthier America program. The initiative involved a three-year agreement for college campuses to develop and follow 23 guidelines "to create campus environments that encourage and support greater physical activity and healthier eating habits."
SHCS used support from this initiative to launch these programs.
Shantille Connolly, a health promotion specialist specializing in well-being for SHCS, approached the three dining commons to incorporate an orange-shaped icon into their premises. The project, titled Nourish, marks fruits, vegetables and meals that have more whole grains, healthy fats and less sodium, saturated fat and added sugars.
This icon system is an expansion of a previous icon system, Healthy Happy Apple.
The expansion's goal is to "revamp the system" and "make the healthier choice the easier choice," Connolly said.
All three dining commons have incorporated Nourish and the CoHo intends to begin labeling in food in the next few weeks. According to Leah Renert, a registered dietician for Student Housing Dining Services, the icon will soon be found in the UC Davis Health Pavilion Cafe as well.
Nourish is still in its "pilot phase," and "has allowed us to see what fits, what doesn't and what we can improve on…[we're] trying to create a culture on campus of health and well-being," Renert said.
The CoHo has also begun altering its recipes and practices to provide healthier foods for students.
"One adjustment we made after reviewing our nutritional data was to switch to a lower sodium soup base in our recipes," said Darin Schluep, the food service director of the CoHo. "Our team continues to look at ways that we can offer even healthier options to our customers, while still maintaining the flavor that our customers love."
The walking paths are each at least two miles and labeled with directional and distance markers on the ground across campus. The Stride for Aggie Pride 5K route was approved as an official five kilometer route for the program. Smaller one-mile routes have also been marked in the Pavilion district, Quad district, Gateway district and Health Sciences district.
The paths were set to be official in March but were delayed due to rain.
According to Connolly, there is interest in coordinating with faculty in instituting "walk and talk" hours for professors and students to try and "reaffirm campus as a community" and encourage those who may find office hours intimidating.
Funding for these projects came from the Healthy Campus Network, another UC-wide initiative started in Jan. 2017 to support "the groups responsible for programs impacting the health and well-being of our staff, faculty and students."
SHCS received a $4,300 grant from Healthy Campus Network to create its online-accessible food access map.
The conception for the idea came after the American College Health Association – National College Health Assessment coupled with the UC Student Food Access and Security Study reviewed the 2017 results from a survey conducted at UC Davis every two years.
The study revealed "food insecurity is a huge barrier in people's lives" and "that 19 percent of UC students indicated they had 'very low' food security," said Daisy Valdez, a fifth-year sustainable agriculture and food systems major and physical well-being student coordinator for HEP.
The map contains categories for pointing out vegan/vegetarian eateries, early-hour or late-hour venues or spots offering free food.
To support the release of the map, volunteers like Valdez and Rachel Lou, a fourth-year clinical nutrition major and student coordinator for nutrition services, used funds to purchase microwaves for sites on campus interested in adding one and placing them as microwave accessible on the food access map.
According to Lou, the Pantry accepted a microwave as did the BioBrew cafe, and the ARC is in process of acquiring one.
"Increased student admissions has led to much longer wait times for students/faculty/staff at campus eateries," Valdez said via email. "Students/faculty/staff that do not want to/cannot wait in the long lines may just choose to not eat or eat convenience foods, instead, that are often times unhealthy. We want to create this food map to raise awareness to these issues on campus as well as to provide students/faculty/staff with a comprehensive list of everywhere they can eat."
Written by: Elizabeth Mercado — campus@theaggie.org
Editor's note: An earlier version of this article stated that Rachel Lou and Daisy Valdez are HEP volunteers. The article has been updated to include their specific job titles.