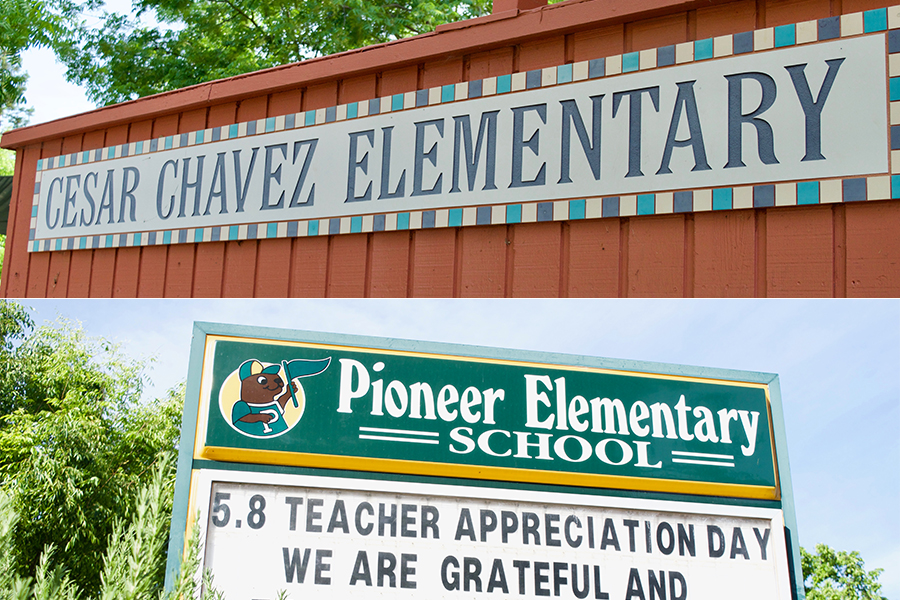 Veronica Dunn, Patricia Astin to take lead positions
Pioneer Elementary and César Chávez Elementary will both see new principals take office in the coming school year. Patricia Astin, the current coordinator of educational support services in the Tehama County Department of Education, will be the new principal at Pioneer Elementary. Veronica Dunn, the current interim principal at Pioneer Elementary, will take up the position at Chávez.
"We're always looking to select the best candidate for the position," said Maria Clayton, the public information officer for the Davis Joint Unified School District. "Obviously, at César Chávez Elementary, we need a bilingual individual, and experience there as a teacher was something Ms. Dunn brought to the job for sure, and Patricia Astin also brings a lot to the table when it comes to Pioneer. We're always looking for the best leader that we can in order to make sure that our programs our going to excel and to support the student needs academically, socially and emotionally."
Veronica Dunn, a UC Davis alumna, has been working as an educator for 11 years. She began teaching 4th and 5th grades at Winters Joint Unified School District in 2000 and moved to César Chávez Elementary School in 2014, teaching 6th grade. Dunn completed her master's degree in education leadership at Sacramento State in the fall of 2017 and has since acted as principal at Fred T. Korematsu, Pioneer, César Chávez, Marguerite Montgomery and Willet, all elementary schools in Davis. Now, she has been chosen to become the permanent principal at César Chávez Elementary. Because César Chávez Elementary is part of a Spanish immersion program that focuses on integrating both English and Spanish into students' education, Clayton and Dunn both emphasized the importance of the school's principal being bilingual and embracing the Spanish language.
"My entire career has been dedicated to Spanish immersion programs," Dunn said. "Learning languages has always been a passion of mine, and I will continue to advocate for this remarkable program in our District […] Looking ahead, I am looking forward to working with the teachers, staff and families to identify the conditions, systems, issues, barriers and challenges that our school must address to meet its obligation to establish equitable education, create a positive school climate and prepare our students for the 21st century."
Astin, who will be filling Duffy's role as the permanent principal at Pioneer Elementary, has worked as an educator and administrator for the Cascade Union School District in Anderson, the Junction Elementary School District in Palo Cedro, the Gerber Union School District and the Redding Elementary School District. She earned her bachelor's in child development and her teaching credentials at Chico State and finished her master's in special education at National University in Redding.
"I hope with my experience and knowledge I'm able to support Pioneer and Davis Unified while they provide me the opportunity to learn and grow as a principal," Astin said. "I never see any student that isn't capable — to me, everyone has a tremendous amount of possibility. I'm in education because I believe in every single student that I interact with and meet."
The positions both opened up when Denise Beck, the current principal at César Chávez Elementary, chose to retire at the end of this school year and Matt Duffy, the current principal at Pioneer Elementary, accepted a promotion to become the director of Elementary Education and Leadership for DJUSD. Veronica Dunn was chosen to fill his role as interim principal at Pioneer and after July 1, when the next school year begins, will take Beck's position as principal at César Chávez Elementary. Patricia Astin will replace Duffy as the permanent principal at Pioneer.
Written by: Ahash Francis — city@theaggie.org