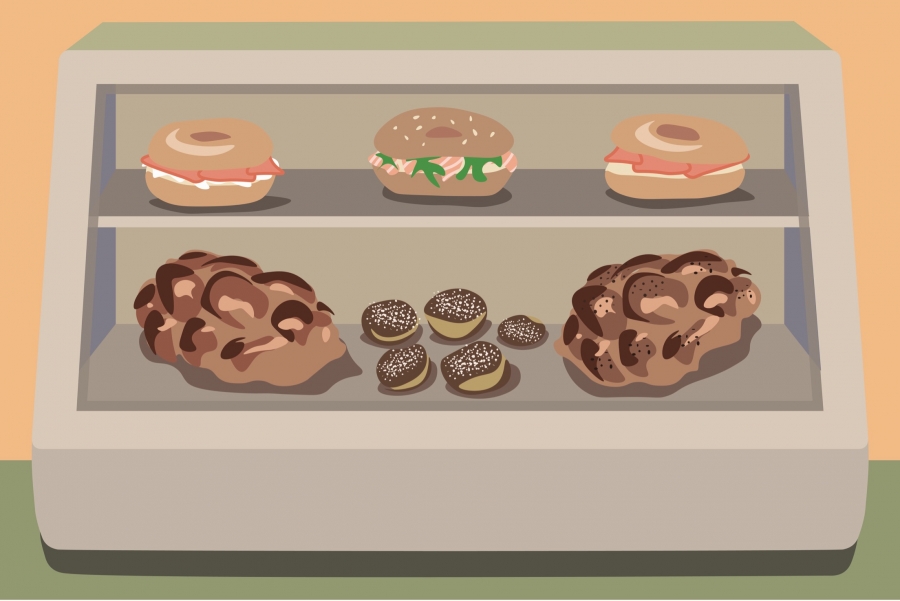 Deli seeks to mix old, new
On the side of the store, a large sign that reads "No Bagels, No Life" stands behind Solomon's Delicatessen's glass exterior. This slogan for Solomon's Delicatessen is inspired by "No Music, No Life," a slogan of Russ Solomon, the founder of Tower Records. Solomon passed away in March of this year.
Solomon's Delicatessen will also open its flagship location in Sacramento sometime this year. Its K Street location will be in a former Tower Records store.
Despite the Sacramento location being the flagship deli, the Davis location was the first to open, on 1st Street at Davis Commons.
Solomon's takes the place of Hot Italian. Andrea Lepore, who previously worked for Hot Italian, was one of the co-founders of Hot Italian. Just two weeks ago, Hot Italian signs were still there. The "#eatrealpizza" sign was still above the front door.
Sarah Keesee came to eat at Hot Italian but saw its windows plastered with newspapers. With regard to the deli, Keesee plans to "definitely give it a try" once it opens.
Aimal Formoli, having previously owned his own Sacramento restaurant for 11 years, came to work for Solomon's as the executive chef. He has been exploring different types of foods for a long time in New York City and Los Angeles and has been head chef in his bistro, incorporating European influence into his food.
In terms of the food, Formoli wants it to mimic old-school New York-style Jewish delis, which offer pastrami sandwiches, corned beef, matzo ball soup, smoked fish and bagels. The deli will also be a mix of old and new.
"The old is pretty much of the food that is offered to people," Formoli said. "The new is the Sacramento influences, the design [and] the building, Tower Records — which is a huge part of Sacramento. Also the modern feel to it. Healthier food with locally sourced products as well."
The deli will do catering as well as allow for online ordering for pickup or delivery.  
Solomon's Deli isn't the only new store at Davis Commons. Halal Guys has also opened up, right next door.
Chris Robbins, the manager at the Verizon store two doors down from the deli, had only heard of Halal Guys recently. He thinks that more people will come down to the Verizon store when the two eateries open up and attract steady customers.
"There will be three doors on this side instead of two," Robbins said.
Forrest Pasturel is a second-year student majoring in environmental policy and planning. Pasturel is part of Zeta Beta Tau, a Jewish fraternity at UC Davis. He often gets Jewish deli food from Hillel at Davis and from Sacramento, but will give Solomon's Deli a try. He also lists bagels, matzo ball soup and challah as what's often expected in a Jewish deli.
"It isn't a Jewish deli without bagels," Pasturel said.
Written by: Justin Chau — city@theaggie.org
Editor's note: A previous version of this article misspelled Lepore's last name as Lamore and stated that she was a co-founder of Solomon's. Lamore was a co-founder of Hot Italian. The article has been updated to reflect these changes.