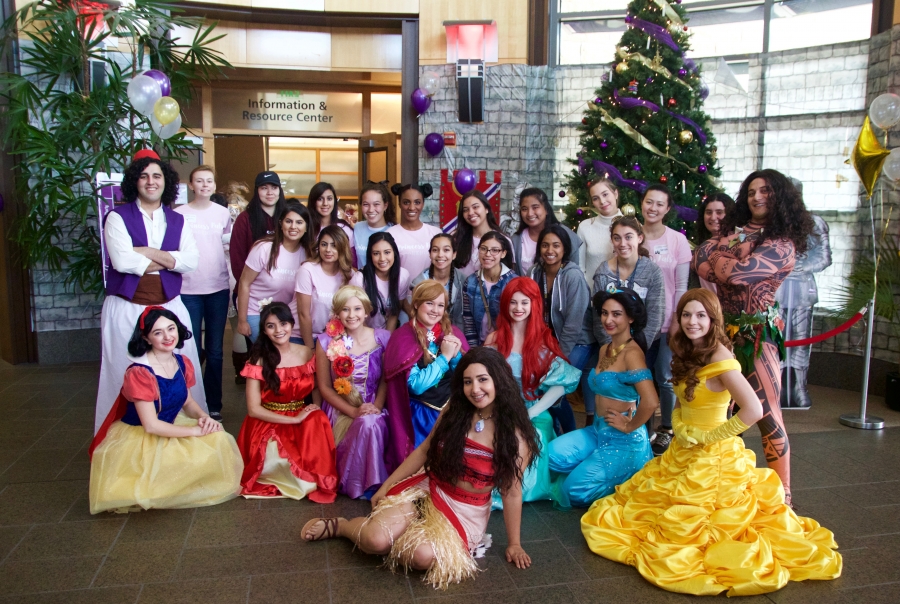 Davis students give children in need magical experience
For decades, Disney's cinematic genius has brought joy to people of all ages. To this day, Disney continues to give people the opportunity to use their imagination to keep the magic alive. Last spring, a group of Davis students decided to continue to keep the magic alive among children from all backgrounds.
A group of Davis students formed the Disney-themed club Princess Pals in an attempt to bring joy to children in need. The organization gives students the opportunity to dress up as famous Disney characters and visit at hospitals, foster homes and shelters. Together the princes and princesses aim to elevate children's spirits through storytelling, crafts and other activities. This past month the club was recognized as Organization of the Month for its outstanding service to the community.
Third-year pharmaceutical chemistry major Ashley Beyer has been a member of Princess Pals since fall 2017. Beyer was elected to be one of the co-presidents for the coming school year and intends to continue to bring magic to people of all ages. Beyer explained what the club does during their visits to hospitals, local shelters and receiving homes.
"Often times these kids are stuck in hospitals or receiving homes so we want to give them something to look forward to and be happy about," Beyer said. "We try to interact with them and brighten up their day as much as possible to distract them from the stuff going on around them."
Like the majority of the members of Princess Pals, Beyer herself has been an avid Disney fan since she was a little girl. Beyer explains why she as well as many other members are passionate in the work they do for the community.
"It's really exciting when you dress up and you see the smiles on the kids faces," Beyer said. "And it's not just kids, during one of our visits to Kaiser we walked through the ICU, and along with the kids we would see older patient's faces light up and smile which was really nice."
On average, the club tries to accomplish 12 to 15 visits per quarter. Throughout the year the organization also initiates various fundraising events to fund the upkeep of the costumes. In the first quarter that the club was active, there were only five members and three costumes; since then, the club has grown to about 50 members and now has a costume for almost every Disney princess.  
Zoe Feldman, a fifth-year pre-nursing psychology major, has been a board member of Princess Pals since the club was founded in spring 2017. As event coordinator this year, Feldman reached out to various hospitals and shelters, such as St. Johns, Kaiser, the Davis Medical Center and the MIND Institute. Feldman explained the process a member must go through to dress up as a princess on the visits.
"There's certain requirements and processes a potential princess/prince must go through to dress up on a visit," Feldman said. "We want [members] to have experience dressing up. We usually quiz potential princesses on their respective movie and character to make sure we get the full embodiment of the character."
Feldman explained how during many of her visits children would ask the princesses obscure questions regarding other characters from the movie. Feldman primarily dresses up as Anna from Frozen and has been asked questions such as "Where is Olaf?" or "What is Elsa doing?"
"If you say one wrong thing you could ruin the whole magic of the moment for them," Feldman said. "I've had children pull on my hair, and I had to act in the moment, so preparing for those instances is really important."
Feldman explains Princess Pals mission and why the club has been such a rewarding experience during her time at Davis.
"The most important thing is letting kids have the opportunity to be kids," Feldman said. "When you're sitting in a hospital bed or going through the foster care system, you don't have the opportunity to be a kids, and you're forced to grow up fast, so just letting them play and use their imagination even if it's for a couple of minutes is really amazing."
Second-year animal science major Johanna Schulz has been a member of Princess Pals since the club was formed. Schulz explained the impact the club has made on her and the community as a whole.
"It's really nice to see those smiles," Schulz said. "A lot of the kids don't have the opportunity to go to a theme parks to meet their favorite character so it's amazing that we give these kids the opportunity to be kids."
In addition to the smiles and laughs, Schulz explained some of the difficulties she as well as other princes and princesses face on visits.
"A lot of the places we go to not everybody has seen before or is comfortable with," said Schulz. "Sometimes kids come up to you and tell you their life stories and a lot of these kids have had a lot of hardships which are almost heartbreaking to hear. We want to be able to bring joy to the kids as the character without breaking character or breaking down in front of the child."
For Schulz, the club has also had a meaningful impact on her personal life which is why she believes that the clubs has made great strides toward bringing joy to children of all backgrounds.
"I have been in a lot of similar situations myself," said Schultz. "I know what it feels like to not have that smile on my face and think that your entire world is crumbling down. And to give these kids a reason to smile and be kids for some time is amazing."
Princess Pals will resume recruitment for new members next fall. Students who are looking to join a unique club that intertwines community service with the magic of Disney can visit the Facebook page or website for more information.
Written by: Sneha Ramachandran — features@theaggie.org