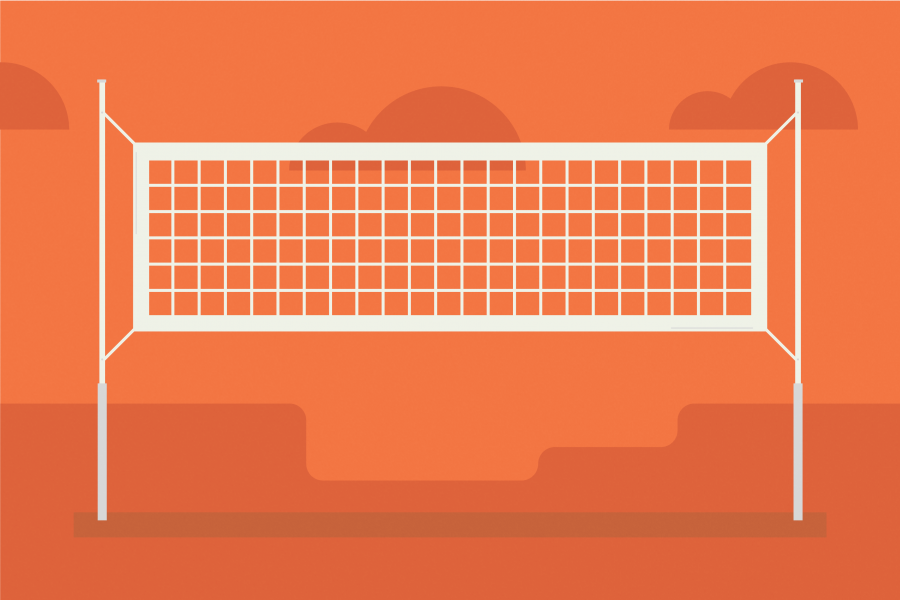 Search committees working to attract candidates
Solid collegiate sports programs are typically backed by a coaching staff with grit and experience, and after UC Davis Athletics officially announced the addition of equestrian and beach volleyball to UC Davis women's Division I sports, two search committees were formed to begin a nationwide search for head coaches with these qualities for the projected 2018-19 season.
The two search committees are structured differently and require input from different stakeholders on campus.
Equestrian is essentially a year-round sport and requires experts who know how to train and care for horses. For this reason, the search for a head and assistant coaches has become a collaborative process with the Department of Animal Science, the Equestrian Center and, once it's all sorted, the School of Veterinary Medicine.
First-year animal science major Charlize Zuraek has been riding since the age of six and knows firsthand the kind of collaboration necessary for proper horse care.
"We are asking them to do a lot more than your typical horse on any pasture," Zuraek said. "You have to give them the proper nutrition, proper healthcare, proper maintenance procedures as needed."
Anissa Nachman, the associate athletics director of budget and finance, oversees the committee and talked about the kind of candidates it hopes to attract
"I've been reaching out to the coaches at the other programs and looking for recommendations," Nachman said.  "It's going to likely be some people that we've been talking to. They're leading smaller programs but are head coaches or they're assistant coaches at large programs."
Nachman believes that progress is being made, but because most Division I equestrian programs are on the East Coast, the transition would be costly for candidates who would have to move to another part of the country.
"A little bit of it is difficult because they would have to move cross-country, and they're from less expensive cost-of-living states," Nachmann said. "I've heard that a lot  — about the cost of living in California — and that is going to be a little bit of a challenge."
UC Davis will compete in the National Collegiate Equestrian Association, which requires that the host team provides the horses for the competition. Nachmann says that a small subset of the equestrian community has this type of riding and coaching experience.
A lack of NCEA specific experience is not necessarily a deal-breaker for the committee. It is open to candidates with strong riding experience.
"That's why we would look at really strong folks from the equestrian world," Nachman said. "Who may not have the exact experience, but who we think can take their experience and translate that into what we're doing."
Fresno State's equestrian head coach Eric Hubbard said that his background was mostly in horse training with western riding experience.
Despite the lack of NCEA experience, Hubbard was able to adapt.
"You'll have a very diverse background of riders who come into a program," Hubbard said.
As for the timeline, Nachman had hoped to pick out a candidate by June 1, but is now hoping for July.
Nachmann says she has met with students on UC Davis' equestrian club teams.
"We're excited that the students are excited," Nachmann said.
Third-year political science major Hayley Fredericks has competed for UC Davis' western equestrian club team for three years. She was offered a partial equestrian scholarship to Baylor University.
"My goal in high school was to go to a school that I could ride for, so I met coaches and I created a video and I did the whole thing," Fredericks said. "And I had a couple different offers from a couple different schools."
Fredericks turned those offers down and decided to attend UC Davis and is excited to try out for the new team.
Zuraek also plans to try out in the fall. Like Fredericks, Zuraek was searching for a college with a strong equestrian program.
"I flew out to the University of Georgia, and I flew out to Texas Christian University, met with the coaches, watched some lessons, talked to some of the girls," Zuraek said. "And you get to know people, and I have friends who are competing right now that are competing at Texas A&M, [Southern Methodist University, Texas Christian University.]"
For beach volleyball, the hiring process is more straightforward.
Senior Associate Athletics Director Michal Lorenzen described ideal qualities for a beach volleyball head coach.
"They need to be really well connected, like in any other sport, to the club community," Lorenzen said. "So they can go out to tournaments and have an instant street credibility, so people know that we are serious and kids that want to advance and get better will come."
According to Lorenzen, Dan Conners, the women's volleyball head coach and director of women's volleyball (including beach), has researched potential candidates and narrowed the list down to candidates who the committee plans to invite to campus for interviews before the end of the month.
Lorenzen highlighted some of the search committee's goals for the new head beach volleyball coach, which is partially driven by academics.
"So we're trying to figure out how do we bring that caliber of student-athlete to Davis, ideally somebody that has beach volleyball coaching experience at a Division I institution and understands the challenges of balancing both high-level demands of both athletics and academics," Lorenzen said.
Lorenzen noted the culture Conners has built since 2014 and its vitality to the position.
"They have to fit the culture, because Dan [Conners] is the director of volleyball," Lorenzen said. "They have to want to fit in with his culture that he's built with the indoor program."
As for coaching experience, the candidate should have enough experience to lead the program into the 2018-19 season.
"They have to get beach volleyball at the college level enough that they can hit the ground in September and be ready compete in January," Lorenzen said.
Written by: Bobby John — sports@theaggie.org