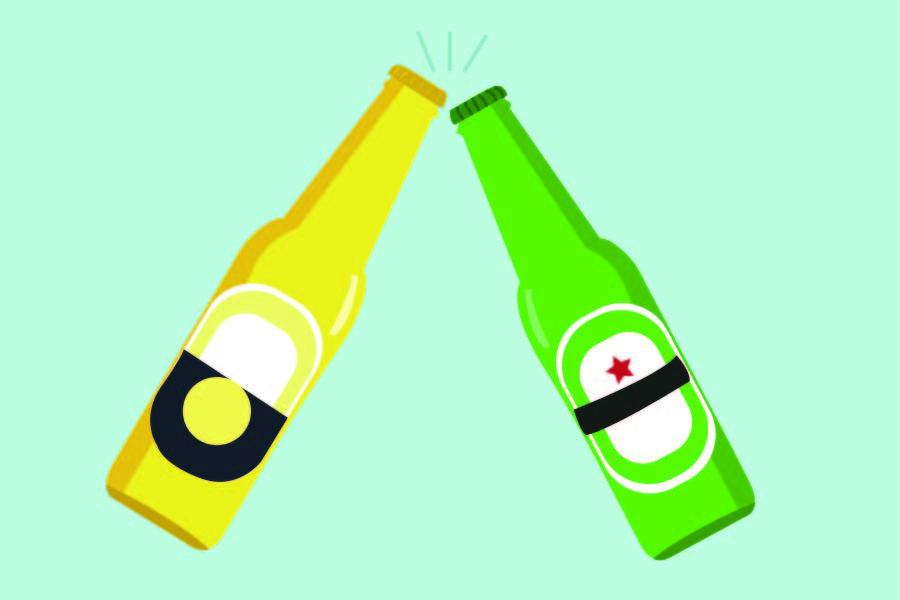 Try these spirits in the last month of Spring Quarter
For the majority of undergraduate students, college is a coming-of-age experience, and one seminal moment is turning 21. At that point, the world of legal liquor opens up, and students begin exploring their alcoholic options. But like most college endeavors, these explorations are often hindered by a limited budget. But fortunately, there are many available options for affordable — and not all that bad — alcohol.  
Cherry Blossom Pinot Noir
Price: $3.99
Found at Trader Joe's, this surprisingly delicious red wine is one of the best wines for the price. Perfect for budgeted dinner parties or a simple weeknight meal, Cherry Blossom pinot noir allows the possibility of multiple bottle purchases given its cheap price.
Boatswain Double IPA
Price: $4.99
In the spirit of Davis grocery stores, we have another Trader Joe's speciality. Boatswain Double IPA is renowned for having both an exceedingly small price tag and a 6.7 percent ABV content. With caramel notes and a strong hoppy taste, this beer is a perfect beginning to a night out.
Kirkland Signature American Vodka
Price: $16.99
Beloved by college students for its cheap price tag and smooth taste, Kirkland Signature American Vodka is a perfect choice for affordable cocktails. It has gained notoriety for its connection with the luxury vodka brand Grey Goose. And at $16.99 a handle, it's a steal for those drinking on a budget.
Sierra Nevada Torpedo Extra IPA
Price: $7.99
For fans of IPAs, Sierra Nevada Torpedo Extra IPA is the perfect summer beer. Sold at under $8 for a six-pack, this beer is one of Sierra Nevada's lesser known products. However, don't let its status fool you; this beer is packed with flavor and hoppy character.
Beringer Main and Vine Pinot Grigio
Price: $6.99
This white wine is the answer to Cherry Blossom pinot noir. A fruity wine with a dry flavor, Beringer Main and Vine pinot grigio is the perfect dinner pairing for fish or pasta. Its crisp flavor is sure to add to any upcoming summer dinner party.
Written by: Rowan O'Connell-Gates — arts@theaggie.org