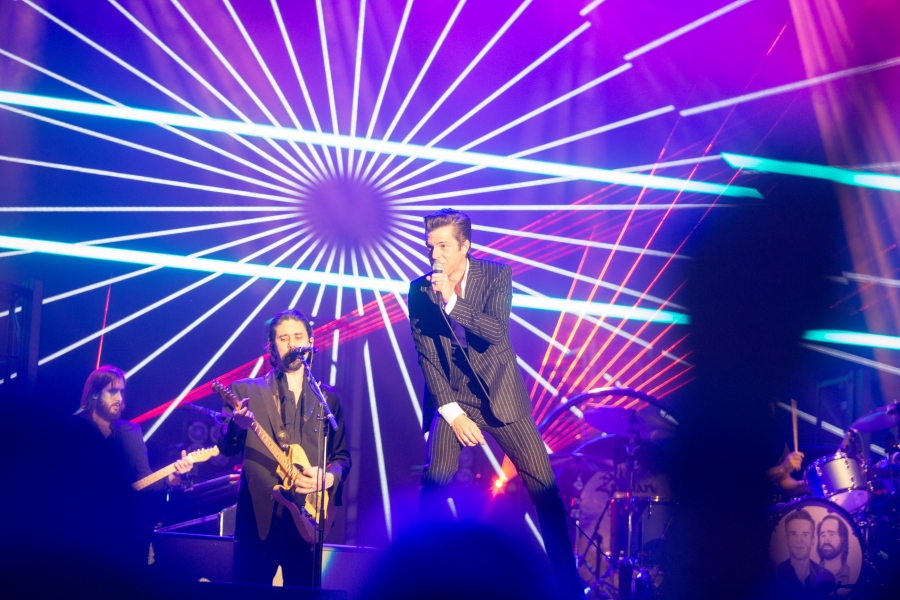 Wine, music and more wine
For a relatively new festival, Bottlerock Napa Valley has managed to enlist some big name performers — most notably this year's headliners of Bruno Mars, Muse, Snoop Dogg and the Killers. As the festival's name implies, Bottlerock is located in the heart of Napa Valley, and festival goers are made more than aware of this fact. With over twenty wineries in attendance, that $12 glass of wine was never far from reach.
With your attention being pulled in many different directions — and dehydrated, wine-drunk attendees often reaching a low point — the food options were fortunately abundant. From food trucks to individual vendors, gourmet meals were, quite literally, only steps away.
The festival also provided entertainment on many fronts (in case the four stages of lives music weren't enough), and the festival grounds also boasted a silent disco arena, spa booth and of course, a barrel backdrop for your Instagram story.
And, like the wine, the music was constantly flowing. From Muse's guitar-smashing rock show to Allen Stone's soulful sunset performance, there were no shortage of sounds coming from the Napa Valley Expo Center this Memorial Day weekend.
Friday
The festival kicked off with a number of noteworthy performances, including that of Trombone Shorty and Orleans Avenue. The group played a primarily instrumental set, with a funky sound that primed the audience for the following band to take the stage: Earth, Wind & Fire. And although Earth, Wind & Fire played a full set of entertaining and danceable music, the highlight unsurprisingly remained "Boogie Wonderland."
Afternoon shows included last year's NPR Tiny Desk winner, Tank and the Bangas, and Alabama locals St. Paul and the Broken Bones. Both shows impressed but didn't make particularly lasting impressions. The Austin, Texas performer Shakey Graves also made an appearance, but his relatively quiet set didn't quite suit the loud atmosphere of a daytime festival slot.
The evening ended with two main performers, and it was unsurprising that the audiences at each were starkly different in both age and energy. British rock band Muse took the Jam Cellars stage while electronic duo The Chainsmokers performed at the opposing Midway stage.
With legendary hit songs like "Madness" and "Uprising," Muse put on show that matched their fame. Lead singer Matt Bellamy smashed a guitar (one whose price would probably make me sick to my stomach) and gave a cringe-worthy "Are you ready, San Francisco?" to an awkward and silent Napa Valley crowd. At one point, Bellamy put on a pair of sunglasses with lenses that flashed the lyrics to "Madness" in tune with his singing.
But behind the flashy show and excessive, streamer-throwing finale, Muse played their music — and they played it well. The Chainsmokers, on the other hand, received opposite reviews. Although I opted out of The Chainsmokers' performance, the only feedback I received from others was, "bad," "very bad," "really really bad" and "I left early."
Saturday
Following a cold and cloudy Friday, the Saturday performers similarly looked brighter. The adorable British duo Oh Wonder played a wholesome set of melodic pop songs — but were similarly trapped by a case of "too quiet music in a too loud outdoor setting."
It was fitting that Seattle's The Head and the Heart played during Saturday's sunset; Charity Rose supported the band vocally more than in previous shows and played violin for many of their early songs like "Rivers and Roads." The folksy sound that turned the band into international folk-pop stars has slowly dwindled — and the quaintness of their early shows has surely long passed — but they have yet to disappoint in a live setting.
Jacob Banks gave an afternoon performance in the shaded Miner stage, and he took full advantage of the opportunity to wow listeners with his incredible vocals. He crooned his way through his discography, eventually landing with hit song "Chainsmoking."
But while the day was full of noteworthy musicians, many Bottlerock attendees made it clear that the Killers was their primary reason for attending the festival. The band did not disappoint, and they gave an energetic and surprising opening by playing "Mr. Brightside" first and foremost. They ended the show with lead singer, Brandon Flowers, seemingly disappearing from the stage — only to reappear in a shiny gold suit, sequined boots and all.
Sunday
The third and final day of the festival reached 85 degrees, and the scent of pinot noir was now slightly tinged with sunscreen. But more shocking than the turnaround of weather was the carpool promotion Bottlerock gave us. Upon our arrival, parking attendees asked to pull aside and provided our car of four people with VIP passes for the day — a deed apparently attributed to our decision to carpool. But beyond the free iced coffee and cleaner bathrooms of VIP Village, the accessibility to the main stages was almost identical to that of general admission. Nevertheless, we accepted the upgrade.
After some technical difficulties that put her set 17 minutes behind schedule, Alice Merton wowed the crowd with her energy, down-to-earth audience interactions and of course, her rendition of the song that made her huge: "Roots." She also introduced the audience to her friend Allison, a professional lemon shaker whose lemon shaking was completely inaudible to the audience — and no, I'm not kidding.
Merton's performance was apparently difficult to follow; New York pop star Halsey took the stage, only to express her annoyance at the Bottlerock crowd. Though an admittedly lackadaisical crowd, Halsey's bland performance and, in all honesty, her rude remarks, made it an easily forgettable performance. She later tweeted that she had an asthma attack on stage and was treated by medics after her set.
Fortunately, soul singer Allen Stone provided the festival with a positive turn-around, making two appearances that day: one at the VIP acoustic stage and another at a main stage. After listening to Allen Stone's brief, acoustic performance, the stranger behind me put it best — "If he's this good, imagine his show with a full band." And at 6:45 pm, Stone did just that; he brought an incredible energy with him, infecting the audience with new and old songs — notably the classic "Contact High" as well as his recently released track, "Brown Eyed Lover."
A notably mysterious performer with few, if any, published interviews, Allan Rayman gave a strange and eerie performance that shocked even his well-established fan base. Laughing maniacally into the microphone, Rayman was backed only by a producer and a guitarist. His contorted dance moves were interspersed by apologies: "Just a few more songs and we'll get out of your hair."
If you didn't know that Bruno Mars was attending the festival — today you certainly did. He quite famously called Bottlerock "the fancy Coachella," which received mixed reviews by the audience, among them laughter and scoffs. Frankly, he could not have better summed up the festival; to all sides of me were white moms drinking pinot grigio — but at least they knew how to boogie with Bruno.
Written by: Ally Overbay — arts@theaggie.org