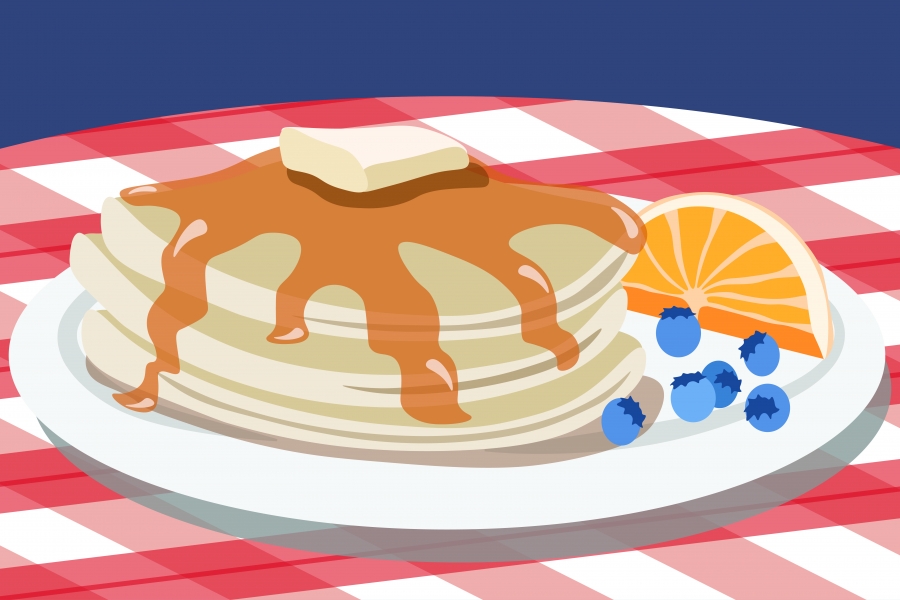 Local firefighters host pancake breakfast to raise money for burn institute
On May 5, Davis firefighters put together their annual pancake breakfast for students, families and residents to raise money. All proceeds, collected through $5 tickets sold around campus, are directly donated to the the Firefighters Burn Institute. This burn institute was founded by Fire Captain Cliff Haskell and local Sacramento firefighters as a nonprofit organization. Since 1973, this operation has worked in many other ways than just treating victims; it has also publicly educated those unaware of how important these outreach efforts are to communities nationally. This specialized burn unit has helped many of those who have experienced fire-related trauma from the Sacramento to the Davis area.
Altogether, the student firefighters raised approximately $1,500 with major assistance from nearby stores to put together the whole fundraiser. Nugget and Safeway offered employees to cook for the morning, using gift cards to purchase necessary supplies.
"The event was definitely a success and we were super grateful and happy with the turnout throughout the day," said Ari Wargon, a fifth-year mechanical engineering major, via email. "Personally I love this event because I get to see a lot of friends and family and show them where I live and where I work. Being able to donate to the burn institute is something very important to us, too, because burn injuries are so common in the fire service. We understand and sympathize the pain and devastation that comes with burn injuries. We are extremely appreciative there are people out there to aid victims in their journey."
This on-campus program invites everyone to look into the opportunity of becoming a firefighter and to make a major difference in the Davis community. The station covers campus territory and major freeways in the area to assist in much more than just structural fire incidents. The program itself is much more than just something one could sign up for — it involves a written test, physical test, interviews and a six-week academy course for training. Student firefighters must complete four 14-hour shifts and one 24-hour shift per month alongside classes.
"The experience I have gained from this program has really made me grow up," said Brock Gordon, a fourth-year managerial economics major. "You have to sacrifice a lot of things college students wouldn't be willing to sacrifice, from missing holidays with family to not being able to go out or participate in many common college-related things. I'm not complaining at all, but it is a sacrifice that I wouldn't change for anything. The program has given back to me in more ways than I could even state — I mean, it helped me realize what I wanted to do with my life."
After receiving their degree at UC Davis, these graduating student firefighters will come out with their EMT, their Firefighter 1 and skills that will last them a lifetime when it comes to saving lives.
"Something many people also do not know is that 70 percent of the job is actually medical," Gordon stated.
From the Thomas fire to daily calls to events like the pancake breakfast to raise money to better assist organizations around them, firefighters are providing necessary services around Davis.
"As student firefighters, we go through hours and hours of training on fire suppression, vehicle extrication and medical aid," said Benjamin Fenison, a fourth-year managerial economics major. "All the time we put in goes directly to help our fellow students, peers and community. Being able to impact the Davis community as a student is very rewarding. Although most students in the program are pursuing full-time careers as firefighters, this program is meant for all different backgrounds, majors and career paths. Personally, I am not pursuing the fire service, but this program has impacted me and taught me skills that will help me in my career path and the rest of my life."
Written by: Lauren Tropio — city@theaggie.org