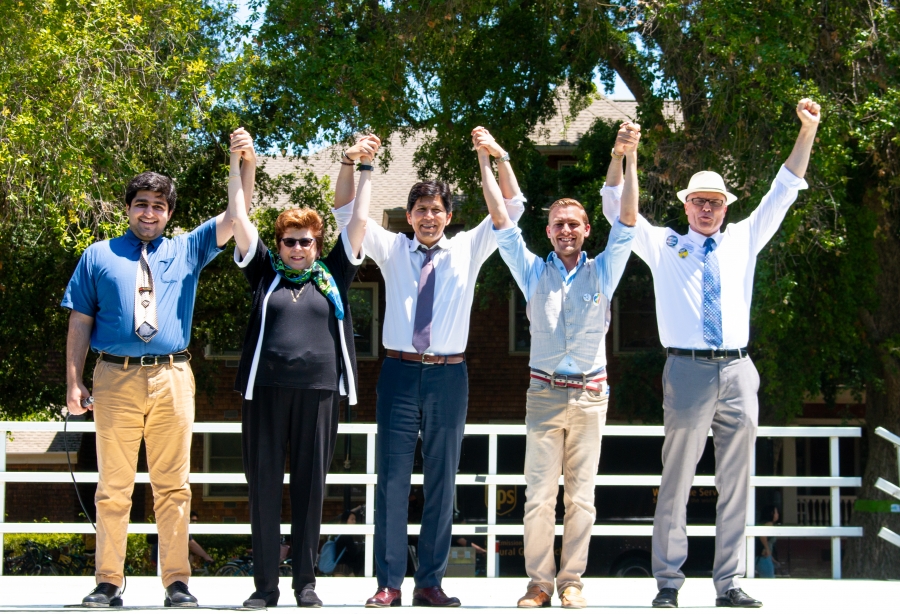 Event encouraged students to vote in upcoming California primaries, other community issues
On May 21, several student organizations including ASUCD, Davis College Democrats and RISE came together to hold the Aggies Vote Rally in the Quad.
The rally featured several notable speakers, including Delaine Eastin for California Governor, Kevin de León for U.S. Senate, Dean Johansson for Yolo County District Attorney and Eric Gudz for Davis City Council.
According to Adam Hatefi, a second-year political science major and event coordinator at the rally, the goal of the event was to have "a place where [students] could come together, get candidates to come and speak and get students registered to vote."
At the forefront of the rally was an effort to encourage students to register to vote in the upcoming California primaries, since it was the last day to register.
"In California, primaries are important because we have [a] top two primary system, so the two candidates that receive the most votes go on to general election regardless what party they're from," said Lauren Low, a second-year community and regional development major and a staff member to ASUCD Senator Alisha Hacker.
However, the primaries were not the only issue of focus of the event.
The speakers spoke about a variety of issues and problems with the current political system, including racial profiling conducted by police officers, inadequate support for individuals suffering from mental health issues and increasingly unaffordable rent that has forced many students to sleep in their cars.
"One major issue with the housing developments […] is that even though most of Davis' population are students, they are not actually registered to vote in Davis," Low said. "A lot of housing developments that could be really beneficial to the student population are voted down because a lot of the long-term residents in Davis don't want them."
The speakers emphasized the importance of the vote in dealing with these issues and facilitating change.
"The reality is that college voices are not being represented in the U.S. Senate, and when it comes to debt free college education, immigration reform, universal health care, clean energy and climate change, millennials have to have their voices heard," De León said. "If they don't get involved in politics, politics will get involved with them whether they like it or not."
Written by: Clara Zhao — campus@theaggie.org