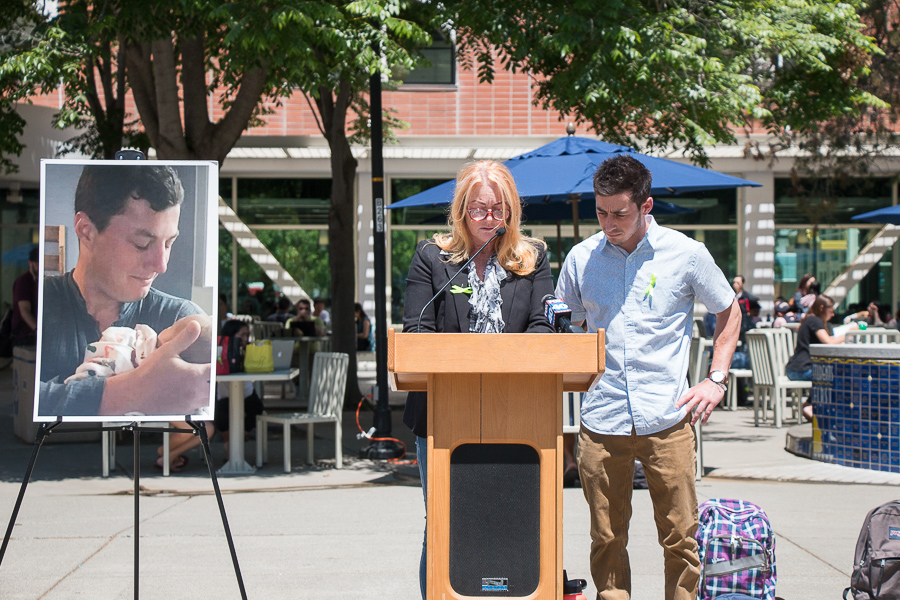 Mental health, criminal justice system discussed at rally
Students, family members, residents, community leaders and activists all gathered in front of the Memorial Union patio on Thursday, May 17, to remember Eric Pape, a former UC Davis student. They also continued the conversation his death generated about mental health and injustice in the criminal justice system.
"He was incredibly kind," said Dave Griffin, a friend of Pape's. "Sensitive. Smart. Smart as hell. Generous. We — all our friends — met him at the Kava Bar […] We talked long and hard about philosophy, life, struggles with mental illness. My favorite memories of Eric were just talking into the midnight, standing in the parking lot […] And again, just that kindness and warmth. Simple stuff."
Eric Pape committed suicide on May 4 of last year. Pape had been struggling with mental health issues throughout the year, feeling depressed, isolated and anxious after leaving his family and girlfriend to move to Davis. Eric checked himself into the Sutter Davis Hospital on Jan. 13 of last year. According to the hospital staff, he was hyperventilating and pacing around the room, growing agitated as he awaited treatment. His anxiety increased and, according to a nurse, Pape grabbed at him as he entered the room. The altercation grew violent, and Pape dislocated the nurse's shoulder. Police arrived and, because of a mental health block, made only a report on the incident. Three months later, as Pape's mental health was showing improvement from treatment at an outpatient facility, Pape was arrested on a felony battery charge. He was accused of inflicting serious bodily injury during the altercation. Pape struggled with he stress and anxiety of the long court case and the potential felony charges, and on May 4, 2018, he took his own life.
The rally was organized by the Mental Health Initiative with help from William Kelly, a graduate student and local activist. As part of the rally, the Mental Health Initiative put together a visual of 24 backpacks arranged in columns. The 24 backpacks served to represent each of the 24 UC Davis students who, according to the Student Health and Counseling Services, have taken their own lives since 2012. Members of the Mental Health Initiative were especially excited by the prospect of meeting and hearing from Pape's mother, Patti Pape, who had flown in from Southern California to speak.
"Eric was a giant redwood," Pape said during the rally. "He was solid, he was dependable, he was ever-present and what we thought was resilient, but […] it is apparent to me that my son was not treated properly in a medical setting with the dignity and respect that other sick patients get. Consequently, he was not treated with dignity and respect by the criminal justice system […] Eric was not a criminal. His self-worth, his future were being held hostage by the courts."
According to his mother, Eric was "never a violent person." Many of the speakers, including Patti Pape, called out the the District Attorney's office — who prosecuted Eric — Sutter Davis Hospital and the University of California, Davis itself for failing Eric and failing the 24 other students who have committed suicide since 2012.
"May is mental health awareness month," said Tracie Olson, the Yolo County public defender who fought to exonerate Pape of the felony charges pressed against him. "It's been celebrated since 1949, yet in the last years you would think we would have made more progress […] When it comes to our criminal justice system, we need to advance our understanding of mental illness so mental illness is not punished […] In the case of Eric Pape, he was in a hospital emergency room because he was suffering acute mental distress. He should have been diverted into treatment, not into a prisonhouse."
Among the many community leaders who attended the rally were Dean Johansson, David Greenwald and Mayor Robb Davis. Davis spoke to the crowd at the end of the ceremony, calling the criminal justice system "broken," and accusing the state and the system of "criminalizing mental health."
"How a case like this gets charged a felony — that's a broken system," Davis said.
"If our administration and our criminal justice system did not disproportionately target people of color and people with mental illness — which Eric falls into the latter category — he might still be here today," said Samantha Chiang, a fourth-year English and psychology double-major and president of the Mental Health Initiative. "Our law enforcement and administration must take accountability."
Written by: Ahash Francis — city@theaggie.org