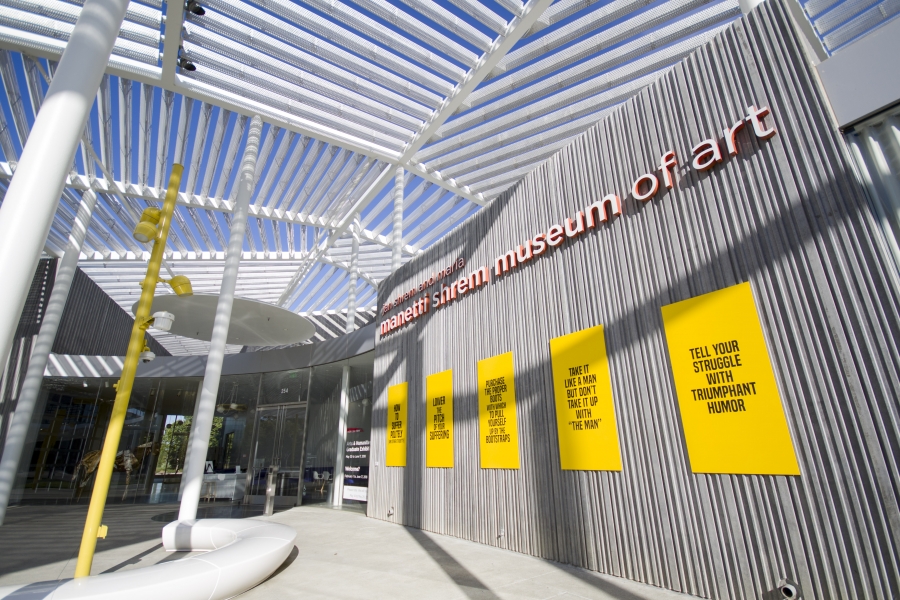 Work, research of seven disciplines to be represented
The Arts and Humanities Graduate Exhibition of 2018 will be on view starting May 31 through June 17 at the Manetti Shrem. The opening reception will be held from 6 to 8:30 p.m. on the opening day and will feature special performances according to Emily Clark-Kramer, a second-year graduate student in the art studio program.
"The opening will be a chance to interact with the artists as their thesis work is first shared with the public," Clark-Kramer said. "It is an opportunity to ask us questions that you would otherwise not have a chance to with the piece alone. There will also be one time performances, so attending these will be worth witnessing, an opportunity to see performance art for the first time."
For those in the art studio program, exhibiting is required to receive a master of fine arts degree. In an email interview, Tavarus Blackmonster — also a a second-year graduate student in the art studio program — said he views putting one's work on display as "a requirement of a Fine Artist" as well.
"One thing used to determine an artist's professional practice is their level of activity in the field," Blackmonster said. "Exhibiting professionally with galleries, museums and art spaces is how an artist engages with not only culture but the community at large."
Clark-Kramer discusses how this specific graduate exhibition is special to her and her peers.
"This exhibit is exciting for me as it is my first museum show, a prestigious honor for an artist," Clark-Kramer said. "I am looking forward to seeing my cohort's work all together. Our work is all quite different individually, but we have created an intimate community over the past almost two years so I will be interested to see the visual conversations that happen between our pieces within the space."
According to Clark-Kramer, the installations of art studio students are based on their respective research. This is something Blackmonster notes as making the exhibition noteworthy, along with the space itself.
"The Manetti Shrem Museum is a beautiful space with connection to the regional community and the Bay Area," Blackmonster said. "Further, the culminating MFA Thesis exhibition is an introduction of the Fine Artist to the community in a broad sense, where we articulate our investigations into a public forum."
He goes on to say how the general public should be interested in seeing this exhibition because it involves many different perspectives and mediums along with takes on socially relevant issues.
"Artists from different disciplines and mediums will all be presenting work that is an encapsulation of the personal, social, psychological and formal elements of discourse," Blackmonster said. "Also, with so much turmoil surrounding the election of Donald Trump, mass shootings, violence in the community, police shootings, the Me Too movement and school shootings, the exhibition provides an opportunity to see how various artists discuss these ideas in their work, and too see the artists contribution to a diverse culture."
Blackmonster's piece is titled "Work Hurt" and references incidences of self-harm and violence when he was a young adult.
"Since then I have had to continue like most people after a traumatic event, trying to find ways toward fulfilment," Blackmonster said. "My Post-Traumatic experiences have been fraught with difficulty and successes, but my point is: in the aftermath of so much violence in the American Culture, who can not be affected in a personal and psychological way?"
"Work Hurt" also ties in discussion of important social issues.
"The motif of the Gingerbread Runner brings up ideas of disenfranchisement in the Black community, while also addressing gun violence and police shootings," Blackmonster said. "My work is engaged with issues of violence in the community that is visited upon women, people of color and student populations."
Clark-Kramer's installation is one that has been years in the making, inspired by years of previous work.
"My piece is a collage of paintings made daily over the past four months under a set of rules I created for the activity," Clark-Kramer said. "The daily paintings with rules came from a series of explorations I was doing in response to more formal paintings I had been making over the previous year. The more formal paintings were responding to paintings and installations I had been making before that. It is very personal, almost a self-portrait, or series of diary entries turned into a very large object."
Second-year animal science major Stacy Garcia is intrigued about the range of artistic production that will be showcased. She also expects the pieces to speak to her a little more since they will be by graduate students who are typically younger and tied to her experiences in a way.
"I don't really visit museums often because I don't have the time and I get bored with seeing like a bunch of paintings in a row," Garcia said. "With this exhibit I'm excited because it seems like there will be much more to see and experience so it will be a worthwhile break before finals. I think it's cool that younger graduate students will be the artists featured too because the art might be more relatable."
For more information, visit the UC Davis arts page, which features a brochure outlining events and performances across some of the exhibition days.
Written by: Cecilia Morales — arts@theaggie.org