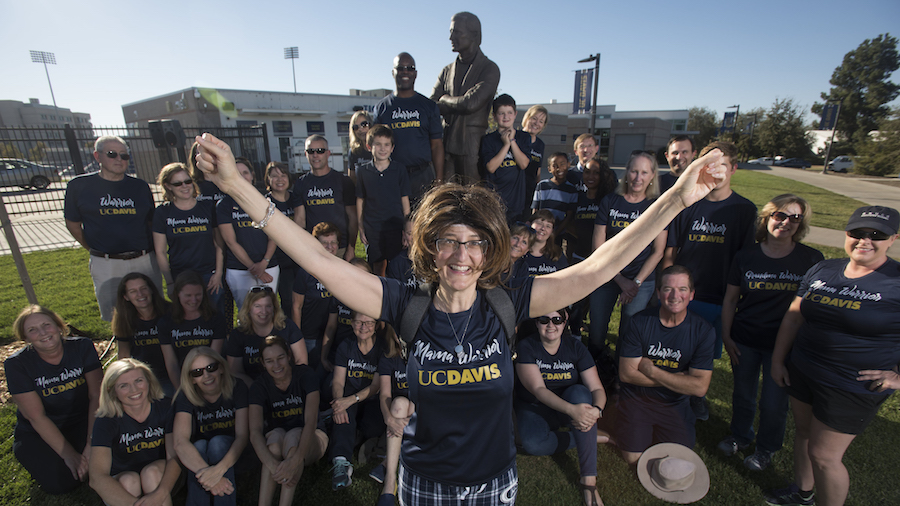 UC Davis alumna, Cal Aggie Alumni Association, ASUCD leader described as example of Aggie Pride
Janice Corbett passed away from cancer in her home on Sunday, Apr. 29, at 47 years old. Corbett graduated from UC Davis in 1994 with a bachelor's degree in managerial economics and psychology.
Corbett returned to UC Davis in 2003 to work as the membership manager for the Cal Aggie Alumni Association. She eventually became the associative executive director of CAAA.
In the workplace, Corbett was held in high regard among her peers for her enthusiasm in all aspects of her job.
"She is a very proud Aggie" said Richard Engel, the assistant vice chancellor for alumni relations and executive director of CAAA. "She was very strict in holding to our traditions and values […] and the principles of community that this campus has."
In 2013, Corbett became the business manager for ASUCD, where she continued to serve Aggies by working with senators, unit directors and other ASUCD officials to ensure that the association remained financially stable and cost-effective.
Alex Lee, a former ASUCD president and UC Davis alumnus, spoke about Corbett's dedication to serving ASUCD even if the work led to long hours at the office. Lee recounted times when Corbett would be particularly pressed for time and have to rush out of the office after hours of working with students.
"Janice was always prioritizing everyone else," Lee said. "She'd spend her nights and weekends with us and somehow find time to make sure her kids are taken care of and go to their myriad of activities."
Corbett's legacy can be seen in the relationships she formed with her family, coworkers, students and friends — groups which tended to overlap.
"She looked at every ASUCD senator and elected officer as somebody she's serving and charged to take care of, to help their budgets, to make sure they could fulfill everything they did," Engel said.
After her diagnosis, Corbett took on the label of a "Mama Warrior" and, with the help of her loved ones, she created a collective of Aggie Warriors. T-shirts created by Corbett, which the Campus Store temporarily incorporated into its inventory, displayed Corbett's label of perseverance. These Warriors were an embodiment of Corbett's definition of Aggie Pride and a display of its significance in her battle with cancer.
In her own words, "Aggie Warriors take what they are given and create amazing solutions to make a better world and UC Davis institution. [To] those who are helping me to look for the rainbows and remind me to ignore the rain, thank you for helping me to stand Aggie strong and Mama Warrior on."
Corbett resided in her mother and father's house in Davis during the later stages of her illness. Her father, Herb Wimmer, recounted Janice's desire "not to make much of her illness" to others, but she received "boxes full" of cards daily. She would regularly remind her father to check the mail and the two of them would read through messages from former students and loved ones.
"It's very heartwarming for a father to see, amazingly heartwarming to see what she meant to people," Wimmer said.
Corbett made lasting relationships in every space she worked in.
"There were many students that Janice served as their mentor but there were also students who looked at Janice as more than a mentor," said Milton Lang, the former associate vice chancellor for student life, campus community and retention. "They looked at her as a teacher, as a coach, and some of them even looked at her as a parent; they respected her that much."
San Lee worked under Corbett in CAAA as a student volunteer in 2007 and remained close friends with her into her years at graduate school and well beyond. Their friendship extended so far as to see Corbett plan the wedding of Lee and her husband, Mu Chou, in 2016. The couple returned to Davis from their home in Hong Kong to provide company for Janice in her final days.
"She just loved life," Lee said. "And life loved her."
Corbett's memorial service was held on Tue., May 8. Her sister, Nancy Veatch, delivered a eulogy to family and Janice's friends, among whom were over 10 years of CAAA employees.
"Janice lived her life guided by the hallmarks of our upbringing. Our parents, Herb and Christine, always taught us to treat others with respect, to do the right thing when no one is looking, and most importantly to make the world a better place by working hard, living selflessly and exhibiting integrity and character in all you do. These lessons shaped Janice into the person she became. Even though she has now left us, I believe that she would want all of us to continue on in her mission to make the world a better place."
Janice Corbett is survived by her husband, Larry, her sons Anthony and Dominic, her parents, Herb and Christine Wimmer and her sister and brother-in-law, Nancy and Steve Veatch.
Written by: Elizabeth Mercado — campus@theaggie.org