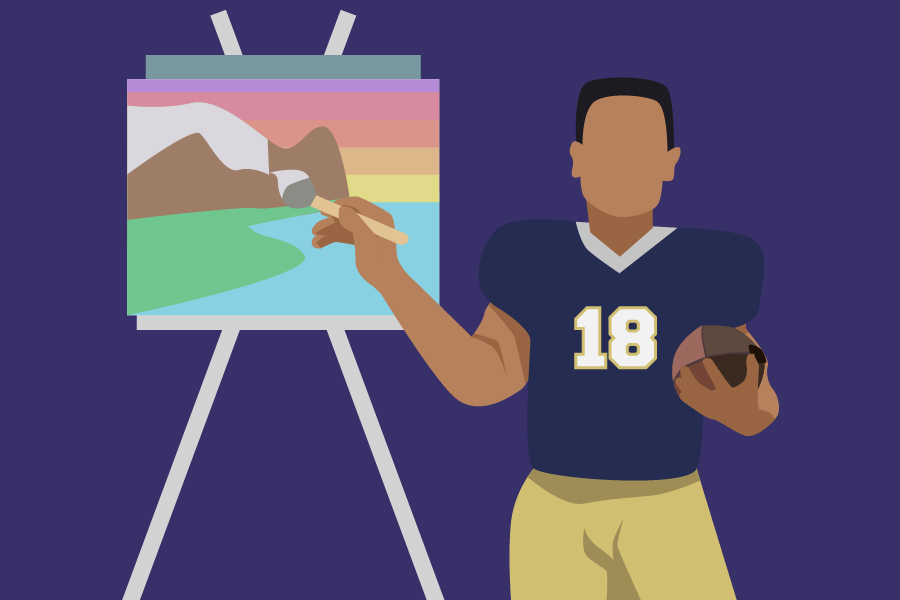 How Aiello balances her opposite passions
It seems many students have had a similar childhood experience: parents urging them to try a new instrument or sport, ultimately finding the niche activity that suits them best — often choosing between an individual artistic passion or finding joy in an athletic outlet. Yet there are some who have found dedication in both, including second-year art studio and psychology double major Maxine Aiello.
"I have been doing art forever and really focused on that," Aiello said. "I got really into sculpture after taking a class winter quarter, but I still do painting and drawing as well. I wasn't super into sports, but I have been wakeboarding since I was about seven and when I saw there was a team on campus I tried it out and it kinda developed into a bigger thing."
Aiello recognizes that each of her hobbies requires a different mindset or area of effort while participating, pushing her in different directions.
"I get different things out of both of them," Aiello said. "When I'm making my art, it's more emotionally expressive and helpful for me in that way. When I water ski, it's more physically expressive."
Moreover, time management has proven to be difficult, as Aiello often feels pulled in these different directions.
"I've learned that you can't do everything all the time, and to focus on specific projects and take advantage of time that you do have," Aiello said.   
Yet, art and athletics seem to have more fundamental commonalities than initially expected. Aiello notices that both have granted her the opportunity of being comfortable with the uncomfortable — to not be afraid to fail. With her serious dedication to both art and water skiing, she has more mediums to experience personal growth through.
"Obviously the art I do is by myself, but both push me into different uncomfortable areas and trying new things and to improve," Aiello said. "Learning how to fail is something I've gotten better at, and am less afraid to try new things on the water and I'm getting less afraid to make bad art and to start things and not like them later; letting yourself fail so you get better at it eventually."
The sense of community and team makes its way into both art and athletics
"It definitely is an individual sport, but it is still very team oriented," Aiello said. "There is a lot of things we do together and comradery and team traditions and stuff. I definitely missed the team aspects of sports. And with art, I still feel like I'm very much a part of the team. Most of my art classes are pretty small so you have to learn how to critique others but in a really supportive way. Waterskiing is the same way."
The community aspect of both creates a symbiotic relationship for Aiello; as she learns from one activity, she can improve in the same way for the other.
"I think it's added a lot to my life to be a part of two communities; it helps me with my art getting more experiences," Aiello said. "There has been an improvement in my life since joining water ski. It's good to try new things, to meet more people and have more experiences and have different conversations than you usually would […] You can always weave it into your artwork in some way."
Whether students occupy their time by physically training for an upcoming competition or by bending over their newest masterpiece, Aiello proves there is benefit in both — together or separate.
Written by: Caroline Rutten — arts@theaggie.org