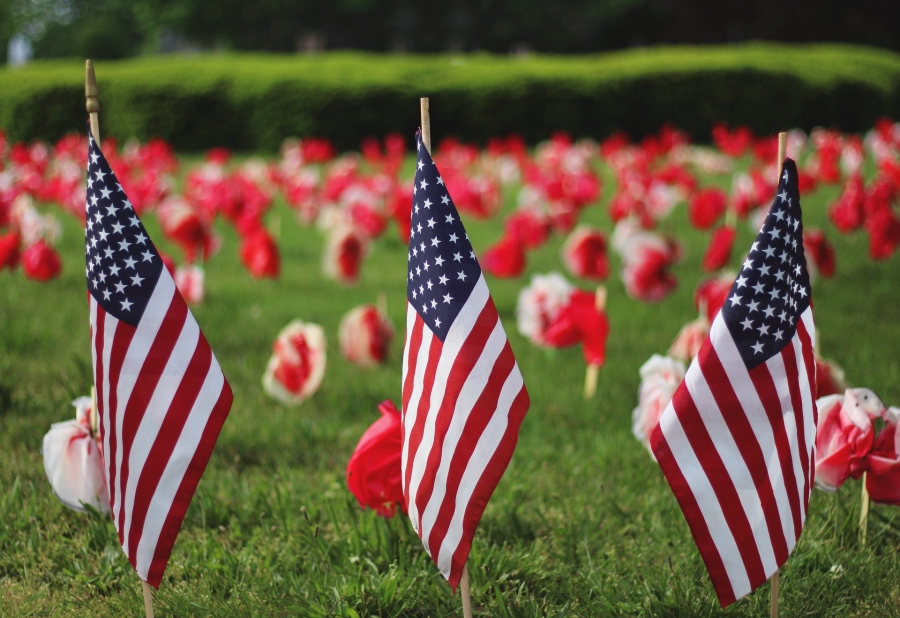 Memorial Day ceremony brings remembrance, understanding
Flags, 20 feet apart from one another, stood all along the road cutting through the Davis Cemetery on May 28. On a rather hot Memorial Day Sunday, at least 300 attendees gathered at Davis Cemetery to recognize veterans who have served and those who continue to serve. A veteran from World War II, Francis Resta, was in attendance along with other veterans.
Davis Veterans of Foreign Wars Post 6949 and Davis Cemetery District worked in conjunction to host the event. The Davis Brass Ensemble, the Davis Children's Choir and the Davis High School Madrigal Choir delivered the musical selections. The event started early at 10 a.m., with people scrambling for shade and a good chair to sit on. Many chose to just sit down on a blanket atop the grass.
During the opening remarks, Jay Brookman, the commander of VFW 6949, reminded everyone that this was a ceremony to pay respects to those who paid the ultimate sacrifice. Brett Lee, Davis' mayor pro tempore, thanked everyone for coming to recognize those who served and appreciated all those who took the time to come to the event.
This year's keynote speaker, Jerry Coker, dedicated his speech to sharing his experiences in combat and how saddening it is to lose a friend.
"Combat is like a car accident," Coker said. "If you weren't hit, it's almost as if you weren't there."
Through writing books and speaking up for veterans at events like this one, Coker offers the experiences of people who have witnessed it first-hand. Coker reminded everyone that life is brief and is often ended too early, especially for many who serve in the armed forces.
"This is for the men and women who came home in boxes — that capped their terrestrial dreams forever," Coker said.
Coker ended by asking everyone to remember those who willingly walk in harm's way because their country asked for it. Lee liked Coker's anecdote, especially since it shared a connection between those who died serving and those that are still alive today. Lee's grandfather served in World War II, and his two step-uncles also were in the military.
"Today was very thought provoking," Lee said. "It helps you think about the world a little differently."
Mayor Robb Davis also attended the event, choosing to stand up as the Davis Madrigals sung the Navy song as part of the Armed Forces Medley.
"My dad was marked for life in World War II," Davis said.
Davis thought that this event was very special, as it brought a lot of people together to honor those that have served.
Brookman also thought that Coker successfully articulated the experience of combat to those that have never served. He also highlighted the importance of VFW, as it brings awareness to the community about veterans and their contributions. VFW is also working with the city of Davis on a tiny home community to provide housing for homeless Davis veterans.
"[VFW has been doing] anything we can do to help people remember that a lot of sacrifices were made," Brookman said.
To honor and remember veterans, Mel Russell, a volunteer at the Yolo County Archives, pitched a tent at the ceremony for the project "Lest We Forget." This project aims to tell the story of the almost 1,000 veterans in Yolo County who served during World War I. Russell is also working to record the experiences of many veterans in the county.
"We need to document the service of current vets," Russell said.
One part of the project is to take veterans' photographs. Russell also aims to get as much information from veterans as possible so that it can be stored in the county's official archives. The program is currently on hiatus until August.
Kristi Dvorak, the community outreach director for the Davis Cemetery District, got there at 6:30 a.m. to place flags, chairs and tents. Two weeks of preparation had gone into making sure the event went well.
"Memorial Day is an opportunity to celebrate our culture and civic history," Dvorak said. "It is important for [our] community to honor those veterans we have lost and those still with us today."
Written by: Justin Chau — city@theaggie.org