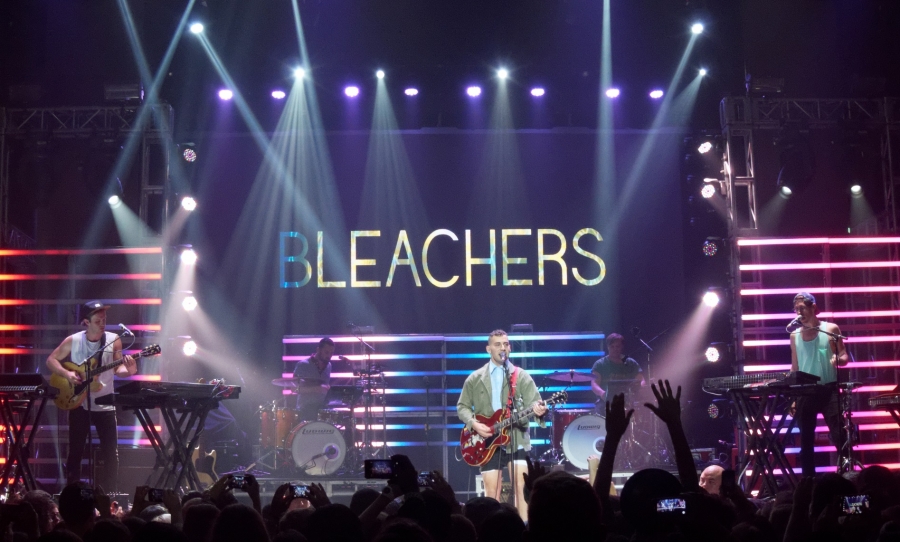 A concert you can laugh, cry, dance to
On the night of May 7, Ace of Spades was filled with emotion — the rollercoaster kind that makes you want to cry, laugh and cry again. Jack Antonoff, the frontman of Bleachers, wasn't just performing for hundreds of people; he was getting to know them, one song at a time.
The event opened with New York pop-punk duo Diet Cig. Throughout the show, vocalist Alex Luciano talked about matters pertaining to sexual harassment, queer representation and empowerment, using her platform to discuss relevant social topics. Luciano was filled with effervescence, twirling on stage and kicking her leg up high in true punk fashion.
Diet Cig's music was reminiscent of teenage angst and relatable life experiences. Songs like "Sixteen," which referenced Luciano's terrible ex-boyfriend from high school, brought me back to my youth. Fast forward to this year, in this moment, I realize that both Luciano and I have overcome those obstacles with age and with music.
Minutes after Diet Cig's last song, Bleachers appropriately led into its concert with "Good Morning," a track from their most recent album "Gone Now."
Jack Antonoff is transparent and a perfectionist when it comes to his music. Each beat and note needs to be executed seamlessly. As "Everybody Lost Somebody" began to play, Antonoff stopped the song abruptly only to start it over. He talked about the musical note that sparked his inspiration for "Rollercoaster," the second song in his first album, "Strange Desire." The birth of Bleachers began with a secondhand piano in Antonoff's apartment.
Bleachers overflows with talent. Saxophone player Evan Smith masterfully mimicked each guitar riff played by Antonoff, creating a playful, instrumental banter that lasted forever. Antonoff, a lover of music, is also very much for the people. Comedic and humble, he talked about his band members, his life in New Jersey, and feelings of loneliness that we've all felt before. His life was a journey of discovery and building relationships, which is articulated through his lyrics.
"When me and this band set foot on this stage for however many minutes, that's when the world makes sense," Antonoff said.
The show consisted of 17 songs, including a cover of "Carry On" by fun., a band co-founded by Antonoff, and "Just Can't Get Enough" by Depeche Mode. As expected, it ended with Bleachers' top hit "Don't Take the Money."
Bleachers knows how to perform and engage with an audience. Whenever Antonoff stood close to the edge of the stage, the room shifted forward and sang together, word-for-word.
At the end, I stood feeling completely awed by the performance and in deep reflection of the experience. There are only a few shows that have completely moved me, and this one did exactly that.
Written by: Becky Lee — arts@theaggie.org