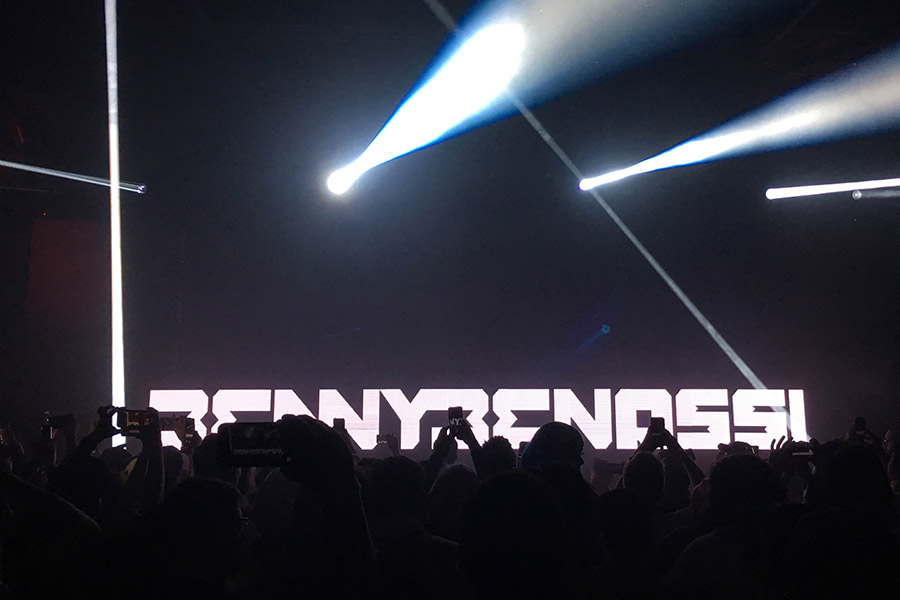 Electronic dance, house music pioneer performed on Memorial Day weekend
My childhood memory of being in the backseat of my mom's rundown Mitsubishi while jamming to the engineered electro-house beats of Benny Benassi ran through my mind as I saw the digital marquee light up in his name. Ten years later, there I was, standing below his mixing board, anticipating the show of a lifetime.  
The Milan-born DJ Benny Benassi performed this Memorial Day weekend at The Midway in San Francisco at ETD Love, a show dedicated to electronic disco. There were hundreds of people at the venue, but the way he spoke into the mic was as intimate as having a coffee with him in an Italian piazza.
The Midway is located in the central waterfront district overlooking the ruins of an abandoned-looking factory. No one told me that venues in San Francisco often times will have a coat check. Being from Los Angeles myself, I'm capable of braving the chilly 70 degree weather without a jacket. That night was a crisp 50 and I was nearing hypothermia waiting in the line to enter.  
Benassi first hit the charts in 2002 with his single "Satisfaction." Of course, he did a rendition of this iconic single. As soon as the famous "Push me / And then just touch me / Till I can get my satisfaction" started to play, the crowd sank into a grooving bliss.  
The sound equipment was state of the art, and I could feel the pulse of the bass in my spine. I forced my way to the front because I had been waiting to see Benassi since I was a kid, and I needed to make the most of the moment. I put my shirt in my back pocket and danced the full hour and thirty minutes until my feet ached.
Throughout his set there were two fairy-looking backup dancers that I never really decided how I felt about, but they were a neat addition.
The set concluded with the 2011 hit "Cinema." This song has a special place in my heart because it plays on cinematic film metaphors — another nostalgic aspect of my childhood: "I could watch you for a lifetime / You're my favorite movie / A thousand endings / You mean everything to me / I never know what's coming." There were slow moments that let me catch my breath and then I was immediately thrown back into a dancing frenzy.
The work ethic and talent of Benassi is undeniable and he deserves recognition as the inspiration for several of today's younger, prominent DJs. More of his music is available on his Spotify and Apple Music page, and tour dates are available on his website.
Written By: Josh Madrid — arts@theaggie.org