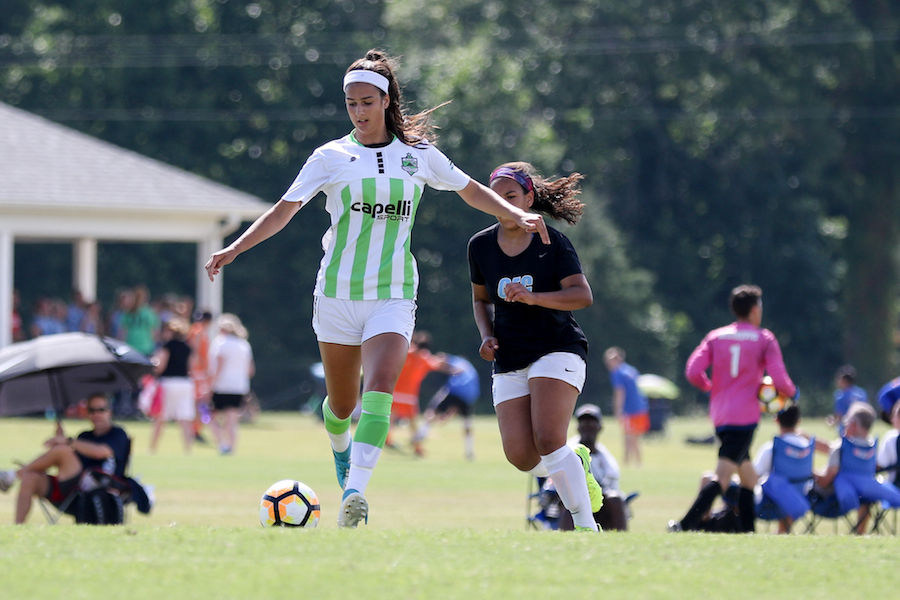 Ridgeway earns invitation to training camp
UC Davis women's soccer received a national letter of intent from New Jersey native Margot Ridgeway in February, who just completed her senior year in at Rumson Fair Haven High School and also just completed a week of training with the Under 18 and Under 19 U.S. National Women's Soccer Team, making this her fourth training camp with the USWNT.
The U-18 training camp invited 24 athletes, including eight defenders, to train at the Elite Athlete Training Center in Chula Vista, Calif. from May 5-12. Ridgeway is one of those defenders, usually playing center back.  
Being one of the select few to receive the invitation from the U-18 USWNT head coach Jaime Frias, Ridgeway reflected on her experience with the other athletes in Chula Vista.
"It's an amazing opportunity because [defenders] were all paired together in one dorm," Ridgeway said.
This gave Ridgeway the opportunity to learn from other defenders and improve her game from other players.
"A few of them have more experience at national team camps, we got to learn from each other and give each other advice at practices and games," Ridgeway said.
Because it was a concurrent training camp, Ridgeway and the U-18 team trained and  scrimmaged with the U-19 team. Ridgeway enjoyed the challenge of playing with older and more experienced athletes.
"It was a good opportunity because we were with the [Under 19] camp, too, and we got to play them twice in scrimmages and games," Ridgeway said. "It was really exciting."
The USWNT currently holds the top spot in FIFA World rankings and has largely been that way since 2003 — momentarily falling to No. 2 to England in 2014, then bouncing back to the top with a third World Cup victory in 2015.
The World Cup is among the most popular sporting events worldwide; it would no doubt be any serious soccer player's dream to snag a spot on the team. One of Ridgeway's soccer goals is to compete in the U-20 Women's World Cup when the opportunity arises.
And while training in Chula Vista, she moved one step closer to this goal — mixing and mingling with the U-20 team. This is the team that will compete in the U-20 Women's World Cup in August in France.
"We ended up on the last day driving up to the StubHub center and doing an 8v8 tournament with the U-20 team," Ridgeway said.
This reminded Ridgeway that playing soccer at this level takes unwavering commitment.
"I've heard about those players before, I've seen all the hard work and dedication they have put in, and for them it's finally paying off," Ridgeway said. "It's not just this year that they've been preparing for it, but for a while now."
Despite more World Cup victories and performing better on the international stage, professional opportunity for women lags behind men's soccer in the U.S. With the men's soccer team failing to secure a spot in the 2018 World Cup this summer, the women will be U.S. soccer fans' main hope in 2019. Although not a guarantee, these training camps can serve as a stepping stone for women who want a spot on the WNT. Some girls from this year's U-18 and U-19 camps will be invited to play for the 2018 U.S. U-20 Women's World Cup team.
UC Davis isn't a typical destination for soccer players from the East Coast, but Ridgeway is the second from New Jersey on the roster for the 2018-19 season — redshirt freshman forward Casey Palmer, from Brick, N.J., joined last year.
"A lot of people in my area stay on the East Coast, or go to the south," Ridgeway said.
Women's soccer head coach Twila Kaufman first discovered Ridgeway at a tournament near Oceanside, where Ridgeway competed almost every year. Ridgeway was eventually put in contact with Kaufman. When Ridgeway attended an overnight UC Davis camp, she was convinced it was the place for her.
"Being on the West Coast, even though it's so far, is a good opportunity to challenge myself and meet a lot new people and get out of my comfort zone," Ridgeway said.
After starting soccer at the age of 5, Ridgeway has remained dedicated to the sport, playing in middle and high school, club soccer and tournament across the nation and most recently in the inaugural girls U.S. Soccer Development Academy.
"On my high school and club soccer teams, I've tried to be a leader," Ridgeway said.
Ridgeway has an impressive amount of experience, but the move to Division I soccer has been a humbling experience for her.
"Coming in as a freshman for [Division I] soccer is a bit of a challenge, but I'm hoping to lend all my experiences from high school, club and the national team as best as I can and have a really good season," Ridgeway said. "My goal is to be better at ball-winning and distribution and really using my height and size to my advantage, controlling the backline and using my voice to communicate."
Given her experience, Ridgeway already stands out as a potential asset as a center back for the women's soccer program for the next four to five years.
Written by: Bobby John — sports@theaggie.org