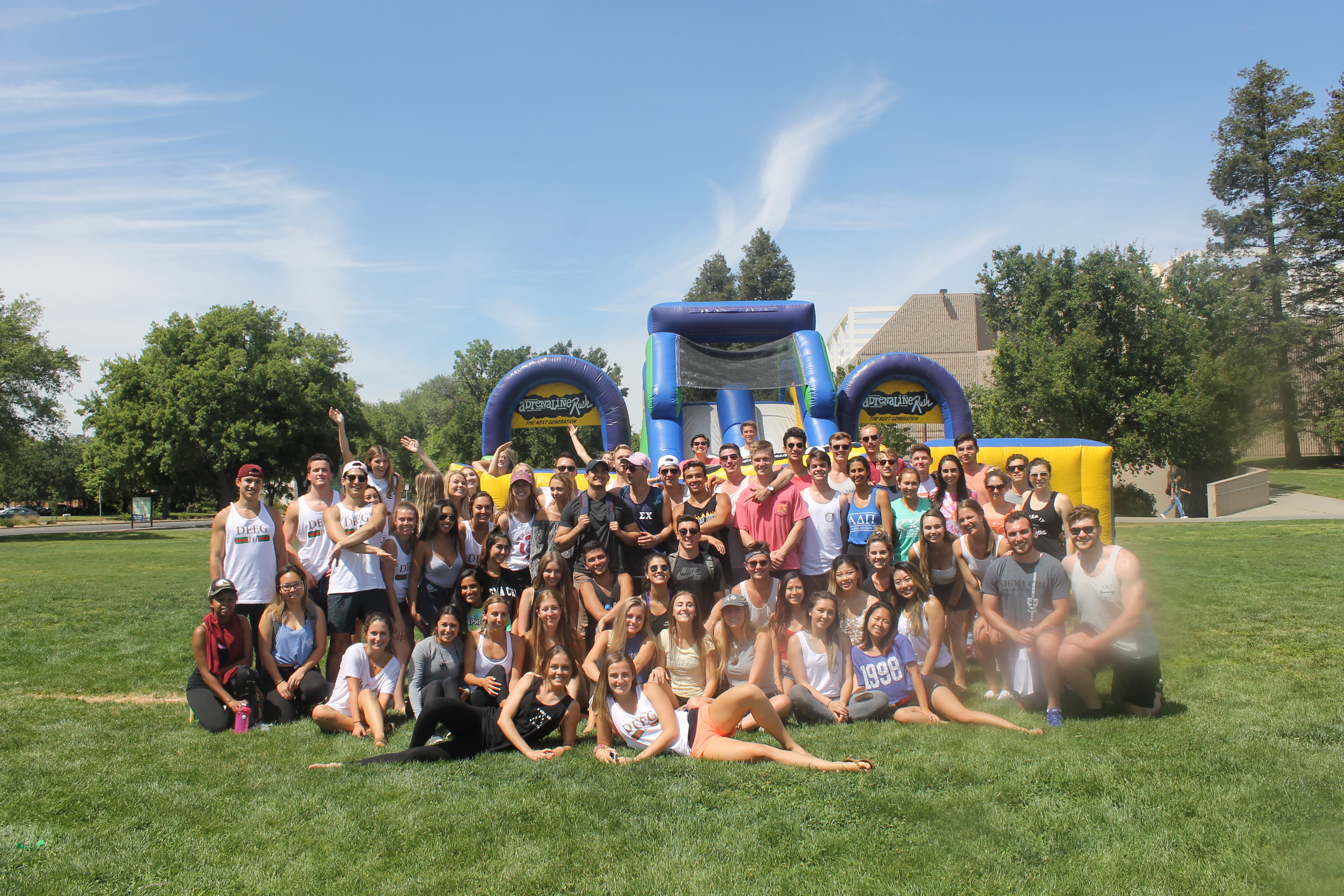 Bringing Davis, Greek community together over a common cause
In recent years, Greek life has gained some negative publicity that has damaged its overall reputation. But many also fail to recognize the great philanthropic efforts facilitated by these organizations.
Each Greek chapter designates a philanthropy to sponsor and, each year, the students affiliated with their respective sorority or fraternity raise awareness for and donate to these causes.
In December of 2012, Sigma Chi at UC Davis designated the Huntsman Cancer Foundation as its primary philanthropic partner. The Huntsman Cancer Foundation was founded by John M. Huntsman, an alumnus of Sigma Chi, who suffered from cancer a total of three times in his life. Since the founding of the foundation, the institute has worked towards finding causes of cancer and creating safer treatment options.
Markus Kako, a brother of Sigma Chi and a fourth-year managerial economics major and psychology minor, was this year's "" coordinator. Kako explained the purpose of the week-long philanthropic event.
"We fundraise throughout the week and all the proceeds go to the Huntsman Cancer Foundation," Kako said. "[The foundation] is one of the leading cancer research institutes. It's a week long event with the nine sororities and the main goal is to fundraise, and then we also try to raise awareness by holding fun events."
In past years, the majority of the fundraising for the event was based on attendance to the events held throughout the week, such as a talent show, a zorb soccer tournament, trivia night, scavenger hunt and a candle-lit vigil. This year, Kako and his brothers took a different approach to fundraising for the organization.
"In the past we've done some unorthodox ways of fundraising," Kako said. "We used to sell tickets for our Derby Darling events […] this year we switched things up and we created fundraising pages for Sigma Chi as well as all nine sororities so that the brunt of the fundraising would come to from these pages, all of which came together."
In previous years, the fundraising was successful largely due to the efforts of the women in the nine sororities fundraising and attending events. During the week of Derby Days, the sororities Delta Gamma, Alpha Phi, Kappa Kappa Gamma, Pi Beta Phi, Alpha Delta Pi, Chi Omega, Alpha Chi Omega, Tri Delta and Kappa Alpha Theta compete in an effort to raise more money and awareness. However, this year Kako envisioned a plan to push for more involvement from the brothers and raise more money and awareness as a whole.
"In the past most of the fundraising solely relied on the work of the sororities, which didn't seem fair to me," Kako said. "So this year we wanted to team up with the sororities as a show of faith that 'this isn't going to rely on you this year,' but that this is going to be a community-based effort.
Kako explained in further detail his reasoning behind changing the structure of Derby Days for this year.
"Before, the week of events didn't really fundraise," Kako said. "It was more of like fun things for people to do. What we realized this year is that we could raise a lot more money just fundraising and we kind of steered the week of events to celebrate the sororities and have fun and spread awareness, but the week itself was primarily focused on the fundraising pages."
Before the week of Derby Days, the chapter had raised 17,000 dollars in donations from friends and family. By the end of the week Sigma Chi as well as the nine sororities raised over 47,000 dollars. Once the week came to an end, the brothers collectively decided to aim for a grand total of 50,000 dollars. They achieved this new goal within the following week.
Throughout the week, the sororities competed for who could raise the most money and awareness through the donation page. To increase awareness, the sorority women shared a link to the foundation's donation page on behalf of their respective sorority. Kako explained how the competition was used as a way for the sororities to have fun with the fundraising and catalyze growth in donations and awareness.
"My goal this year was to bring Greek life together," Kako said. "And have that sense of community that we are all working together to create something. I think moving forward it would be really great to get the rest of the Davis community involved and networking outside of organizations that aren't just Greek life."
Kako explained how Derby Days has affected his experience at Davis and the Greek life community as a whole.
"Out of my four years here Derby Days was one of my favorite things to be a part of," Kako said. "Being able to coordinate it myself and change the things I think that needed changing was a really cool experience and it's something I'm proud to be apart of. [At the end] I think we all felt a sense of unified accomplishment, it's a community-based effort. Cancer in some way or another affects everybody and in the grand scheme of things there is no competition when it comes to raising money for cancer."
Although the importance of the cause transcends the competition, this year's Derby Days champion was Alpha Phi. The chapter president, Harley Hoy, a third-year economics major and statistics and accounting double minor, explained how Derby Days has been an important cause to Alpha Phi.
"Our house as a whole is very close to Sigma Chi," Hoy said. "They are some of our closest friends and we get to go out for the entire week and fundraise money for an amazing cause. Even though the week is super competitive at the end of the day we think about why we are doing this and the fact that together we were able to raise $50,000 gives us all a sense of accomplishment because we contributed to an amazing week of fundraising."
Julian Burns, Sigma Chi's chapter president and a third-year classical civilizations major and human development minor, explained in further detail the changes that were made to the fraternities flagship philanthropy.   
"Headed into the week we had already raised 17,000 dollars," Burns said. "We wanted to make sure that this year and every year moving forward that we are pulling our weight in our own philanthropy. In past years the event has been criticized because it was primarily female labor that contributed to raising money for a fraternity cause and the guys were sort of passive. This year we wanted to do something different by going into it and saying 'hey, we have come into this ourselves and we're really proud of the work we did'."
Two years ago, the fraternity raised 21,000 dollars. In 2017, Sigma Chi raised a total of 12,000 for the foundation. This year, the chapter quadrupled the amount of money they raised. Burns explained why he believed that the event had been tremendously more successful this year compared to previous years.
"I think this year the fundraising pages got everyone involved," Burns said. "Having everyone ask and not making it a requirement like, 'Hey we need money,' but rather conveying the message, 'Hey this is important to me, would you mind donating?' Because any amount helps and just having 600 or 700 people ask goes a long way."
Earlier this March, the founder of the organization, John M. Huntsman, passed away from cancer. Burns explained how Huntsman has inspired the fraternity on a chapter-based and national level.
"We really wanted to rally behind him and his spirit and do something big as a whole fraternity," Burns said. "We have endeavored to make over 1.7 million dollars all together and I think we're only a few thousand dollars away from that and out of 242 chapters our chapter will be 3rd in the nation and were very proud of that and so are our alumni."
In the years to come, Burns hopes that the cause will gain more attention and participation from the rest of the Davis community and not just students affiliated with Greek life.
"For the future of fraternities and the future of Greek life we have to sort of get out of that insular of ourselves," Burns said. "We have this pretty close community that we form, but it's in some ways isolated and its not really accessible for people who aren't affiliated and I think by bringing [the cause] to the forefront, and having events that engage all of the student body and not just those in Greek life would one: we could raise so much more money, and, two: I think philanthropy and causes like this is what will save us if anything can."
Derby Days has been and will remain one of Sigma Chi's most important and cherished events, Burns explains.
"This is where we show the world and the rest of the country that we're trying to do something good here," said Burns. "And that we love each other and we love this chance to be here and to do some good for the world. we can do alot more good if we work together. I don't think a lot of people see that when they see Greek letters but my hope and my vision is that we can show people why we are here."
Written by: Sneha Ramachandran — features@theaggie.org