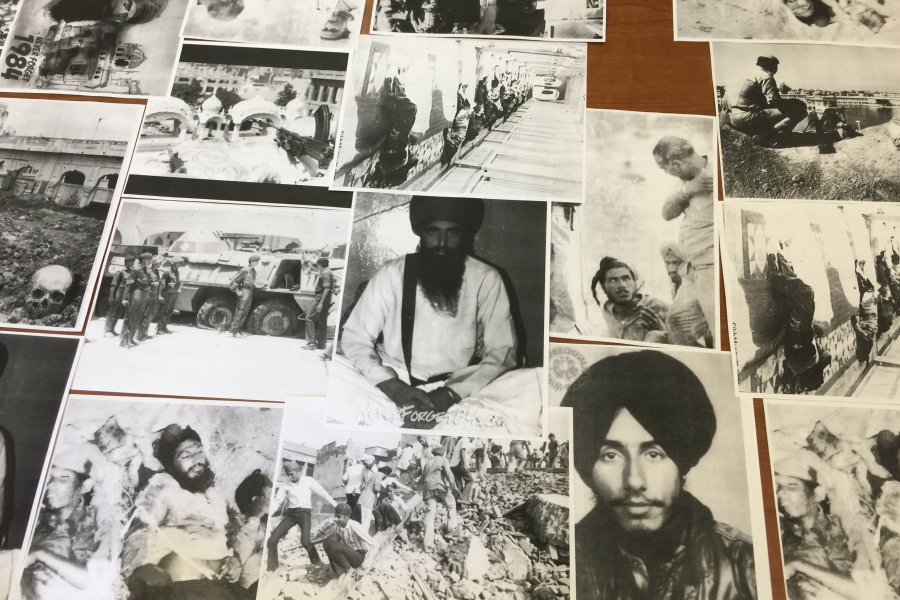 Organizers show intersectionality between resistance movements
On June 1, the ASUCD Ethnic and Cultural Affairs Commission organized the event "The Tunnel of Resistance" at the MU Patio. The Sikh Cultural Association, Students for Justice in Palestine and Mental Health Initiative worked in collaboration with the ECAC to put on the event which, according to the event's Facebook page, served as a means for "communities of color to share their stories and hxstories."
Three rooms containing displays and student representative from these communities and the MHI were made available for the event.
Gurmun Singh, a second-year biological sciences major, spoke about the meaning behind the Sikh room.
"In this room, we are representing the Sikh Cultural Association," Singh said. "Today marks the 34th remembrance of the Operation Blue Star. These 10 days from June 1 to June 10 [are] called the '10 Days of Terror.' Before [Operation Blue Star] had occurred, Sikhs were collectively getting themselves together spiritually, and economically and trying to get back their own equal rights that the government was not giving them."
Operation Blue Star was an Indian military operation that occurred in 1984 and resulted in a conflict that lasted 10 days in what was called the "10 Days of Terror."
"The [Indian] government [saw] the rise in the Sikh population, Sikh numbers and their want for equality," Singh said. "It was not just like a [protest]; they were actively getting themselves together, […] trying to have conversations with the people in government and try[ing] to create new changes so that Sikhs can get what should be given to them. In the constitution, [the Sikhs] were referred to as a religion […] were still under the sect of being called Hindus. And they wanted to be called what they are."
Mohanvir Singh Gill, a fourth-year computer science major spoke about how the unique character of the Sikh population in India.
"We always make this into a Sikh issue," Gill said. "But the other thing to think about is that we are talking about everybody that is not labeled in the [Indian] constitution to be given equal rights. We say that we are the majority of the people in the constitution that do not have equal rights, but there is plenty of other castes and other religions that are living in India that do not have equal rights. Our demand was simple, 'Whatever rights you give the rest of the citizens, we want those rights.' There is nothing else we want."
In the room containing the Palestinian cultural displays and student representatives, Khadeja Ibrahim, a fourth-year Middle Eastern South Eastern Studies student involved with SJP, gave a depiction of Palestinian history and art.
"The theme we had for the room that we were given was to showcase our history and our culture," Ibrahim said. "Those two are closely intermingled because our history is cultural. Around this room, we have embroidery and it is significant — for example, the embroidery on those pillows, the stitching and the styles gets passed on from generations to generations between families. So there is a historical significance. The pottery we have and the ceramics are also the same story. They are hand made in villages, they are painted. They depict images of the villages they were made in."
Ibrahim spoke about the significance of discussing Palestinian culture during the event.
"What is really important to us is preserving our culture and our history," Ibrahim said. "Students who are not aware; who do not know what Palestine is, can come in and see that it is a country that it is an area that has a rich and a very long history that goes back thousands and thousands of years. And while you can appreciate that history and culture, […] also just recognizing what is happening today and the atrocities that are happening today."
Ibrahim also said SJP wanted the display to provoke questions and ask about the significance of the items on display.
Rina Singh, a third-year international relations and economics double major, the commission chair of ECAC and an organizer for the Tunnel of Resistance, discussed the purpose of the event.
"The Tunnel of Resistance is a new event that our commission put together," Singh said. "Our mission statement is to uplift the voices of marginalized and underrepresented communities on campus. Even though we do a series of events throughout the year, we felt like this particular event is important because it literally brings student organizations into one unique event."
Singh highlighted plans for next year's event.
"This is the first year," Singh said. "Next year, we are going to have many more organizations, so this is going to become a large event for students to attend, and literally learn about the different communities. It's not only important to know about different cultures, but it is important to be able to stand in solidarity with the different communities."
Singh said that other universities have put on their own Tunnel of Resistance events which they call "Tunnel of Oppression."
"We did not want ourselves to be associated with oppression, because we believe in resisting," Singh said. "We believe in being resilient. The students who walk into these rooms should understand and learn there are similarities between different groups, not just in social justice. For example, there are underlying themes that are very similar between communities. [It] is important for different communities to recognize that and for students of color to stand  together and unify and stand in solidarity for each other."
Written by: George Liao — campus@theaggie.org