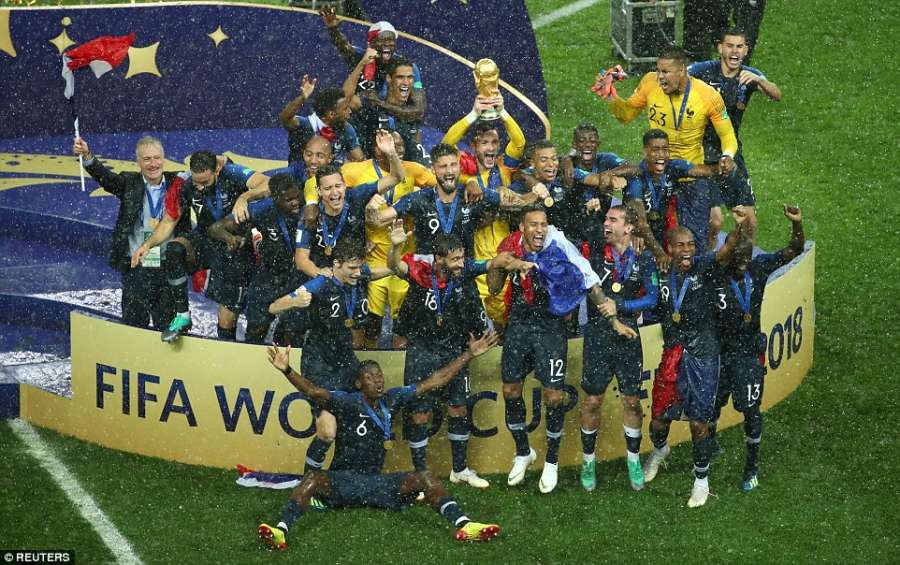 France are World Cup champions for second time
By BOBBY JOHN — friend@theaggie.org
After 169 goals were scored in the 2018 World Cup, France was crowned as world champions for the second time in 20 years on Sunday after beating Croatia 4-2 in the World Cup Final in Moscow. With low scoring matches being the norm in World Cup finals, this finale fit in well with a tournament that took unexpected twists and turns.
"It is a dream since I was a young boy," France midfielder Paul Pogba told reporters after the victory.
Croatia started the game strong, controlling the midfield and the majority of possession. With the highest number of attacks in the tournament at 352, it is no wonder Croatia, underdogs of the tournament led by tactical and skilled midfielder Luka Modrić, were able to slide past tough opponents.
Croatia forward Ivan Perišić created multiple scoring opportunities on the left wing, but the team was unable to convert.
The first French goal came as a mistake from an own goal in the 18th minute of play, as Croatian striker Mario Mandžukić attempted to clear French forward Antoine Griezmann's free kick — the first time any player has ever scored an own goal in a World Cup final.
Own goal strikes first in the #WorldCupFinal!

France takes a 1-0 lead in the first half over Croatia. #FRACRO pic.twitter.com/NWNLAhSjbb

— FOX Sports (@FOXSports) July 15, 2018
Perišić struck from the top of the box to equalize in the 28th minute 1-1.

With this goal, Perišić set the expectation for a tight match. Until he handballed while defending a France corner kick. There was no call after the ball went out of bounds, but multiple French players slapped their palms with the back of their hands – making their case for a handball. Néstor Pitana, the referee, decided to use the Video Assistant Referee system.
France was awarded a penalty kick and Griezmann easily converted, giving France the lead 2-1 at the 88 minute mark.
This was the first World Cup in which VAR was used, and it proved controversial, especially in this final matchup. The decision to award France a PK irked some commentators, who believed it was the wrong decision.
Souness is in no doubt it wasn't a penalty for #FRA.#beINRussia #beINFWC #WorldCupFinal pic.twitter.com/HUtDFIF075

— beIN SPORTS (@beINSPORTS) July 15, 2018
After play continued in the second half, a group of four women rushed the field near the 52 minute mark, interrupting play. The Russian band Pussy Riot claimed responsibility on social media.
NEWS FLASH! Just a few minutes ago four Pussy Riot members performed in the FIFA World Cup final match — "Policeman enters the Game"https://t.co/3jUi5rC8hh pic.twitter.com/W8Up9TTKMA

— (@pussyrrriot) July 15, 2018
The four women were dressed as Russian police officers and news outlets later reported they received 15 days of administrative arrest and a three year sporting event ban.
When French midfielder Paul Pogba struck an uncontested ball from just outside the box past Croatia goalkeeper Danijel Subašić in the 59th minute, France essentially sealed the deal, making it 3-1. This swung what was a relatively even tempered exchange into a clear advantage for Les Bleus.
Pogba puts France up 3-1! pic.twitter.com/GGbqabnvmo

— FOX Soccer (@FOXSoccer) July 15, 2018
Then the 19-year-old French forward Kylian Mbappé proved why Les Blues are such a dangerous team — their attack is too quick for opponents. Mbappé struck from outside the box to extend the lead 4-1, the youngest player to score in a World Cup final since Pelé in 1958.

Croatia were not able to recover after this.
Croatia only found the back of the net after France goalkeeper Hugo Lloris carelessly cleared the ball while Mandžukić rushed Lloris. Mandžukić was able to anticipate the direction of the ball and deflected it to score, helping close the gap at 4-2 in the 69th minute.

 Overall, the Juventus striker can at least claim he corrected his mistake – and after all, it was a Mandžukić goal in extra time against England that lifted Croatia to the final. But the question looms, if Croatia took the lead 1-0, would the momentum have been with Modrić and Croatia?
After that, it was smooth sailing for Les Bleus – Luka Modrić wasn't able to mount a successful attack for Croatia. The team was running out of steam, in every knockout stage Croatia went to extra time. They were obviously deflated by the two goal lead France had.
Hugo Lloris maintained four clean sheets for France throughout the tournament, conceding goals in only three matches against Australia, Argentina and the two goals Croatia scored in the final.  
Some consolation came for Croatia as Luka Modrić was awarded the adidas Golden Ball award. His stellar and consistent performance throughout the tournament showed the world that he truly deserved this award.
This victory for the French national team follows some recent bittersweet international success.
Les Bleus reached the final in the 2016 UEFA Championships, but suffered a stinging loss to a Portugal goal in extra time 1-0. This helped serve as a reminder for Paul Pogba, who believed they were complacent going into the match.
"We thought the match was already won and I think that was our mistake," Pogba told reporters of the 2016 finals loss on July 12 .
Pogba and France were confident going into the World Cup final, and prepared with a different mentality going against Croatia.
"We are conscious of the situation, we do not want to make the same mistakes like two years ago. We want to work for it, to give everything we have to take this Cup home," Pogba told reporters.
They did exactly that. Pogba was a huge part of their success – nine tackles and 21 recovered balls helped the midfield mount a fast and aggressive French attack throughout this World Cup.
The defensive midfielder N'golo Kanté also played a big role in fortifying the French midfield. All told, Kanté had 61 ball recoveries in the tournament.
Both squads rosters' were stacked with experienced and talented player, included nine players coming from three powerhouse Primera División teams: Barcelona, Real Madrid and Atlético Madrid. Although not all played in the final, it speaks to how competitive international soccer truly is.
The midfield featured Croatia's Luka Modrić and Mateo Kovacic, France's Raphael Varane, all three play for Real Madrid.
Also in the midfield was Croatia's Ivan Rakitić, France's Samuel Umititi and Ousmane Dembélé, all three play for Barcelona.
Croatian defender Sime Vrasljko, French forward Antoine Griezmann and French defender Lucas Hernández, all hail from Atlético Madrid.
Fans of the Men's U.S. national team will unfortunately have to wait until 2022 for the World Cup in Qatar.  
The Women's U.S. national team, however, is on a roll. Since 1991, they have come out as World Cup champions three times.
With the USMNT's disappointing performances in the past, including failing to qualify for this World Cup, the USWNT may be the only hope for the foreseeable future.
Written by: Bobby John — friend@theaggie.org