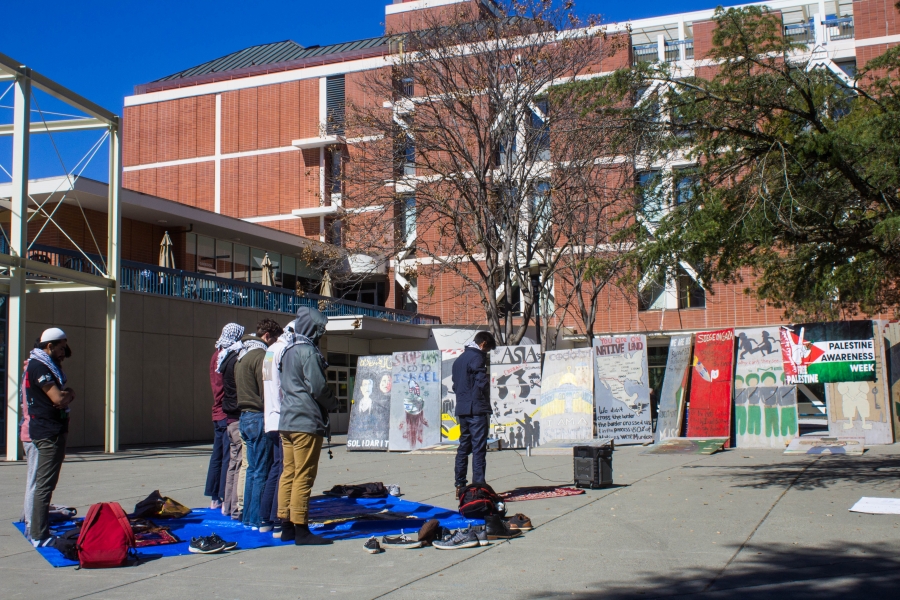 The watchlist Canary Mission recently targeted UC Davis student activists
Near the end of Spring Quarter, students across diverse communities gathered in efforts to make ASUCD the first student government in the country condemning the infamous Canary Mission watchlist. Student Resolution 19, spearheaded by the Muslim student community, denounced forces that threatened student activism — whether that was ICE, plainclothes officers or student watchlists.
As a large, swirling crowd of burgundy-clad activists streamed into the hallways of the Memorial Union, preparing to testify for the Resolution, we took a moment outside the meeting room to pause for reflections. One particular moment from that Thursday night stands out in my mind and it was when a student reminded us of the possible consequences of our public support — that, in our very effort to make activism safer for future students, we might be targeted.
It was a concern never quite far from our minds. Leading up to the Resolution, students who promised to co-sponsor the bill had backed out, anxious that their names might be added to the very lists we were fighting against. In fact, just hours before the vote, rumors about the Resolution caused some student representatives to ask us not to present it at all, fearful of being targeted themselves by voting.
Of course, the Resolution was presented and did succeed. Students heard testimony after testimony from activists packing the room and flipped through pages after pages of reports, laying bare the ugly nature of these watchlists. And so, despite all the whispering campaigns and fear-mongering that had swirled around the Resolution for weeks, it passed unanimously.
Less than a month later, Canary Mission inevitably responded. They placed 16 students, including myself and other Resolution organizers, on their watchlist — accusing us of "supporting terrorism" and portraying long-standing Davis organizations, such as the Muslim Student Association, Students for Justice in Palestine and Jewish Voice for Peace, as fundamentally anti-Semitic. With a newfound sense of vitriol (and perhaps some panic at the thought of more campus condemnations), the site blasted our profiles across social media, inviting hateful trolls. As a special gift, the site even published a McCarthyist report on "anti-Israeli," "anti-Semitic" activity they claimed was flooding the Davis campus.
"Evidence" included footage of students partaking in the global Salt Water Challenge and screenshots of joining public Facebook student groups. In an amusingly ironic twist, even a recent article I had penned for The Aggie, in which I spoke out against the chilling effects of Canary Mission, was cited.
This is not some reactionary, pity piece decrying the injustice of external organizations deliberately targeting our students. Palestinian activists, after all, are well-acquainted with the difficulty of their activism. After the Palestinian Boycott, Divestment and Sanctions movement, much like its South African BDS model, began to gain real momentum across campuses, Canary Mission was founded with the implicit aim of targeting pro-Palestinian community leaders.
Despite the many organizations hunting down pro-Palestinian student voices — such as Canary Mission with its unabashedly explicit intention of utilizing its watchlist to hurt their career opportunities, or even, increasingly, incite FBI investigation — activists know it's still overshadowed by the consequences for Palestinians themselves. Presence on these watchlists can ban Palestinian students from visiting their own homeland ever again, harassed and indefinitely barred by Israeli security. And, of course, all these consequences for American college students pale in comparison to the relentless cycle of state-sponsored oppression the Palestinian people themselves face day after day after day.
Instead, this article intends to quietly articulate a certainty at the heart of our work. Despite the desperate efforts of shadowy plutocrats pouring money into watchlists to drag students, or even fellow students hoping to defame Palestinian activists by recording every event in the hope of some slipup they can leverage, the pro-Palestinian movement will only continue to grow stronger.
Don't be mistaken: Like any other young campaign, the pro-Palestinian movement will not be perfect. It will inevitably make strategic missteps, have internal dissension and even misdirect some of its passion. But in the end, it will win. Not because of some logistical superiority, but rather because of the simple, undeniable truth of its message — that Palestinians too deserve a right to their ancestral land; that they too deserve to be safe from a violent, ethnocentric, neo-colonial state; that they too deserve to once again live in peace with their Muslim, Jewish and Christian neighbors.
The dedication to justice driving Palestinian activism today is, after all, fueled from the same brilliant flame that inspired so many great movements in history — whether that was the Civil Rights Movement, or students advocating for BDS against an apartheid South Africa, or the civilians who resisted the evil Nazi regime.
And it burns from the same torch that continues to light the path for so many movements today — rallying around Black Lives Matter; battling against a cruel administration separating immigrant families; fighting the anti-Semitic and anti-Islamic poison brewing in the alt-right; speaking out against the blood-soaked, tyrannical regimes killing innocents in Syria, Yemen, Burma and so many other lands.
At its heart, the pro-Palestinian movement is but a continuation of one of our proudest traditions: the fight against oppression committed by anyone, anywhere. It is a cause that appeals to a higher, nobler calling, rooted deeply and inextricably within the human soul. It is this sincere truth that will ensure the movement's resiliency — that, despite the multitude of powerful organizations seeking to stamp it out, it will thrive; that, for every person who backs out out of fear, a dozen more will step in to take their place; that, for every injustice committed against the Palestinian people, the cause will only burn brighter in the hearts of millions around the world.  
As activists we believe that the oft-heard mantra — "Free, Free Palestine" — chanted in every rally will someday be spoken from every tongue across the world. If that means students and faculty who speak up now are subsequently labeled "canaries" — simply for speaking out against naked injustice — then more canaries will gather.
Until then, the movement continues.
Adnan Perwez is a fourth-year student studying political science, history and religious studies at UC Davis. He is the author of Senate Resolution 19 and has been involved in activism through a variety of organizations, including the Ethnic and Cultural Affairs Committee, SJP and the Council on American-Islamic Relations. He served as the president of the Muslim Student Association at UC Davis during the 2017-2018 academic year and currently serves as the president of the Board of Directors for the statewide umbrella nonprofit Muslim Student Association West.
Written by: Adnan Perwez