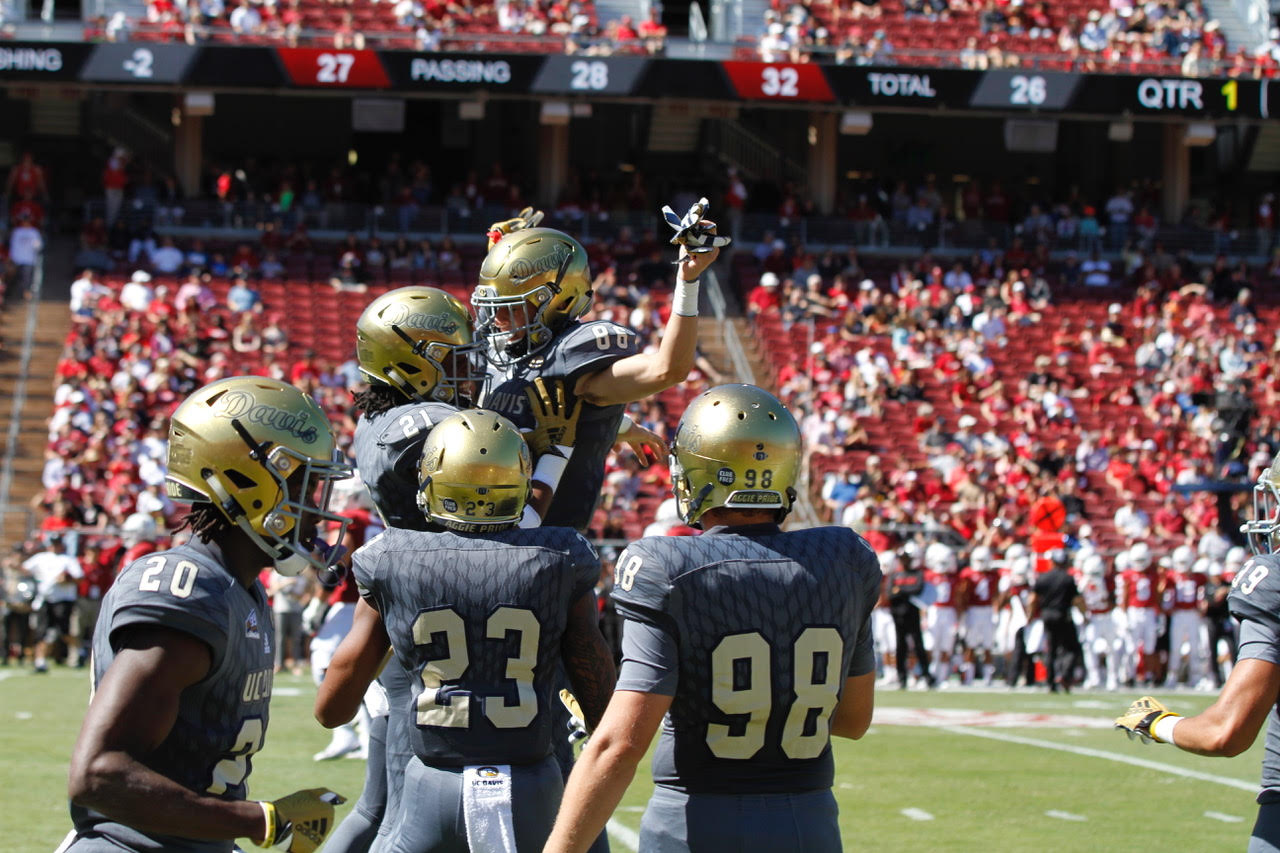 Aggies fail to take advantage of early opportunities, battle to the end against Pac-12 power
The UC Davis football team suffered its first defeat of the 2018 season on Saturday afternoon, falling to host Stanford by a final score of 30-10.
The game got off to a very promising start for UC Davis, as the Aggies grabbed two interceptions in the opening seven minutes of play. On the flip side, the team ended up with only three points to show for it and essentially let Stanford off the hook.
"I thought we hung in there, but when you play a team like this you've got to get a lot of things going your way and you've got to maximize every opportunity," said UC Davis head coach Dan Hawkins. "When you don't do that, you minimize your opportunities to win and it really comes down to those things."
The UC Davis offense struggled to find a rhythm in the first half with a pass-heavy attack, picking up just five first downs and going 0-for-7 on third downs. They failed to capitalize on the turnovers in the first quarter, despite being given excellent field position deep in enemy territory. As a result, the Aggie defense was on the field for the majority of the first and second quarters, with Stanford maintaining the advantage in time of possession by almost 11 minutes over UC Davis.
Overall, the UC Davis defense played quite well throughout the game and made key stops when backed up in their own territory.
"I thought they battled the whole day, I really did," Hawkins said. "They did a nice job getting stops in the red zone against some short fields.
The unit was effective in getting to the quarterback at times and limited Stanford to just three third down conversions on 14 attempts.
"I think the defense did a phenomenal job overall and caused havoc," said senior linebacker Mason Moe. "We created turnovers and got the ball back for our offense."
On the second Stanford drive of the game, Aggie junior linebacker Nas Anesi jumped in front of a crossing route over the middle for his first career interception and returned the ball to the 12-yard line. UC Davis was unable to advance the football and settled for a 26-yard field goal from junior kicker Max O'Rourke, following a pair of unsuccessful option pass plays. This would end up being the team's  only lead of the afternoon.
On the next Stanford drive, Moe forced a fumble on Cardinal quarterback K.J. Costello, which was scooped up by redshirt freshman cornerback Devon King and returned 19 yards for a touchdown. After a replay review, the call on the field was reversed to an incomplete pass, taking six points off the board for UC Davis. On the very next play, sophomore defensive back Isaiah Thomas intercepted an overthrown ball at the 47-yard line, but the Aggies couldn't capitalize and ended up turning the ball over on downs four plays later.
Stanford eventually settled down on offense as the first half went on and rattled off the next 17 points, which included two touchdown catches by senior wide receiver J.J. Arcega-Whiteside.
The Aggies had a chance to put points on the board just before halftime, when they started to gain some momentum with quick completions and an up-tempo attack. Senior wide receiver Keelan Doss made a leaping, acrobatic catch with two defenders draped around him to move the chains on a fourth-and-17 play. UC Davis eventually came away empty and turned the ball over on downs at the 24-yard line with under a minute remaining in the half.
Doss' performance was one of the lone bright spots for the Aggie offense, as he tallied 10 catches for 90 yards in the first half. With a few more catches in the third quarter, Doss finished with over 100 yards in a game for the 13th time in his career, garnering some praise from Stanford head coach David Shaw.
"This guy is really good," Shaw said. "He's fast, he's long, tracks the deep ball really well. That was potentially a 200-yard receiving game if our guys don't make the plays that they did make on him. He's a good football player, and he's going to play well at the next level."
Hawkins was also impressed by what he saw from Doss, who was targeted 25 times, and his ability to adjust to defenses in the middle of a game.
"He's so versatile and he's really smart," Hawkins said. "He knows what the defense is trying to do to him and to us and you can move him around. So that's a big benefit for us, because he's not locked into one spot, so you can kind of roll him around a little bit. But then we've got to have other guys make plays as well."
The Aggies had multiple opportunities to score in the second half, but continued to come up empty. On their second possession of the third quarter, the UC Davis offense was sparked by pass plays of 25 and 20 yards to junior tight end Wesley Preece and redshirt freshman running back Ulonzo Gilliam. The drive ended with a 43-yard field goal attempt that was blocked.
A long 33-yard run by junior running back Namane Modise got the offense going again as the fourth quarter began, but the Aggies committed their first turnover of the day when a pass from junior quarterback Jake Maier was tipped at the line of scrimmage and intercepted at the seven-yard line.
UC Davis managed to find the end zone with a quick three-play scoring drive in the final 15 seconds of regulation. On the last play of the game, senior quarterback C.J. Spencer got loose for a 26-yard touchdown reception.  
Stanford added a pair of field goals and a short touchdown run in the second half, but were generally held in check by the Aggie defense.
Despite the loss, UC Davis players were proud of their effort on Saturday against the ninth ranked team in the country and definitely felt that there were some positive takeaways from the game.
"Our defense had a hell of a day," Doss said. "They were causing turnovers, playing pretty good, and we're going to go back and watch film and carry this momentum over through the next couple of weeks."
UC Davis will begin Big Sky conference play next Saturday afternoon with a 4 p.m. kickoff against Idaho at Aggie Stadium.
Written by: Brendan Ogburn — sports@theaggie.org