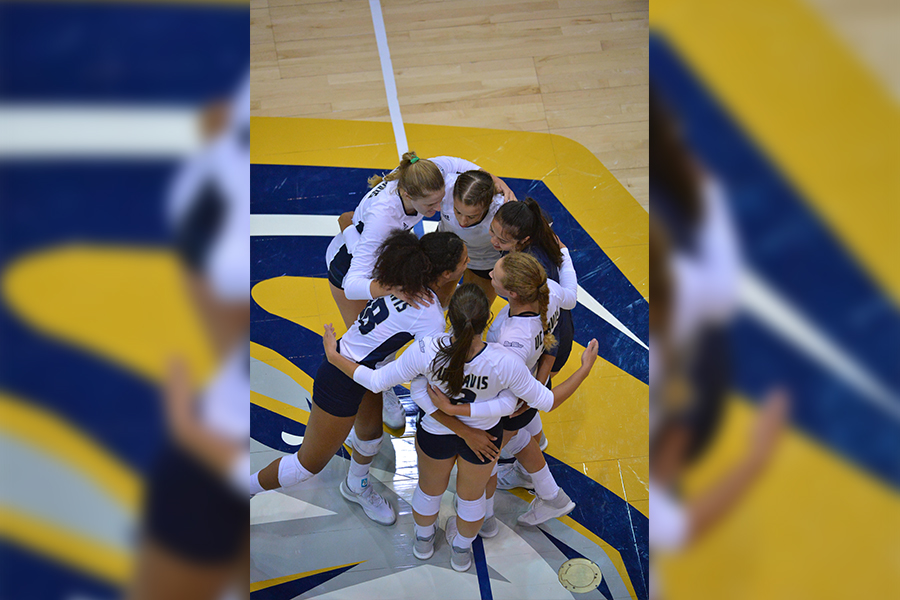 Volleyball starts solid, shaky in conference play losing two straight
In his fifth year as head coach of the UC Davis volleyball program, Dan Conners is optimistic about a season which features a solid and experienced roster. At the same time, he is cautious of going into matchup with low or high expectations. That's not to say Conners doesn't run a tight ship; for him and the team, competition is serious, but it's also fun.
"I don't know that I'm going into any weekend with any expectations," Conners said of the women's performance in the Aggie Invitational that ran from August 24 to 26. "Just trying to get us to play the best we can in each moment."
Utah Valley University, Northern Arizona University, Holy Cross and the University of Nevada, Reno all competed in the Aggie Invitational.
"One strength of this team is our senior leadership," Conners said. "They have a strong sense of purpose, direction and what they want to get accomplished this season."
Conners's principles shine through when you talk to his team.
"We have a saying: Fun with a serious purpose," senior outside hitter, Emily Allen said after the team's final Aggie Invitational matchup against NAU –– which the Aggies lost 3-1. "We don't want to put too much pressure on it, but at the same time, we want to get after it."
Before the NAU match, UC Davis hadn't dropped a set to UVU, Holy Cross and UNR.
Allen gathered 61 kills through the Aggie Invitational. And through the 14 matches the Aggies have played, Allen now leads the team in kills with 203.
"We want to really enjoy it, and enjoying it comes with winning and playing well as a team," Allen said.
For senior setter Maddie Merlino, her final season is about helping set the team in the right direction after she leaves UC Davis.
"For me, it's about making connections with the girls," Merlino said. "We want to be leaders creating leaders, so as team captains we want to make the next generation better leaders than we were."
Throughout her volleyball career at UC Davis, Merlino feels the team has become closer  and developed chemistry with one another. This chemistry translates into smooth play on the court.
"We've slowly gotten closer and closer as we've been playing together," Merlino said. "We just know what each other will do, we know each other's tendencies, it's really nice to just get into our flow. "I know exactly what [Emily] is going to do, she knows exactly what I'm going to do. Being seniors and having this big class is nice because we all play."
"We have really good on-court connection," Allen said.
"As well as a good off-court connection," Merlino added.
Because the team will be graduating a good chunk of key players this coming spring, Merlino feels responsible for imparting the leadership skills and tools to the younger part of the team so that they can eventually take over that role.
"We're trying to be really good leaders this year, and a lot of that focus is going into allowing that space for other people to step up too," Merlino said. "We're trying to bring the team together so even after we leave, they have a really good foundation, so some of the juniors and sophomores can really step into that leadership role for next year."
Junior outside hitter Lauren Matias moved from her usual position on the left side of the court to the right side over the off-season, and is starting to get more comfortable in her new role.
"It's definitely hard to gain confidence, but Maddie and I have gotten our tempo really good, and it's been challenging in the beginning," Matias said. "We finally got a connection today, so it was good to see and I feel like onward it's going to be great."
Matias has racked up 139 kills so far, and holds the team's second spot in kills.   
Freshman middle blocker Josie Ough, who is now the tallest player in the program's history at 6 feet 6 inches, made her debut against UVU, as did freshman setter Jane Seslar. Other freshmen who made their debuts were libero Rose Holscher, redshirt freshman opposite Leonie Strehl and redshirt freshman outside hitter Chelsea Maeglin.
After the Aggie Invitational, women's volleyball had nine consecutive road matches. The Rose City Classic in Oregon, then a quick trip over the Causeway to beat Sacramento State. After that, the Aggies competed in the Santa Clara Invitation, which brought them to the Wildcat Classic in Arizona. All in all, the Aggies finished 8-4 in non-conference play. .
UC Davis started Big West Conference play with a tough opponent in No. 15 Cal Poly at Cal Poly. The Mustangs swept the Aggies in straight sets, putting them at 8-5.
UC Davis played at home on Friday for the first time since the Aggie Invitational, hosting the University of Hawai'i. The Rainbow Wahine, now 5-5, won without dropping a set to the Aggies, who now fall to 8-6 with a second straight conference loss. Hawai'i outhit UC Davis, .289 to .202 and collected 51 kills to UC Davis' 39 kills.
Before the match started, sophomore outside hitter Mahalia White was honored as she continues her battle with cancer. Members of Keatons Child Cancer Alliance and UC Davis physicians who  are helping White recover were also in attendance. White is currently recovering and will not play the 2018-19 season. White led the team in kills as a freshman last year.
Matias lead UC Davis with 11 kills and hit an average of .321. Natasha Burns lead Hawai'i with 13 kills and hit an average of .455.
The Aggie defense was overwhelmed by the Rainbow Wahine attack while the Aggie attack didn't do enough to win at the key moments.
"The reason it hurts is because we left points out there," Conners said. "We were undisciplined on defense."
Going into the match, Conners thought the team was prepared and noted the situations they prepped for in practice.
"A lot of balls fell in the middle of the court that we talked about, that we planned for," Conners said. "The offspeed shots, the tips, the rolls – we knew they were coming and we still didn't get them."
Apart from the lead the Aggies took at the end of the third set, the very first point of the match and the first point of the third set, the Rainbow Wahine held the lead throughout the match.
UC Davis was able to gain some momentum when they caught up late in the third set, 19-19, after a Strehl kill put the Aggies up 22-20.
This set up a close battle for the set, and Matias gave UC Davis its closest opportunity to win a set with a kill, 24-23.
Hawai'i proceeded to win three straight points and close out the match, 26-24.
"I think the difference is that we got tight in those moments and they played loose," Conners said. "We have to stay loose and play loose in those moments."
For Conners, defense was the biggest factor in the loss.
"We let them hit at a percentage we should never let them hit," Conners said.
As for the freshman class, Conners sees some bright spots in Strehl and Ough, but believes there is room for improvement.
Conners maintains that playing good defense is key for the team to be successful for their upcoming matches.
UC Davis will soon start a four game road trip, facing UC Irvine, UC Santa Barbara, Cal State Northridge and Long Beach State.
The next UC Davis home game will be Oct. 11 against UC Irvine.
Written by: Bobby John — friend@theaggie.org