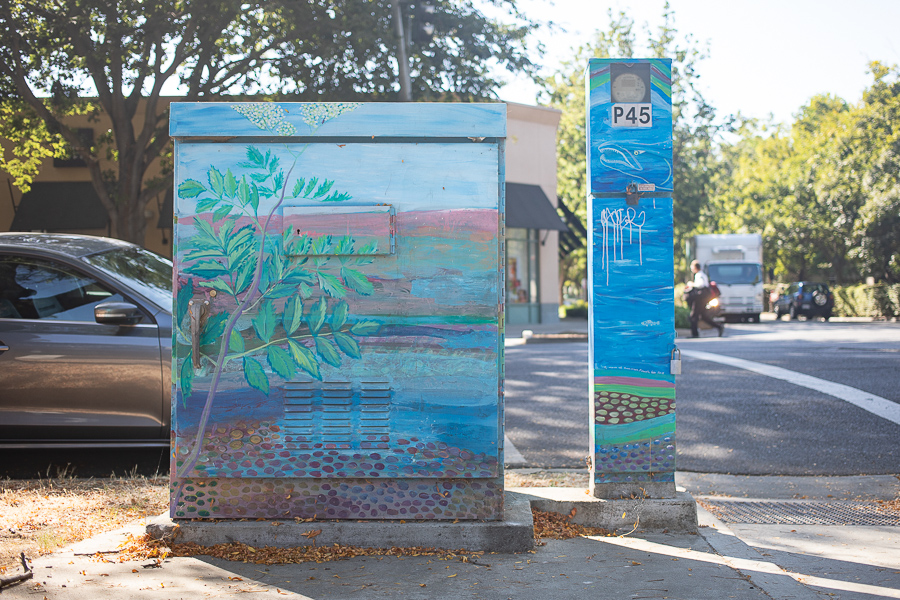 Nontraditional mediums to be showcased across city
The City of Davis Civic Arts Commision is aiming to enhance the city's landscape through its newest enterprise — the "Think Outside the Box" project. These gray metal boxes, often bleeding into the background, will be transformed into pieces of art. The works of local artists will be printed on vinyl and wrapped around these boxes. In addition, each artist will receive a $500 honorarium.
The utility boxes selected are scattered throughout Davis. The commission will initially select eight to 10 artists based on their past work and an optional design plan. If successful, the project will later expand to feature more artwork. These vinyls will be printed in Spring of 2019, but artists must send in their submission by Oct. 18 this year.
According to Rachel Hartsough, the civic arts staff liaison, the project was inspired by similar projects in other cities — namely, the Capitol Box Art Project done in Sacramento in 2014. The commission plans on using Prowraps, the same local vinyl company that helped out with the Capitol Box Art Project.
Yet this isn't the first time in Davis that the utility boxes have been painted. In the past, the civic arts commission has conducted a similar project in which they painted the utility boxes. However, paint being the only medium restricted other artists who specialize in different forms of art from applying. With the vinyl wraps, artists of any visual medium will be have a chance to feature their artwork.
"It's printed on an inkjet printer, and it's applied with a squeegee," said Chris Burgess, a ProWraps employee. "It's a five-year product."
Anything that can be photographed or scanned is a viable medium. This includes hand illustration, photography, collages and mixed media. According to Hartsough, the artwork does not have to feature any themes in particular. While the subject matter for the project is unspecified, Hartsough explains that the artwork should enhance the environment and be appropriate.
"We may take certain images and put them in certain locations because they feel relevant to those locations [and] activities that may be taking place there," Hartsough said. "We're hoping to put images out that celebrate imagery or feelings that people get when looking at the art that connect with celebrating our community."
The designers are encouraged to use a single image that wraps around the box, rather than individual designs on each side. In addition, the civic arts commission is especially encouraging those who have never had their art featured in public.
"It's one of the rare instances where we can create a piece of public art using something from somebody who may not have had the experience," Hartsough said. "So you might have somebody who is a really amazing graphic designer or photographer but [whose] work doesn't normally lend itself to creating public art. [This project] gives us an opportunity to share artwork from a lot broader community than just people who are traditional public artists."
To go about designing a utility box, Serena Tieu, a second-year design major, explained that she would look at the guidelines and form a design based around her constraints.
"The way I would approach this would be based off the community — who's asking this of me," Tieu said. "So I would base it off what [the civic arts commission is] looking for, take their constraints and also incorporate what [Davis] is about, like saving the environment."
However, Tieu acknowledged that she does not speak for all artists, and how other artists may approach designing the utility boxes differently.
The judging will be conducted by a panel, including the civic arts commissioners, artists and city staff members. The panel will then take their recommendations and present them to the city council in November for a final selection. The artists will be notified by the end of the year as to whether their art has been selected.
"We really hope that they become things that beautify different parts of the city and that people sort of come upon and are not expecting to see something and [that the boxes] add some element of surprise and beauty to an area," Hartsough said.
More information can be found on the city's website.
Written by: Hannan Waliullah —  city@theaggie.org