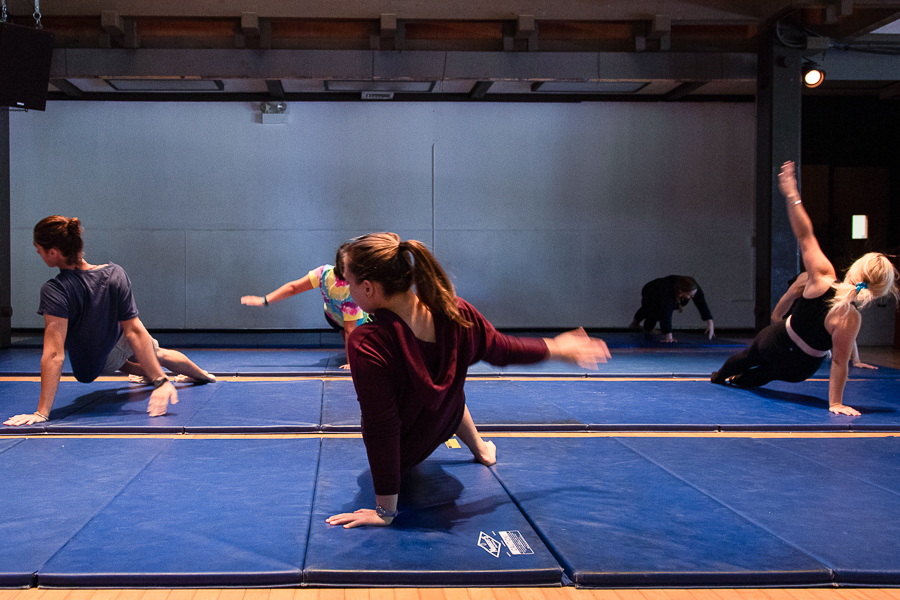 Second annual festival culminates in weeks of intense preparation
In the Della Davidson dance studio, two young sisters argue in a room scattered with pens, nail polish, a checker board and a third new sister who was created out of rage in a cauldron. Assistant director Charlie Lavaroni, a third-year English and human development double major, calls a break.
"More voice," Lavaroni directs Anne Homer, a second-year English and human development double major. "Make that 'I hate you' more genuine."
Right across the road, five actors rehearse in a living room set in the not too distant future. Full of energy, panic unfolds as the family fears for their future, an emotion that many audience members might resonate with. "It's amazing how quickly it happens," says one of the family members regarding a health care crisis after the U.S. Congress outlaws medicine and medical practitioners in this dystopian work.
For the past month, a dedicated group of 33 UC Davis students and faculty have been workshopping, rehearsing and growing as artists in a conservatory-like setting. After a successful debut last fall, the Ground and Theatre Festival returns this year to perform Mark Rigney's "Summertime," directed by Tom Burmester, and Sam Collier's "Daisy Violet the Bitch Beast King," directed by UC Davis alumna Lisa Quoresimo, for the UC Davis community.
The Ground and Theatre Festival was founded in 2017 by Broadway veteran and theatre and dance professor Mindy Cooper, performance studies student Tom Burmester, assistant professor of musical theatre at Southern Utah University Lisa Quoresimo and Danika Sudik.
"It is a festival that is dedicated and designed to bring new voices to the stage, new works to the stage, to cultivate new ideas," Cooper said. "I knew that I had to make a place where works could develop. I also knew that I had a whole bevy of fantastic theatre artists [who have] very split focuses because they're in school […] so I knew I wanted to do a festival where we could percolate new theatre ideas and the student ensemble could really concentrate."
Over 300 submissions in all stages of development came across Cooper's desk and seven were chosen to both workshop and perform.
Ian August, a New Jersey based playwright and lyricist, had the opportunity to workshop his small and intimate play, "Brisé." "Brisé" is a one-man piece about a 29-year-old male dancer who is dying of a rare brain disorder. Cooper chose "Brisé" because of its power to resonate with the audience.
August collaborated with Lavaroni to workshop the play and dissect it. Everyone involved had the opportunity to grow together as artists.
"What I needed to do was just work with people who really cared about this script and wanted to dive deep," August said.  
While seven works of theatre were chosen, only two will be performed for the Davis community, "Daisy Violet the Bitch Beast King" and "Summertime." Also being performed are devised works by students not in the productions that are being performed.  
Sophie Brubaker, a second-year human development and theatre and dance double major, plays Josephine, the eldest sister in "Daisy Violet." Oppressed by social expectations and limitations, Josephine and her polar opposite of a younger sister, Henrietta, create another sister in a cauldron to serve as their scapegoat. This new sister named Daisy Violet ends up being everything they're not and fights against society in ways they can't, which the actors hope will empower the audience.
"I think I've learned how to not just act on the surface, but to really feel and embody [the character]," Brubaker said of her experience in the festival.
Anne Homer, a second-year English and theatre and dance double major, plays Henrietta.
"I feel like Henrietta is what I want to be," Homer said. "She is very outgoing, she says what she feels. Later, she's kind of like the epitome of the struggling artist. She is very expressive and I admire that a lot [about] her."
Lavaroni, who is both the assistant director to Lisa Quoresimo and workshopped "Brisé," empathizes with the struggle faced by the two sisters — that is, the struggle of growing up, oscillating between adulthood and childhood and reconciling with your past.
"It's a strange piece of theatre unlike anything I've ever encountered," Lavaroni said. "I think it was a really cool challenge that I wanted to dive into."
"Summertime," with its subtle sci-fi feel, is just out of touch enough with reality to captivate the audience. The play engages the idea of a global catastrophe and the consequences it has on a regular family. This fast-paced unusual family dramedy is sure to take the audience on a journey as some members of the family rise to the challenge of dealing with the crisis.
"In a way, I identify with all of them, but I also don't identify with any of them," Director Tom Burmester said of the characters. "They are a middle class American family, but they are each so deeply neurotic in their own way."
The festival itself, both on stage and in practice, has an overarching theme of sustainability. Throughout the festival, all of the artists have focused on using less paper and more technology, only recycled paper when it's needed, and implementing other environmentally friendly practices. The theme of sustainability is only enhanced by the back and forth of history and future in the plays.
To see "Daisy Violet the Bitch Beast King," "Summertime" and the devised works, visit www.groundandfield.com. All shows are free of charge, but reservations are encouraged. The shows will run Oct. 4 to 6 at the Della Davidson Dance Studio and Wyatt Theatre.
Written by: Liz Jacobson — arts@theaggie.org