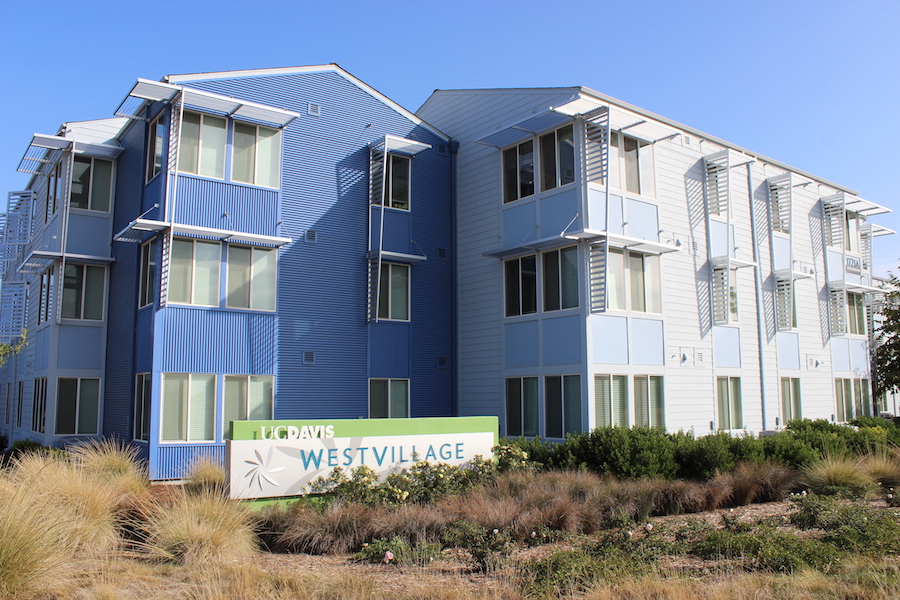 West Village expansion, Davis Live project aim to improve .2 percent vacancy rate
Two new housing projects, an expansion of West Village Student Housing by the university and the Davis Live housing project by the city, have both been approved. The projects are a collaborative effort between UC Davis and the City of Davis as part of the university's Long Range Development Plan (LRDP).
The vacancy rate in the city of Davis was at .2 percent for two-bedroom housing and .1 percent for single and three-bedroom housing, according to the 2017 student housing vacancy report. Rental prices have increased 6.2 percent since 2016 and the average rental rate per apartment rose to $1,673 per month.
Davis Live will be a 71 unit, 440-bed student housing project at 525 Oxford Circle located adjacent to Russell Boulevard and across from campus. It is designated as a Residential High Density project from four to eight beds per unit and ranging from 1,222 to 2,052 square feet.
The West Village project is an extension of the existing student housing complex. The project will add 1,122 units and an additional 3,265 beds. The West Village LRDP and the final environmental impact report was reviewed by the UC Board of Regents in mid-July and subsequently approved on July 19.
"[The project] is actually one in a series of housing projects that are student-oriented housing … approved in the City of Davis," said Dan Carson, a Davis city council member. "The others are referred to as the Sterling Project, Lincoln Forty and the Nishi Apartment, and now this one is Davis Live."
Dan Weinstein, Managing Partner of College Town International and a partner on Davis Live with the Latigo Group, the lead developer on the project, elaborated on the Davis Live timeline.
"We are optimistic of breaking ground sometime early in 2019, and targeting an opening in Fall of 2020," Weinstein said.
Davis Live is planned to be mixed demographic housing. Carson said the project will provide low-income families a chance to live in housing for "much lower than typical rental rates."
With 66 beds, or 15 percent of the total, reserved as affordable housing, 22 beds, or 5 percent, targeted to low-income students, 22 beds for very low-income students and 22 beds for extremely low-income students, Weinstein explained.
"As a city, we take very seriously the need to provide additional student housing in a time where there is extremely low rental unit vacancy rate within our city limits," Carson said. "We are hoping that will inspire the campus to follow through on the plan they have offered in additional student housing."
Carson said that the serious vacancy problem has forced students to take extraordinary measures.
"I have personally observed, as a resident of Davis, a student who, [at] one point last year, was living out of his car on the street a couple of blocks from my house," Carson said. "I have also personally experienced 'mini-dorms,' where a single-family house gets turned into an apartment in effect for six, eight or even more students. It does not usually work well when you have that many folks in a single house. They have noise and parking problems and conflict in the neighborhood."
Carson also spoke about the ongoing work between the city of Davis and UC Davis on the LRDP to ease the housing issue.
"What we have been asking for some time is that the campus take its plans for additional housing on campus and turn them into concrete and enforceable promises that they will actually follow through [on] and build housing and sync with the growth in enrollment on campus," Carson said. "If you don't do that, at least in some extent, it takes that .2 percent vacancy rate we have in our town and potentially makes it worse, if that's possible."
The LRDP is designed to grow as UC Davis expands. Michael Sheehan, the interim executive director in UC Davis Student Housing and Dining Services, said in an email that student housing will increase from the reported 9,818 students in 2016-2017 to an eventual 18,686 students on campus.
"The new LRDP was developed over three years with extensive community input including open house events, town hall meetings and presentations to the Davis City Council and other groups," Sheehan said. "Planners received extensive community feedback on the plan and made changes to it as a result."
"The Long Range Development Plan sets ambitious goals for housing and sustainability," said Matt Dulcich, the director of environmental planning at UC Davis, in an email. "As we go forward we'll be exploring innovative, imaginative proposals to increase density and maintain livability."
There is also continuing work on the West Village project.
"We are currently working on finalizing designs for the complex and securing project financing," said Grant Rockwell, executive director of Real Estate Services at UC Davis, in an email. "We expect to break ground later this year. Beds for approximately 1,000  students should be available in Fall 2020 and the complex should be fully complete in Fall 2021."
Written by: George Liao — campus@theaggie.org