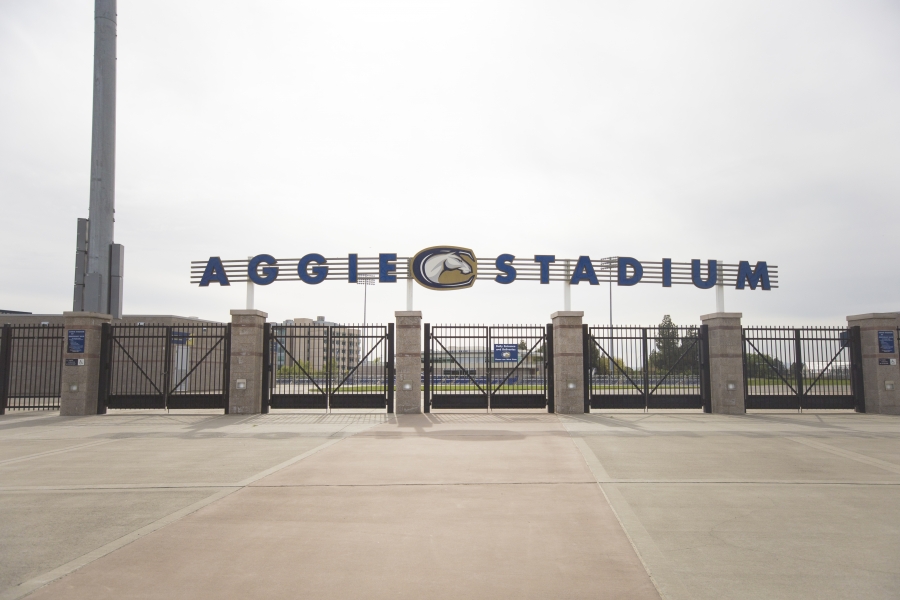 UC Davis football receives historic ranking as Fall Quarter begins
The UC Davis football team woke up to a nice surprise last Monday morning following the team's 44-21 dismantling of visiting Idaho over the weekend, and a week off from game action wasn't the only thing to celebrate. In the latest top-25 rankings released by Stats FCS, the Aggies came in at No. 19, their highest position on the poll since the team moved up to the Division I level in 2004. UC Davis trails only two teams from the Big Sky conference, Eastern Washington and Weber State.
The Aggies have enjoyed a 3-1 start to the season, with convincing victories over FBS opponent San Jose State, San Diego and Idaho, a team that just moved down from the FBS level this year. The only blemish was a hard-fought, 20-point loss to national powerhouse Stanford, a top-10 team in the nation and legitimate College Football Playoff contender.
This season, the team's bye week perfectly coincides with the commencement of Fall Quarter, giving Aggie football players the opportunity to get accustomed to their class schedules and the daily grind of keeping up with schoolwork and athletics.
"The good thing about right now is that school's starting and they have a chance to focus on school and get off on a really great start," said UC Davis head coach Dan Hawkins. "I think that's a real positive for us."
In addition to the benefits felt in the classroom, the absence of a game at the end of the week gives players a chance to go home for a few days, visit with friends and family and simply relax.
"It'll give them time to go home and get some of mom's home cooking," Hawkins said.
The players won't have another window to leave campus for an extended period of time until the season concludes.
"We'll get three days of work in, but they'll get a weekend off to be a normal person," Hawkins said. "We always talk about that quality balance of life and I think that's important."
Most players planned to return to their respective hometowns for a few days and many hoped to even catch their siblings in some football action.
Senior defensive back Isiah Olave, who comes from a talented family of football players, planned on traveling to watch his younger brother Josh, a sophomore defensive back, play at Azusa Pacific University. Olave was also excited to catch another game on TV featuring his youngest brother Chris, a former four-star wide receiver in high school and current true freshman at Ohio State.
Redshirt freshman Ulonzo Gilliam, who leads UC Davis with 268 rushing yards and five touchdowns, had similar plans to cheer on his younger brother Elijah at Bishop Gorman High School in Las Vegas, Nevada. Gilliam couldn't wait to check out Bishop Gorman's top-notch facilities, including a massive stadium and state-of-the-art 41,000 square-foot training facility, both of which are comparable to many big-time universities.
No matter how the players chose to spend their time off, it was a much-needed  break for the team given its success on the gridiron thus far.
"This is perfect timing coming off a tough game," Olave said. "It's been a lot of ground-and-pound so far, so this gives us a chance to make sure our bodies are healthy and sound. It lets us keep our momentum going into Northern Colorado."
The Aggies have a tough journey ahead, with three of their next four games on the road. They also have a brutal stretch to end the season by hosting Northern Arizona, traveling to Eastern Washington and hosting Sacramento State in the Causeway Classic. The team will need all the rest it can get in hopes of advancing to the FCS playoffs at the end of November.
Written by: Brendan Ogburn — sports@theaggie.org