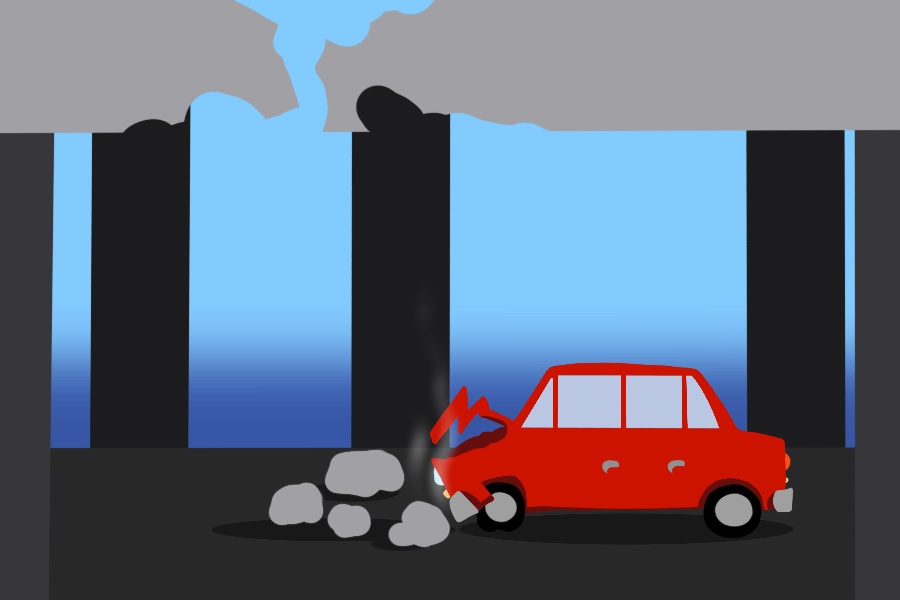 Overnight emergency closures planned on freeway
Concrete slabs on the Interstate 5 freeway are at risk of failure and have posed problems for vehicles. Nighttime emergency closures are currently planned so that these risks can be addressed.
Dennis Keaton, the public information officer for Caltrans District 3, elaborated on why the concrete is at risk.
"Just over age, wear and tear and a lot of traffic use over the years made it come apart," Keaton said.
The concrete slabs are found on the surface where commuters drive, which could directly affects vehicles.
"This is on mainland surface, not on the bridges," Keaton said.
The concrete slabs are not a small feat, as they measure to up to 18 feet in length.
"Lengthwise, they're 10 to 18 feet — widthwise, they're about 12 feet," Keaton said. "Thickness is somewhere in the neighborhood between 9 to 11 inches."
"The 70 [concrete slabs] were discovered on the Southbound direction between just south of the highway 50 and 5 interchange to Pocket Road in South Sacramento," Keaton said. "They vary in size and location, so they are not in one area. But because of this incident we wanted to make sure that this wouldn't occur somewhere else. Our inspectors then located 70 areas."
These risky slabs must be replaced, seeing as they can no longer be simply repaired. Deanna Shoopman, the chief public information officer for Caltrans, indicated that the problem must be completely fixed.
"They keep Band-Aiding it over and over until you can't Band-Aid it any longer," Shoopman said in the Sacramento Bee. "It needs to be rehabilitated."
Caltrans has now started the repair process on areas in need of rehabilitation.
"We are a part of a contract where the damage has been repaired in some of the areas," Keaton said. "The actual concrete slabs were dug out and replaced with new concrete slabs. That's basically the way we are going to handle it from here on, until the larger project gets started at the beginning of next year. This is a project that is supposed to start in the spring [to] early summer, where it's going to rehabilitate sections of the I-5 from the Sacramento River to just south of Pocket Road in South Sacramento and take care of most of the damage like concrete or any kinds of cracks."
The I-5 freeway encompasses a majority of California, and according to a document presented by the Transportation Concept Report, "I-5 extends 796 miles in California, from the International Border Crossing at San Ysidro to the California/Oregon Border. Within District 3, I-5 extends 127 miles through Sacramento, Yolo, Colusa and Glenn Counties on relatively flat terrain."
According to the report, "I-5 serves as the transportation backbone of not only California, but also the Pacific Northwest, and is the only Interstate that reaches to both Mexico and Canada. Within District 3, I-5 is an Interregional Road System (IRRS) route. This major north-south facility plays a critical role in California's economy by accessing a multitude of interstate, state and local facilities, providing throughout to accommodate high volumes of commute and interregional traffic, along with rapid growth in interstate/IRRS freight movements."
Because of the vast impact the freeway has on California, the overnight work is essential in order to replace the concrete slabs.
"For now, the most serious cracks that we've located will be replaced through the slab replacement project," Keaton said.
Written by: Stella Tran – city@theaggie.org