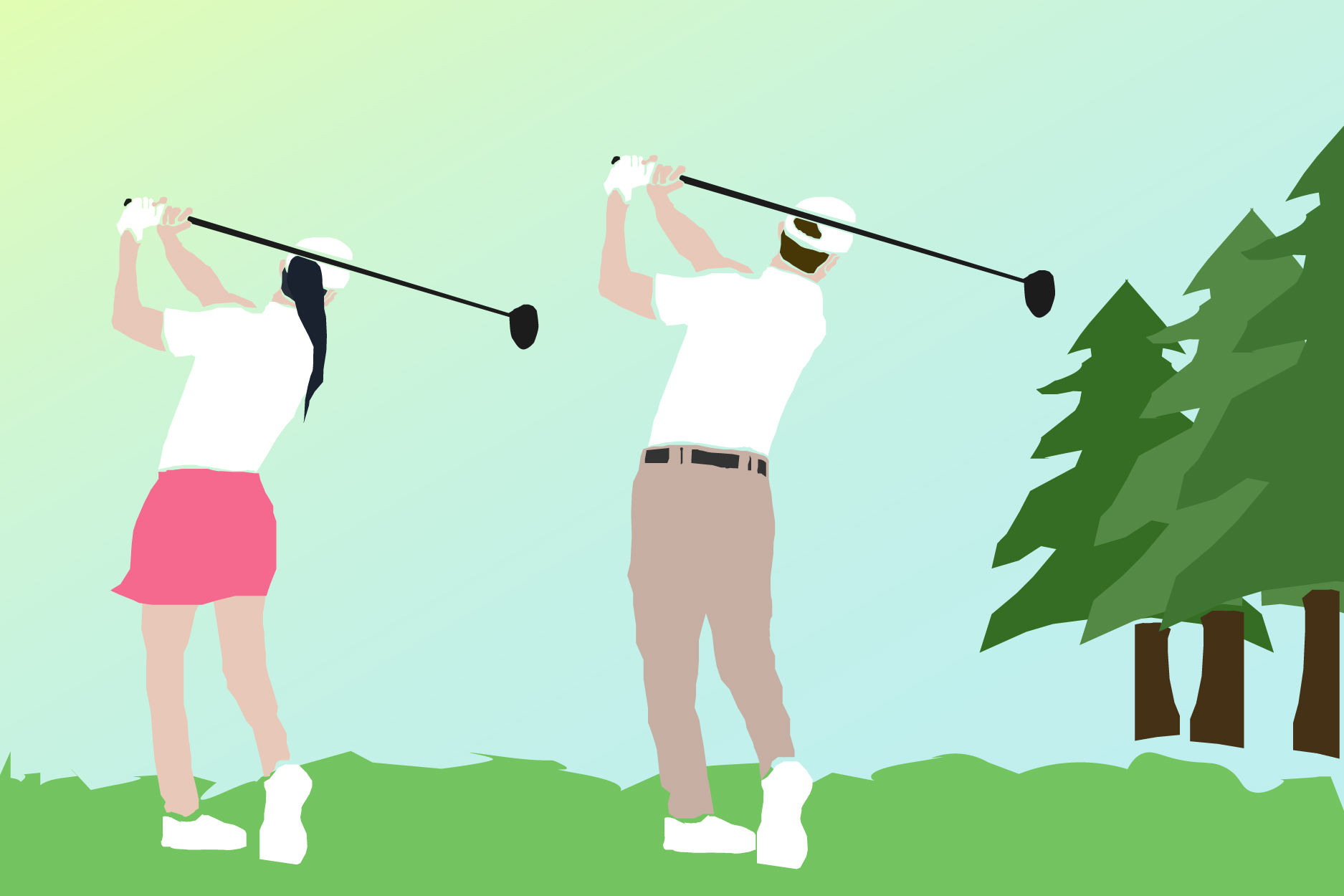 Samantha and Thomas talk UC Davis golf, season goals
Senior women's golfer Samantha Hutchison and sophomore men's golfer Thomas Hutchison both got off to a momentous start to the 2018-19 season. The siblings both captured titles in August before the collegiate season even began — Samantha took the California Women's State Championship in Ojai, Calif., finishing 15 under with 16 birdies, and Thomas took the Northern California Golf Association Match Play Championship at Spyglass Hill. Thomas also won his first collegiate title at the Windon Memorial Classic hosted by Northwestern University at the Knollwood Club with a 4-under par, 68 strokes, on the final day back on Sept. 24.
If you ask Thomas Hutchison about what he expected going into Windon, winning the whole thing certainly wasn't on his mind.
"I wasn't expecting to win," Thomas said. "I was expecting to put myself in some kind of contention."
Thomas admitted he got off to a slow start. He came out with a par on the first two holes, but things got a bit dicey when his tee, shot on the third hole, almost went out of bounds which he bogeyed.
Things turned around for Thomas when his tee shot on the fourth hole put him in good position. He went on to birdie the fourth hole, which gave him a surge of confidence.
"That gave me a lot of momentum," Thomas added.
After the fourth hole birdie, Thomas carried that momentum and birdied five holes for the day, putting him in the lead after the first two rounds, with a 64 in the first round and a 73 in the second round.
Thomas shot a 68 in the final round to edge out Tripp Kinney of Iowa State, 205-207.
All told, Thomas birdied 17 times throughout the tournament's three rounds. For the sophomore coming off his solid 2017-18 freshman season, the win at Windon may be helpful as the team enters upcoming tournaments.
"To pull it off gives me a lot more confidence to pick up more wins as the season goes on," Thomas said.
Thomas added that he has been striving for a win for another reason. Samantha won her first collegiate tournament at the Battle at The Rock at Oak Quarry Golf Club in the 2017-18 season. She was named the Big West Women's Golf Player of the Year in the 2017-18 season.
So is there a little friendly sibling rivalry? The siblings say that while they are competitive with one another, they also try to help the other accomplish as much as they can.
"Like I told him, his success is my success," Samantha said. "I'm so happy, I feel like this is just the beginning for him."
Samantha is now in her senior season, and throughout her golf career at UC Davis she has improved consistently.
The siblings noted that they worked on technique throughout the off-season and summer, and while Thomas put more emphasis on putting, Samantha focused on the mental aspect of golf, training alongside women's golf head coach, Anna Temple.
"I think that has definitely helped me grow. Especially the past year-and-a-half, we just put in the work and it's finally paying off, it's a great feeling," Samantha said.
With the improvement in technique and growth in the mental aspect of the game, Samantha has seen the program make similar strides. The way Samantha sees it, this improvement in the program and the team has fundamentally changed the way women's golf approaches match play.
"Our goal for the season is different now, the past couple of years I used to be like 'oh we didn't want to finish last,' because we competed against such good teams all the time, like Stanford, UCLA, and Northwestern," Samantha said. "Now we're focused on finishing first, second and third."
With this change, Samantha noted that the different approach has also changed the team dynamic —' a positive development for UC Davis women's golf.
"It's not like we're playing scared anymore. We're just hungry and we're aiming higher and we're landing higher," Samantha said. "So this year, just have as many wins as possible, make it to regionals, make it to nationals and eventually a championship."
UC Davis women's golf finished 6th place in the team standings in its season opener at the Branch Law Firm/Dick McGuire Invitational hosted by the University of New Mexico.
After that, women's golf headed to Ann Arbor, Mich. for the East and West Match Play Challenge hosted by the University of Michigan. The Aggies put on a strong and consistent performance throughout the tournament, and led after the first day. This brought the Aggies to match play against Ohio State, where they won 3-2. Unfortunately, Iowa State, which UC Davis was set to play for the championship, withdrew from the tournament due to a death of one of its team members.
Written by: Bobby John — sports@theaggie.org