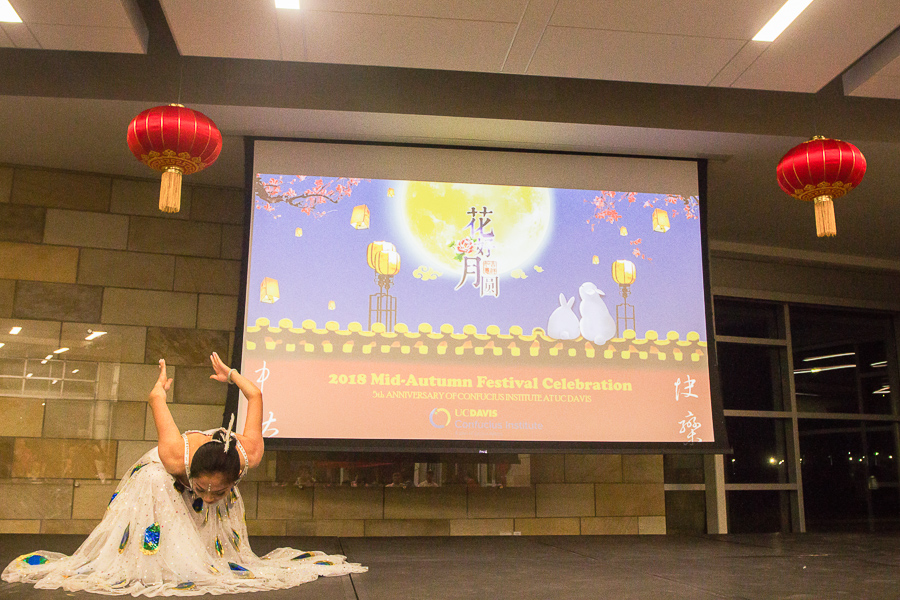 A moonlit celebration of Chinese culture
Each year, Davis hosts and celebrates the Mid-Autumn Festival — an event that fell between Sept. 22 to 24 this year. While Chinese New Year is the largest holiday in Chinese culture, this time of year follows it as the second-most celebrated event.
Davis Community Church, the host of the event, offered several Asian dishes. Many well-known chefs led cooking lessons to help those who attended create the same meals despite being far from home.
"I think the event was wonderful," said Mengyuan Xiao, a Davis resident. "Many good performances. Some of them reminded me the high level of classical music performances that I watched back in China. It was an awesome experience to enjoy the art and food on Mid-Autumn Festival."
Alex Jang was deemed head chef and had two other cooking experts by her side in making sure the festivity was successful. Ting Dong was one of the other chefs alongside Jang and led tutorials on how to craft various dumplings. The third chef was Grace Moon and she taught tips and tricks on how to perfect Korean rice cakes.
      "I am half Chinese and half Mexican, so I appreciate any time we can take inspiration from culture but tweak it too," Jang said. "That's what we did here, and I was able to share with everyone who took the class and ate the food that a delicious and filling meal can be healthy too. We all came together as a community, cooked, had a good time, learned new things and shared  great meal together and gave thanks. I am looking forward to more opportunities to share with communities how to cook simple, delicious, healthy and cost-effective meals for themselves and their families."
Each year, the festival takes place around the time when the moon is brightest and fullest, in the middle of the fall season. It is a custom derived from the moon sacrifices conducted once the correlation between the movement of the moon with the changing of seasons was figured out. Since harvests are affected directly by seasonal changes, the Chinese would sacrifice crops to give thanks; hence why food and the moon are such celebrated objects over these few days.
Near the UC Davis campus, many also gathered together in celebration and split moon cakes. International centers surrounding the campus on Sept. 23 from 6 to 8:30 p.m. opened their doors to students in hopes of forging a sense of comfort and familiarity for the rising Chinese population at the university.
"I had the opportunity of actually being present at a Mid-Autumn event this year and believe everyone should go if they ever have a chance," said Caroline Crawford, a second-year computer science and design double major. "It is such an interesting and unique festival, and I plan on going to them for years to come."
Written by: Lauren Tropio — city@theaggie.org