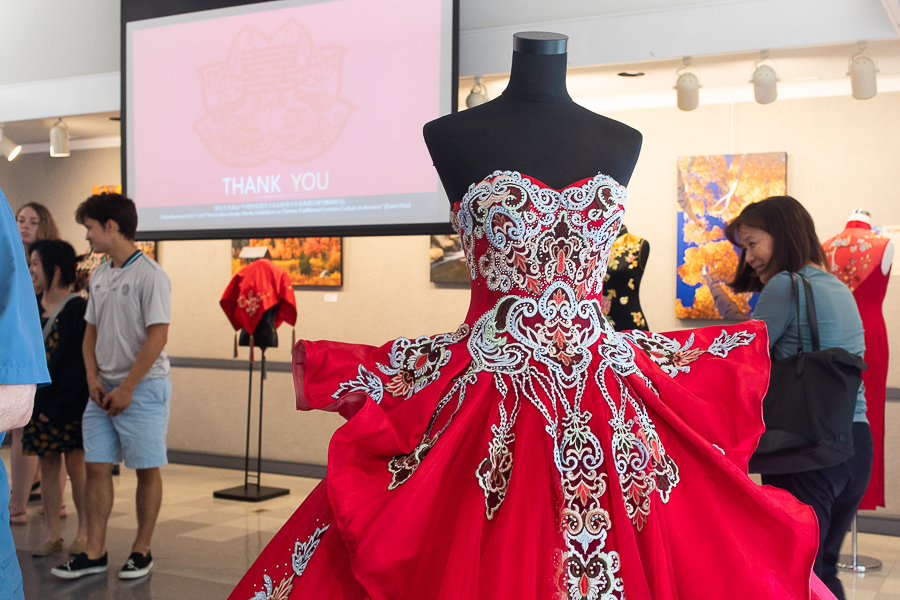 Confucius Institute hosts Jiangnan University research group
On Oct. 6, at the International House, the "Double Happiness: Traditional Chinese Wedding Dress" exhibition made its California debut. The event was co-hosted by the China National Arts Fund, Jiangnan University, Jiangsu Intangible Cultural Heritage Research Base, the UC Davis Department of Design, the UC Davis International House and Davis Confucius Institute. The exhibition was on display from Oct. 6 to 9.
Professor Pan, assistant dean of the School of Design at Jiangnan University, chose to bring the exhibition to UC Davis because of the two schools' history.
"Because Jiangnan University and UC Davis have collaborated before for more than 20 years in many fields, they picked this location," said Michelle Yeh, a distinguished professor of Chinese, who translated for Pan. "Also, he feels that people on the west coast tend to know more about chinese culture."
All of the wedding dresses and accessories on display were designed and created by Jiangnan University design students. Part of a larger multi-institute research project, these dresses represent the evolution of Chinese wedding dresses and Chinese wedding culture.
"[I am] very appreciative to have the opportunity to come here, to display and transport the traditional culture," Chen Ying, a graduate student at Jiangnan University said to a translator.
The grand opening of the exhibition featured a lecture by Pan explaining the significance of a traditional Chinese weddings and how practices have changed throughout Chinese eras. It also informed Davis residents and UC Davis students of the customs and etiquette of a Chinese wedding. Furthermore, he discussed how the weddings are complex and solemn as well as deeply influenced by Confucianism.
One symbol mentioned was the significance of the color red, which symbolized vitality, passion, and festivity and the recurring images used in designs. Pan also discussed the new integration of tradition and modernity as a result of social progress and globalization. Current Chinese wedding customs are demonstrating a revert back to traditional imagery and motifs. And classic visual elements serve as a source of inspiration for modern design.
After the lecture, there was a question and answer segment. Those in attendance also had the opportunity to try on some of the pieces displayed.
Written by: Liz Jacobson – arts@theaggie.org