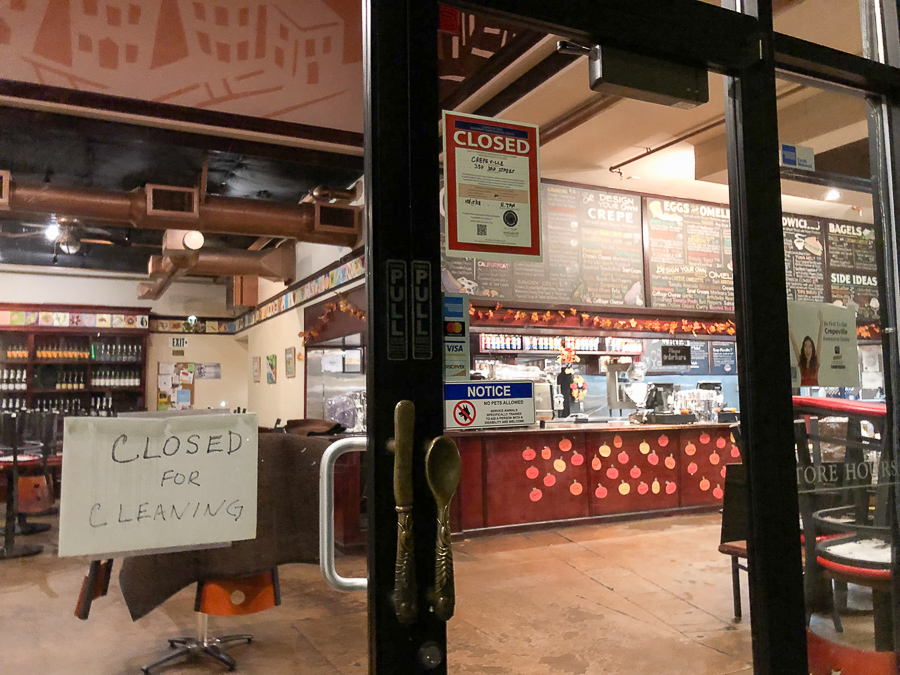 Undergoing cleaning, suspected reopening Oct. 16
As of Monday, Oct. 15, a makeshift sign on a piece of paper was taped to the Crepeville door, reading: "CLOSED FOR CLEANING." A second, more official sign was posted later by the Yolo County Division of Environmental Health, confirming that Crepeville was closed due to a "temporary suspension of health permit."
The health code violation was issued because of an insect or rodent infestation. The sign read: "This facility was found to have violations which constitute an immediate danger to public health or safety. As a result, the permit to operate has been temporarily suspended and this facility has been ordered to remain closed until a written reinstatement of permit has been issued."
The report was dated and signed by H. Tan, an environmental health specialist. A most recent copy of the inspection report, which is supposed to be located on the Yolo County website, is nowhere to be found. No health alerts have been made on the website since May 29, 2018.
Omar Namih, a second-year in the master of laws program at UC Davis, was approaching the double glass doors of Crepeville to meet his friends for dinner when he realized they were closed due to health code violations.
"I came [to Crepeville] almost daily because my friends like it," Namih said. "It's surprising [that Crepeville is closed] and it's going to be hard to come back again."
What is usually a bustling, inviting restaurant on a corner block of Third Street is now empty and dark with few passerbyers. The only people around were a few Crepeville workers, who were spraying down rags around the back. One of the workers was shocked and had no idea about the infestation at Crepeville. He stated, however, that Crepeville is to reopen on Oct. 16, around 10 a.m. However, no other information regarding the supposed reopening has been released, and the Division of Environmental Health was closed at the time this brief was written.
Students, community members and lovers of Crepeville will just have to wait to find out the answer to a question on many people's minds: Will Crepeville reopen?
Written by: Kaelyn Tuermer-Lee — city@theaggie.org