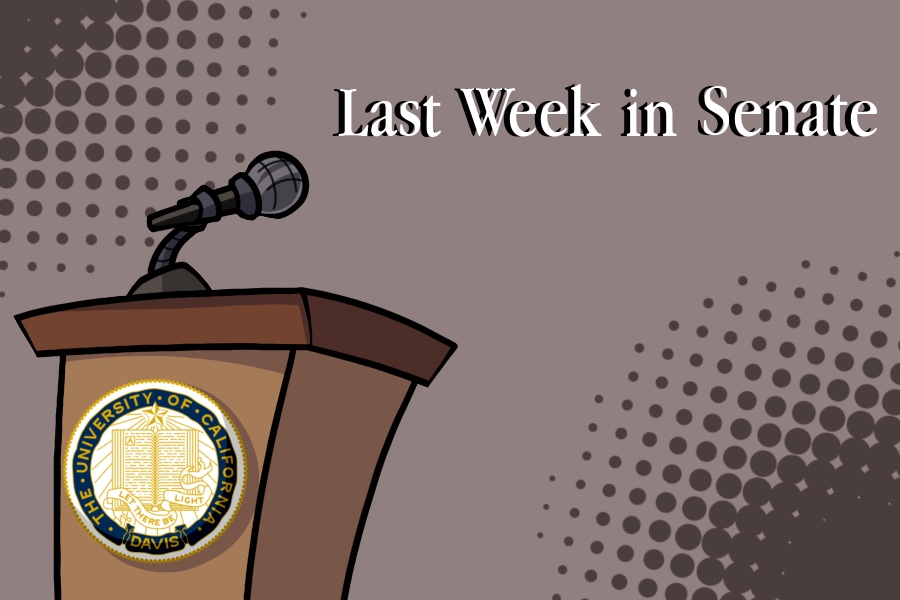 In a Facebook post, Ethnic and Cultural Affairs commissioner alleges Gofman is discriminatory
The first ASUCD Senate meeting of the year was held on Sept. 27 in the Mee Room on the third floor of Memorial Union. At this meeting, a new interim senator and new association members were sworn in, President Michael Gofman delivered the State of the Association address and the introduction of new Senate initiatives was presented by Vice President Shaniah Branson.
The first meeting also saw contention, with a prolonged conversation during public discussion which took place after a declaration from Ethnic and Cultural Affairs Commissioner Rina Singh and Senator Ko Ser Lu Htoo that stated that they would not work with Gofman.
The meeting was called to order at 6:11 p.m. by Branson. A roll call was taken with eight senators in attendance, Senator Gaven Kaur was absent and Gofman was late.
Gofman gave the State of the Association Address. A key point of his speech was the association's planning of this year's Sunset Fest, a new event on campus. Gofman said that the event "was supposed to be a $5,000 loss," but ended up being "a $9,000 profit."
Gofman also addressed the resignation of three senators, all of whom were elected last Fall — Danny Halawi and Andreas Godderis resigned last year, and Jake Sedgley announced his resignation recently.
Gofman said that resignation announcements over the summer, as in the case of Sedgley, are not unusual and the association will need to quickly fill the open seat. Gofman concluded by saying he has high hopes for the year and thanked everyone in the association for their work.
The proceedings then moved to a discussion of the ASUCD budget. With Controller Meital Machulsky present, Gofman discussed three changes that occurred during the summer: the Sunset Fest made more money than expected, Office of Advocacy and Student Representation Director Edgar Malagon successfully negotiated down the University of California Student Association's fee for UC Davis to $3,000 and the Creative Media services plan of making bulk purchases to save money.
Discussion then moved to the salary for Angela Ruan, third-year managerial economics major, who was later confirmed as assistant unit director for Aggie Reuse. The original budget for this position was set at $7,600. Ultimately, the budget was raised to $9,000.
Up next was the budget proposal for OASR. Malagon proposed using existing funds for positions including Public Engagement Assistant Director, Assistant Director of City/Community Affairs and Chief of Staff. The OASR budget was approved without objection.
The President's budget for Creative Media was discussed next. Gofman said purchases of association-branded goods for Sunset Fest were done in bulk. He also said tabling material that could be generated by Creative Media were outdated and in order for the association to grow, new items would need to be purchased. The budget was approved without objection.
The proceedings moved from budget to Senate pro tempore elections. Sedgely was in this position but, due to his recent resignation, the position was opened. The candidates were Senators Alisha Hacker and Htoo.
Votes were taken, Hacker received seven votes and Htoo received three votes with two votes abstaining. Hacker was selected as Senate pro tempore.
Next on the agenda was unit and committee assignments. Senators volunteered to work with units and committees for the new academic year.
Mental Health Initiative Committee member confirmation came next. Deborah Widjaja, a fourth-year neurobiology, physiology and behavior major was confirmed without objection.
The interim senator confirmation to replace Jake Sedgely came next. Devo Leichter, a fourth-year political science major who served as a council member on the Judicial Council, applied for the position.
Gofman said Leichter had already helped him work on legislation. And Leichter said he was interested in a "constitutional cleanup amendment" to organize and format the Senate Bylaws with clarified terminology. Leichter was confirmed without objection.
Next was confirmation for the Environmental Policy and Planning Commission chairperson. Alice Beittel, a fourth-year environmental science and management major, was the EPPC chairperson before she studied abroad Spring Quarter. Beittel was confirmed without objection and the remaining members of EPPC were also confirmed.
A slate of new legislation for upcoming Senate sessions was listed. Among these were:  ASUCD Constitutional Amendment #55 and #56 and ASUCD Senate Bill #1, #2 and #3. These bills and amendments are found on the ASUCD web pages.
A break was held from 7:27 to 7:41 p.m.
Vice President Shaniah Branson presented goals, expectations and reminders for the new year. The detailed list of initiatives included the following: third-floor improvements, marketing/branding changes, an ASUCD digital calendar, ASUCD social media outlets and changes in Senate table attendance policies.
Among other proposals, Branson suggested setting Senate meeting time to a maximum of four hours.
Public discussion was next.
Fourth-year biomedical engineering major Kia Aliakbar, the chairperson for the committee on committees, discussed UC Davis' 10-year strategic plan, also known as the To Boldly Go campaign. Because the campaign received limited response from students during the summer, Aliakbar urged the Senate to offer any suggestions and recommendations before the deadline in April.
Singh, the Ethnic and Cultural Affairs Commission chairperson, said that ASUCD was getting pushback from marginalized communities and sought input from the table.
"There's so much stuff happening: racism, assault is all taking place, but we don't even know about it," Singh said. "How can we address it if we don't even know about it?"
A recent ECAC Facebook post announced the commission's plans to boycott the president's State of the Association Address, alleging Gofman did not hold the commission's values of inclusion and equity. Gofman "haha" reacted the post on Facebook.
Singh brought this up during public discussion, she asked what message Gofman's choice to react to the post sends to the commission.
Htoo, who also boycotted the address, also penned a Facebook post explaining the decision.
"[Gofman] has been disrespectful to members of the LGBTQIA community, minorities, and refuse to listen to members of this Association," the post read. "He is racist and refuses to use gender-inclusive language. He had conducted interviews with unfairness and injustice. He has been divisive and not trustworthy. With that being said, I don't believe anything he said or will be saying. I don't trust him."
Gofman denied the allegations, he stated that he has not, nor has he ever been, purposefully discriminatory, and said that he doesn't understand why "two people have decided
to make a political stand on grievances that were stated on abstract terms."
In response, Senator Jumoke Maraiyesa asked Gofman why he "haha" reacted ECAC's Facebook post, saying "your actions are speaking louder than your words."
"I'm not going to apologize at laughing at a further attempt to further divide the association," Gofman said. "This was someone else's attack. If you want to spend another 25 minutes talking about a laugh react on a Facebook post go ahead."
At another point in the meeting, Gofman spoke about the recent disagreements between UC Davis and the City of Davis about housing.
No public announcements were delivered.
Ex-officio reports were then entered into record and followed by elected officer reports and approval of past meeting minutes.
The meeting adjourned at 9:37 p.m.
Written by: George Liao — campus@theaggie.org