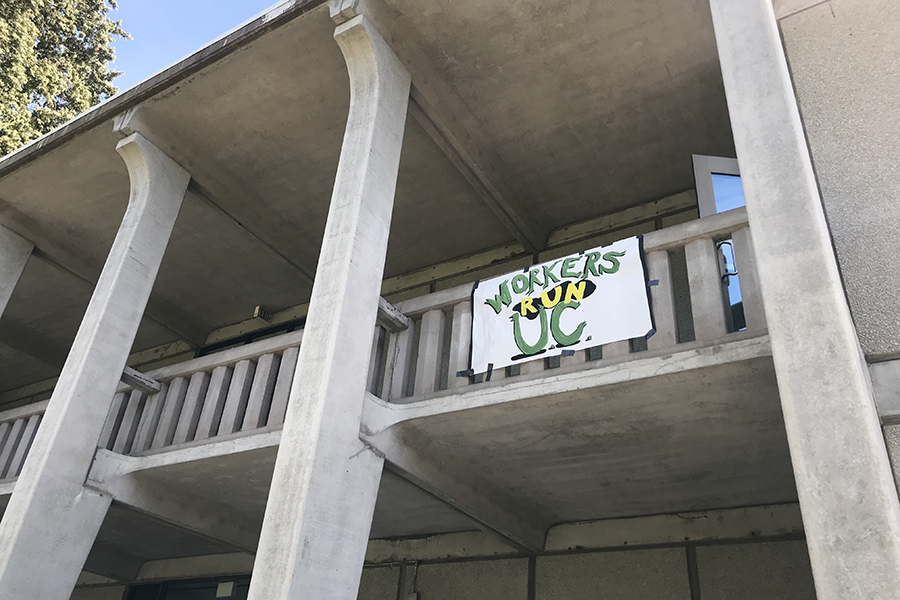 UC may have repeatedly violated state law, UC denies charges
The University of California is facing allegations from unions and complaints from the Public Employee Relations Board (PERB) regarding violations of California state law.
John de Los Angeles, a spokesperson for the American Federation of State, County and Municipal Employees, which represents over 24,000 UC employees, commented on the union's allegations in light of the U.S. Supreme Court's ruling on the case AFSCME vs. Janus which effectively weakened the power of labor unions.
"The university, after the Janus decision, had been sending out mass communications to employees about the Janus decision," de Los Angeles said. "Essentially, what they were handing out was instructions on how to drop your union — very much in violation of the law."
De Los Angeles referred to AB 119 and SB 285, both of which were passed last year. AB 119 required public employers to provide unions "mandatory access to […] new employee orientation," while SB 285 forbid public employers "from deterring or discouraging public employees from becoming or remaining members" of unions. Both laws were placed under the jurisdiction of PERB, a state agency which adjudicates issues between public employers and their employees.
Felix de la Torre, PERB's general counsel, likened the agency to an "independent court system for labor relations…[that enforces] the state's labor relations statutes" for public employers only.
AFSCME took grievances to PERB about the UC's alleged violation of these state laws. In response, PERB filed complaints against the UC.
"In this case, what happened was UC sent out a communication to all of its representative employees at the end of June after there was a Supreme Court decision involving the rights of employees to join or support unions, and it did so without complying with the law," de la Torre said.
Danielle Smith, a media relations officer for the University of California Office of the President, said via email that "the University of California disputes the union allegations and will address them in the proper forum."
De la Torre explained why the agency believes the university was in violation of state law.
"[The UC] didn't ask the unions if they wanted to meet or confer, and it didn't allow them to send out a simultaneous communication with [its] communication," de la Torre said. "We agreed that, if those allegations were proven true, UC will have violated the state law on a number of occasions. I say that because UC not only sent it out initially in June, it continued to send things out in different formats throughout September."
According to de la Torre, the next step following the filing of formal complaints would b to hold trials at PERB's administrative hearing division.
"Those trials are to allow the parties an opportunity to present evidence to support the allegations and to give UC the opportunity to defend itself against these allegations," de la Torre said. "Those are scheduled now for mid-November, and those are before an administrative law judge."
This entire process could take a year or more because there is an appeal system involved.
"Once the judge issues a decision, either party could appeal to the five-member [PERB] board here appointed by the governor, which acts like an appellate body," de la Torre said. "They'll review the judge's decision and find whether they agree with the judge or they don't, and they'll write their own decision. Then, that could eventually be appealed to the state's appellate courts, so it could be a long road before we get to the final resolution on this matter."
PERB went to court last week in an attempt to get an injunction against the UC.
"UC was continuing to violate the law despite the fact that we'd issued those complaints," de la Torre said. "The court today ruled to deny that request, which is unfortunate, because one of the problems that PERB is going to face in this case is that, assuming the unions show that UC did violate the law by circulating these communications, it's difficult to remedy after the fact."
If the allegations against the UC are true, repercussions will potentially be complicated because employees cannot unread communications that are allegedly continuing to circulate.
"There have been numerous examples where UC has continued to circulate the letter," de la Torre said. "When we were in court on Monday, UC didn't deny the violations, it just argued against the order, claiming it had now gotten itself under control."
AFSCME represents service workers and patient care workers throughout the UC system. De Los Angeles said he believes it's important for students to be familiar with current and past allegations against the UC.
"The university is proposing to let health care premiums rise, they're proposing to lift the retirement raise, they're proposing to hold employee wages flat, they're excluding outsourcing from the conversation to allow for more outsourcing," de Los Angeles said. "These things represent a significant cost-savings for the university and at the same time that they're doing this to workers, they discuss tuition hikes year after year."
De Los Angeles believes there's a common thread between the way the university treats its workers and the way it treats its students.
"While they're asking students to possibly pay more and workers to accept less, they're pocketing the extra money," de Los Angeles said. "It's really important to take a hard look at what's happening to these workers because they are very much in line with what students are going through. Students are having a hard time affording education, there's a high level of food insecurity, and this is all coming from the same source."
Written By: Sabrina Habchi  — campus@theaggie.org