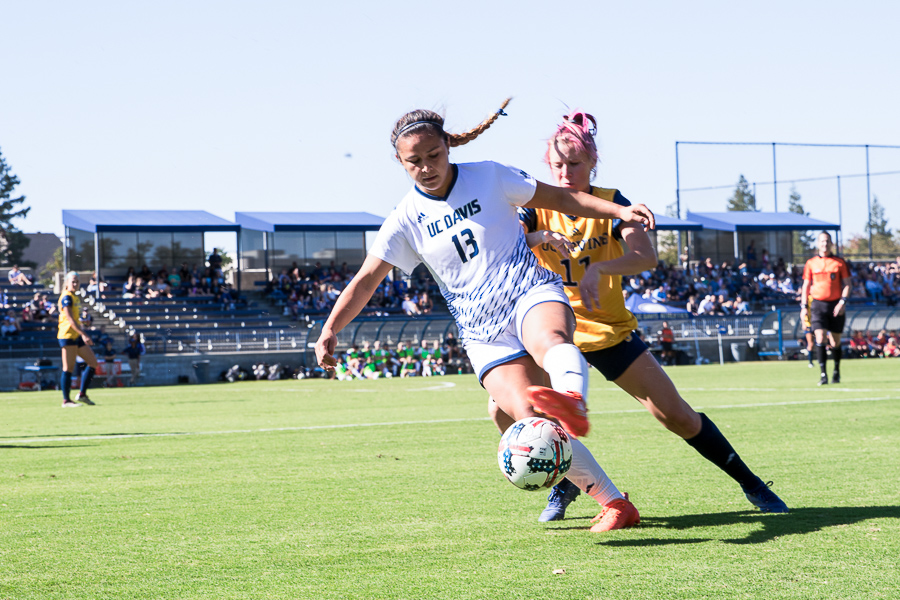 Goalkeeper Alexis Smith excels as UC Davis women's soccer ties the undefeated Anteaters
The UC Davis women's soccer team took on a gritty UC Irvine team on Sunday, resulting in a double overtime draw. In league play leading up to the game, the Aggies carried a 2-2-1 record, while the UC Irvine team remained undefeated at 3-0-2.
The first half of the game started out slow, but with 18 minutes left, UC Davis goalkeeper Alexis Smith made an athletic save, setting up a sharp Aggie counterattack. The Aggies came close to scoring numerous times, with efforts spearheaded by redshirt sophomore Alicia Sloss, but were ultimately unable to capitalize. Aside from a yellow card committed by UC Irvine, the first half ended with little noise.
The Aggies dominated possession time in the first half, but the Anteaters did not concede easily. After controlling the pace for part of the first half, the Anteaters were able to fire off numerous shots, but couldn't find the back of the net.
Head Coach Twila Kaufman commented on what she thought of her team's performance given the stiff competition that UC Irvine provided.
"Obviously, we're happy to keep the clean sleet. That's a big deal against [this] team," Kaufman said. "I think three out of their last four games, [UC Irvine] won it in the last 30 seconds of the game, so it's good to put up a performance like that together for the whole game."
Smith was able to come up with many saves in the 13th and 25th minutes, including one on a dangerous free kick, to keep UC Davis in contention. Senior midfielder Ari Zamora picked up a yellow card with 22 minutes remaining, but it did no harm as the defense cleared the ball away consistently. The scrappy play may have even fired up her team, as the Aggies went on one last run but were still unable to yield a goal.
The game then went to two 10-minute overtime periods. Both teams had numerous chances, but eventually the buzzer sounded with a blank sheet still showing on the scoreboard.
"[We had to] rotate six times through the back line. It wasn't a stable back line, it's a really big deal," Kaufman said. "I think our team is disappointed that they didn't get the win, which is a good thing – they're gonna be hungry for the next game."
Kaufman stated that, although she is satisfied with the game's result, she knows that her team is capable of much more.
"I think this team is actually capable […] of scoring three goals a game, which […] is an abnormality in soccer. It's a low scoring game, typically," Kaufman said. "But, this team is capable of that so I think we're inching closer to that. We just need to turn some of those 'one step to the left' or 'one inch to the right' is probably a goal."
The Aggies will travel to take on the Cal State Northridge Matadors on Sunday. UC Davis' next home game is set for Oct. 25 against CSU Long Beach.
Written by: AJ Seymour—sports@theaggie.org