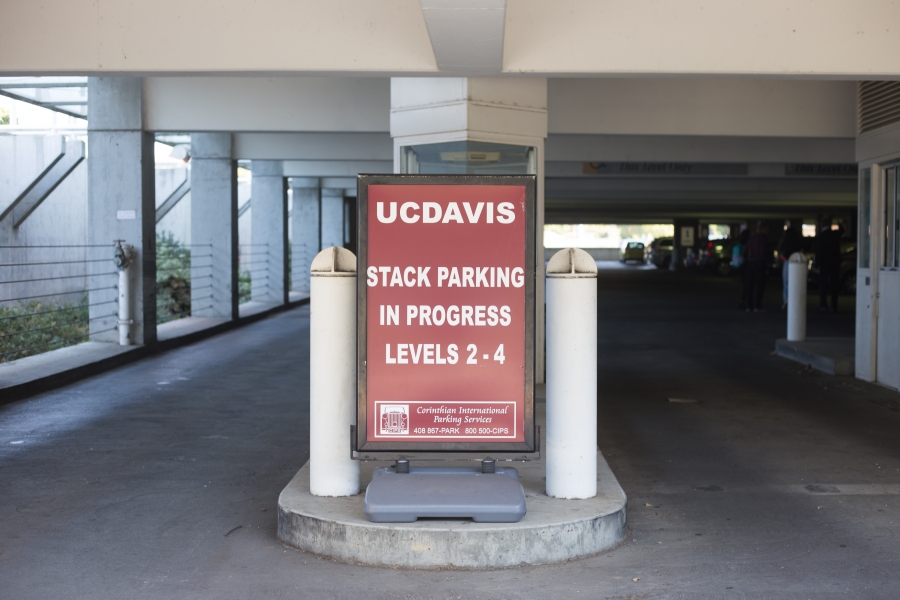 Davis students comment on public transportation, campus parking
Many Davis students have had near-death experiences with a biker pushing the 15 mph speed limits. But biking is one of the many quirks Davis students love about their campus. Davis is often referred to as one of the "Bicycle Capitals of the Nation," the city is home to thousands of cyclists and motorists alike, who together create a unique cycle-friendly environment.
But for those who don't have the stamina or patience to bike on- and off-campus, students have the option of driving or taking the well-known Unitrans system to get around town. For those driving to campus, the university's Transportation and Parking Services (TAPS) offers the C-level parking permit for $50 a month.
Second-year international relations major Sasha Feuerstein decided to bring her car to campus this year. Like many other students living over two miles away from campus, Feuerstein finds driving the most efficient and convenient form of transportation. Feuerstein explained her experience with parking on campus.
"I definitely think there is very limited parking on campus," Feuerstein said. "I was surprised when I ordered my parking permit that there was only one type of permit I could get [C-level] and many places are restricted during the day time with this type of permit. It seems there are really only two main parking garages on campus to choose from when parking before class."
For most students, the prime parking spots on campus are Hutchinson parking lot and the parking structure behind the Memorial Union because of their proximity to classes. Finding parking after 9 a.m. on campus is difficult for any student with a C permit, Feuerstein said.
"Everyday I go to the Memorial Union parking garage because that is the most convenient location for me," Feuerstein said. "I very rarely find a spot once I get to the C level parking areas and there are not many levels in that garage. After going all the way around the structure and back down again, I usually drive to the Pavilion garage and I can usually find someone pulling out of a spot there on the higher levels. I wish there was more available parking for type [sic] of permit I have. I think I generally just get lucky most days since I have later classes, but I feel bad for drivers trying to make it on time to their morning classes struggling to find parking in the morning."
In an effort to resolve the limited parking available during peak hours on campus, TAPS recently implemented the stack parking service. Stack parking uses aisle space to its advantage by allowing students to double park their vehicles without disrupting the traffic on campus.  
Feuerstein recalled how other Davis students warned her about the parking situation on campus. To avoid this debacle, Feuerstein has debated taking UC Davis' public transportation system, Unitrans.
"I would definitely consider taking the Unitrans if the parking situation proves too difficult," Feuerstein said. "I would just be worried about arriving on time to everything, but I know so many people who rely on the buses."
Feuerstein offered some advice for those struggling to find parking on campus.
"I would recommend leaving 45 min [sic] to an hour before their class starts," Feuerstein said. "That's what I do typically, and it gives me just enough time if I find a spot after looking around for some time and then walking to class from there."
For those who don't commute to school by car, second-year and evolutionary biology major Kiana Lindblad explained her daily routine for getting on campus.
"I always bike to school because I know that I can count on myself to get there in time," Lindblad said. "The buses can get super congested in the morning, which causes them to run late despite the drivers' best efforts. Although I've never tried it I don't see myself ever driving to school in the mornings."
This year Lindblad started work as a driver for Unitrans, and offered her insight as both a driver and commuter on the Unitrans system.
"Driving the bus in the mornings I see how bad the traffic gets coming from the parking structure," Lindblad said. "I don't want to contribute to all the traffic and stress, so for me my bike is the best option."
For those without access to a car or those who live too far off campus to bike, Unitrans is a viable option, Lindblad explained.
"The funny thing is I never used Unitrans before I started working for them, but honestly it's a great resource that gets overlooked by students," Lindblad said. "It's included in your tuition, better for the environment and a hell of a lot cheaper than Uber[ing]. Unitrans has a bad rap because it can be late sometimes, but more often than not it gets you where you need to be on time."
Lindblad also detailed her experience parking her bike on campus.
"Bike parking on campus can get tricky though with all the abandoned bikes," Lindblad said. "It can be really frustrating at times when you have to park far from class when an unused bike is taking a space you could have used."
Lindblad also offered her advice for students who struggle to find a convenient mode of transportation.
"If you're having trouble getting to school I'd suggest getting really familiar with the bus lines, because there is often more than one that services your area," Lindblad said. "If you live closer to campus I'd also suggest biking or walking, especially while we still have nice weather because once the rain starts the buses get packed. Plus if you walk or take the bus, parking isn't an issue you even have to worry about."
Phoebe Song, a third-year mathematics major, described what actions she believes the university and TAPS could take to make commuting to campus less chaotic.
"I realize that allocating funds is a whole process and this wouldn't be a cheap project," Song said. "Especially since it would also probably take a little longer to implement seismic safety structures or reinforcements, but expanding the parking structures to accommodate more cars would be really helpful. I would say lowering prices too, but I'm guessing that the prices are high purposely to encourage students to use alternative methods of transportation instead. But yeah just creating new parking spaces in any way, whether that be building new parking lots or expanding existing parking structures is I think the most direct way of making parking more efficient."
Editor's note: A previous version of this article used an offensive and ableist term to refer to the behavior of bicyclists. The word has been removed and the article has been updated to reflect this change. The Aggie sincerely regrets the error.
Written by: Sneha Ramachandran — features@theaggie.org