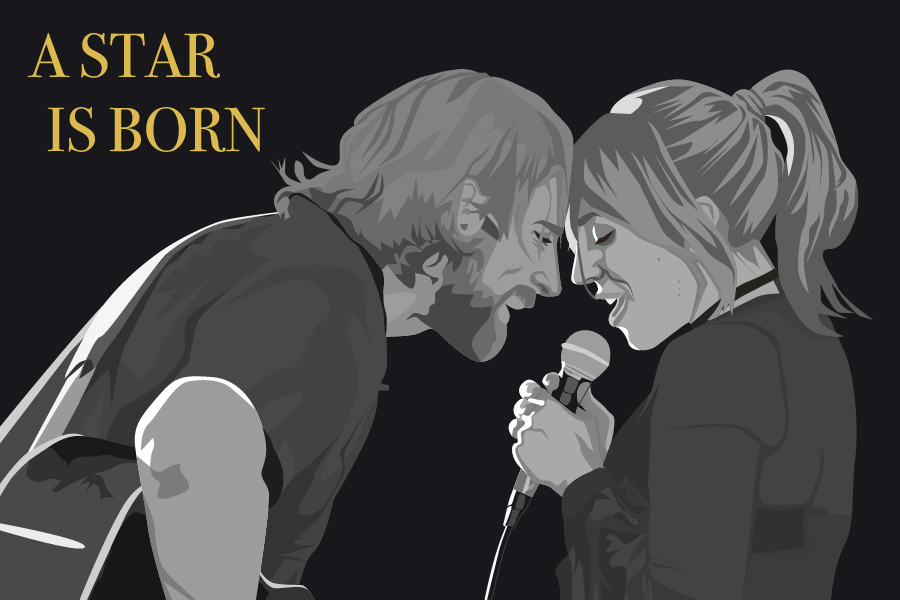 Lady Gaga, Bradley Cooper remake falls short after hype, anticipation
Lady Gaga made her film debut with co-star and director Bradley Cooper, in "A Star is Born." Ally, played by Lady Gaga, is a struggling singer, who waitresses by day and performs by night. Jack, played by Bradley Cooper, is a veteran singer who discovers Ally and is immediately infatuated by her voice. With him by her side, she rises to fame and stardom. As their relationship progresses, Jack's fight with his inner demons becomes more apparent.
The story lacked depth and tried to be in too many places at once. At the premiere of the film at the Venice Film Festival, Lady Gaga received an eight minute standing ovation. A noteworthy accomplishment, but I find myself thinking — for what? From start to finish, it was difficult to pinpoint where the story was going.
Multiple opportunities for deeper plot development of the several serious issues presented in the film were missed. It felt as if someone was driving and looking for parking, but passed every empty parking space. Alcoholism, toxic family relationships, suicide and fame were all topics that were introduced, but never truly addressed by the characters.
Jack clearly had a problem with alcohol, and he even went to rehab, but the root of the issue was never directly addressed. Jack's relationship and conversations with his brother Bobby, played by Sam Elliot, revealed tidbits of Jack's relationship with their father. Viewers can guess that Jack's problems are rooted in being raised by an alcoholic father, but like many other issues in the movie, it is never directly confronted.
References to Edith Piaf were made throughout the movie. Ally sang "La Vie en Rose" during the bar scene where she met Jack, and a neon sign with the words "La Vie en Rose" written in cursive hung in their home. Again, there was a lack of depth because it's quite unclear how Ally, who impersonated Edith Piaf, relates to her extremely depressing life. Is Jack Ally's Edith Piaf?
Several drag queen personalities made cameo appearances. Willam Belli and Shangela gave the audience some quick and witty one-liners that appealed to many of Lady Gaga's fans. It was definitely a "Gaga" touch.
One thing that is undeniable about the film is the incredible soundtrack. Lady Gaga has one of the most recognizable and powerful voices in the industry and will always be remembered as an icon. Bradley Cooper compliments her well and the two of them make for a bone chilling duo on stage. Their relationship is difficult to get a grip of when they speak to one another, but all curiosities are put to rest when the two are singing. "Shallow" and "I'll Never Love Again" are examples of the lasting impressions that the soundtrack will leave in years to come.
"A Star is Born" is currently in theaters and playing at the Davis Regal 5 and 6 in downtown Davis.
Written by: Josh Madrid – arts@theaggie.org